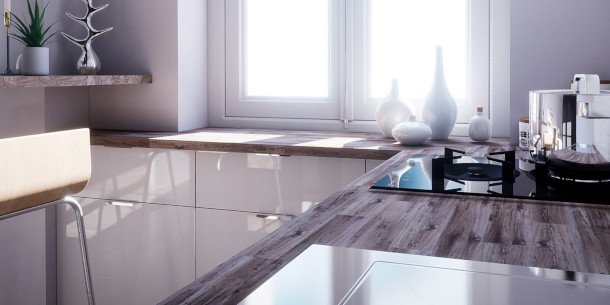 Epic Games has released Unreal Studio 4.22, the latest version of its real-time visualisation platform, adding the option to import animations from 3ds Max, and support for animation and PBR materials in glTF files.
The update also builds on new features in Unreal Engine 4.22, including hardware-accelerated ray tracing on Nvidia's RTX GPUs, plus support for render layers in the built-in compositing toolset.
A more streamlined way to import CAD data into Unreal Engine for visualisation
Launched last year, and still currently in beta, Unreal Studio is intended to provide architects and designers with a more user-friendly way to import assets into Unreal Engine for visualisation.
As well as Unreal Engine itself, the platform consists of Datasmith, Epic Games' toolset for importing and processing 3ds Max scenes and CAD data, and a set of readymade materials.
In Datasmith: support for 3ds Max animations
New features in Datasmith in Unreal Studio 4.22 include basic animation support when importing 3ds Max scene files: objects with animated scaling, rotation or transforms.
Datasmith can also now import vertex colours from 3ds Max objects, and improves support for area lights, physical camera settings, and key arch viz plugins Forest Pack and RailClone.
The glTF file import system gets support for object animation, basic lights and PBR materials, plus access to the nondestructive re-import workflow used for CAD file formats.
There are also performance improvements when importing large CAD scenes, new NURBS stitching options, and updates to Revit, VRED, DeltaGen and Rhino file import.
In Unreal Engine: hardware accelerated ray tracing and early support for render layers
The update also builds on the new features in Unreal Engine 4.22 itself.
That includes the headline feature: ray tracing via RTX, Nvidia's hardware implementation of DirectX 12's DirectX Raytracing (DXR) API, available in the firm's GeForce RTX, Titan RTX and Quadro RTX GPUs.
Although Unreal Engine 4.22 also ships with a pure path tracer, the version of the technology intended for production is a hybrid rasterisation/ray tracing engine.
That enables users to trade the improvements in visual quality that ray tracing brings against the attendant increase in render time, by selectively ray tracing individual render passes.
Composure, Unreal Engine's built-in compositing module, also now makes it possible to organise objects into separate render layers, improving workflow with post-production tools like Photoshop and After Effects.
Other changes include the ability to render different viewports to multiple displays from a single instance of Unreal Engine via the nDisplay system introduced in Unreal Studio 4.20.
The update also makes it possible to stream content from Unreal Engine running on a desktop machine to Microsoft's HoloLens mixed reality headsets.
Pricing and availability
Unreal Studio is available as a free open beta. The beta is now scheduled to run September 2019, after which it will become a subscription-only service, priced at $49/month, but billed as an annual subscription.
Unlike Unreal Engine itself, the EULA doesn't require you to give Epic a cut of the revenues of any commercial products you create with it, provided that they're non-interactive, like rendered animation.
Datasmith runs on Windows 7+ only. The Unreal Engine editor runs on Windows 10, macOS 10.14 or Linux.
Read an overview of the new features in Unreal Studio 4.22 on Epic Games' blog
Read a full list of new features in Unreal Studio 4.22 in the online release notes
Tags: 3ds max, animation, arch viz, beta, CAD data, collaboration, compositing, Composure, DeltaGen, DirectX 12, DirectX Raytracing, DXR, Epic Games, Forest Pack, free, glTF, GPU-accelerated, GPU-based, HoloLens, mixed reality, nDisplay, new features, NURBS, NVIDIA, PBR, price, RailClone, ray tracing, real time, render layer, rendering, Revit, Rhino, RTX, system requirements, Unreal Engine, Unreal Engine 4.22, Unreal Studio, Unreal Studio 4.22, visualization, VRED