Tuesday, November 12th, 2019

Posted by Jim Thacker
Epic Games to make Unreal Studio's tools available free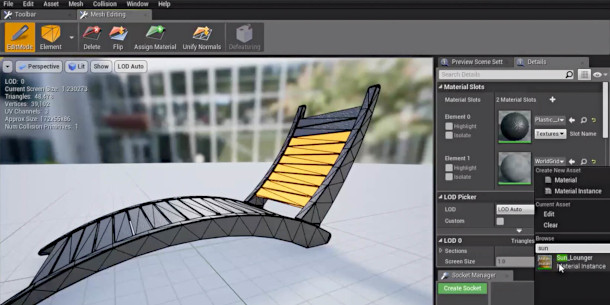 Epic Games is to roll Unreal Studio, its real-time visualisation platform, into Unreal Engine.
The move will make the tools from Unreal Studio, which was originally due to become a $49/month subscription service when it came out of beta this year, free to use.
In separate news, Epic Games has also acquired Quixel, and plans to make the assets from Megascans, its online library of 3D scan data, free to Unreal Engine users.
A streamlined way to get CAD data into Unreal Engine for rendering
Launched last year, Unreal Studio is intended to provide architects and designers with a more user-friendly way to produce photorealistic visualisations inside Unreal Engine.
Its key component is data conversion toolkit Datasmith, which streamlines the process of importing CAD and BIM data into Unreal Engine.
It ingests scenes from a range of CAD and DCC software, including 3ds Max, CATIA, Cinema 4D, DeltaGen, Rhino, Revit, SketchUp, SolidWorks and VRED, and supports other common CAD and BIM file formats.
Any missing texture UVs are automatically generated on import.
Once imported, assets can be batch-processed, either via Unreal Engine's Blueprint visual programming system, or via Python scripting, making it possible to automate common tasks.
Suggested use cases include merging separate source objects into one; decimating hi-res source meshes; mapping materials to their UE4 equivalents; and resizing images or converting them between file formats.
Datasmith to be integrated into Unreal Engine 4.24
With the release of Unreal Engine 4.24, currently available in preview, Unreal Studio will be retired and Datasmith functionality integrated into Unreal Engine itself.
Epic will also publish the source code of Datasmith.
The Datasmith plugin for Unreal Engine 4.19 to 4.23 will be released via the Unreal Engine Marketplace, but will not receive further updates or support.
Now free to use in visualisation work if you don't need active support
The move makes the old Unreal Studio tools completely free to use for visualisation work: unlike games, Epic doesn't charge a cut of royalties for pre-rendered content.
The only thing that the firm will charge for is support contracts: non-paying users will be confined to online learning tools and community support via forums and social media.
Speaking to CG Channel, Epic Games general manager for Unreal Engine Marc Petit commented that the firm had been surprised by demand for Unreal Studio during the beta period.
"We had more than 350,000 people sign up … so we realised it was a very healthy business for us already."
"We do a lot of business with the big film companies, the big auto companies, the big construction firms … so we can [afford] to keep the tools free for everyone."
System requirements and availability
Datasmith will become available free as part of Unreal Engine 4.24, due out later this year. It currently runs on Windows 7+, but with the 4.24 release, Epic will add macOS and Linux support "for some formats".

Read more about the integration of Unreal Studio and Unreal Engine on Epic Games' blog
Read Epic Games' FAQs document about Unreal Studio
(Includes a link to the EULA)