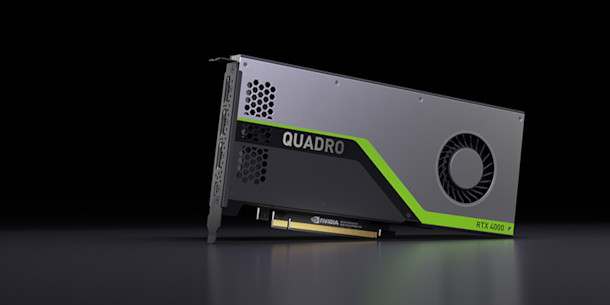 Nvidia has announced the Quadro RTX 4000: the latest of its new Quadro RTX range of workstation graphics cards – and the first of the product line expected to sell for under $1,000.
The new GPU, which is being marketed towards architectural visualisation work, was announced at the Autodesk University 2018 conference.
Nvidia's new Turing architecture: new dedicated 'RT cores' to accelerate ray tracing
The Quadro RTX 4000 rounds out the lower end of Nvidia's Quadro RTX product line, joining the RTX 5000, RTX 6000 and RTX 8000, all of which were announced this summer.
The cards are first to use Nvidia's Turing architecture, and are billed as "the world's first ray tracing GPUs" being based on RTX, Nvidia's hardware acceleration technology for the DXR capabilities in DirectX 12.
Each features a set of RT cores – new dedicated ray tracing processors – alongside the two core types in Nvidia's current-gen Volta architecture: CUDA, for general GPU compute, and Tensor, for AI inferencing.
Turing also supports hybrid rendering – a mixture of ray tracing and rasterisation, to further accelerate jobs.
Nvidia Quadro workstation GPUs
RTX 4000
RTX 5000
RTX 6000
RTX 8000
Architecture
Turing
Turing
Turing
Turing
CUDA cores
2,304
3,072
4,608
4,608
Compute (FP32)
7.1 Tflops
11.2 Tflops
16.3 Tflops
16.3 Tflops
RT cores
36
48
72
72

Ray tracing

6 GigaRays/s
6 GigaRays/s
10 GigaRays/s
10 GigaRays/s
VRAM
8GB GDDR6
16GB GDDR6
24GB GDDR6
48GB GDDR6
Launch date
December 2018
Q4 2018
Q4 2018
Q4 2018
Launch price
($900)
$2,300
$6,300
($10,000)
Figures in brackets represent estimated values.

Lower specs, but much more affordable, than other Quadro RTX cards
The RTX 4000 slots in at the bottom end of the currently announced RTX cards, although in broader terms, it's a mid-range card.
Like the Pascal-based Quadro P4000 it supersedes, it has 8GB of graphics memory, although it's GDDR6, which provides an increase in data transfer rates over the GDDR5 used in the P4000.
GPU compute performance is up from the P4000 – a peak single-precision floating-point performance of 7.1 Tflops as opposed to 5.3 Tflops – although lower than the other RTX cards.
The ray tracing capabilities are interesting: the RTX 4000 has 12 fewer RT cores than the RTX 5000, but the same quoted performance figure of 6 'Gigarays' cast per second.
Connectivity is a bit lower than other mid-range cards – three DisplayPort 1.4 outputs, rather than four – plus a VirtuaLink port to connect future VR headsets via a USB-C connector.
However, the price is almost identical to the old P4000 – the RTX 4000 is expected to sell for $900 – which makes the cost less than half that of the next card up in the product line, the RTX 5000.
Pricing and availability
The Quadro RTX 4000 is expected to ship in December 2018, with an estimated street price of $900.

Read Nvidia's launch announcement for the Quadro RTX 4000
See specs for the Quadro RTX 4000 on Nvidia's website
Tags: Autodesk University 2018, comparison, comparison table, compute performance, CUDA, GPU, graphics card, graphics memory, Nvidia. Quadro RTX, Pascal, performance, price, price comparison, professional, Quadro P4000, Quadro RTX 4000, Quadro RTX 5000, Quadro RTX 6000, Quadro RTX 8000, ray tracing, release date, RT core, specifications, Turing, VRAM, workstation card