Friday, November 22nd, 2019

Posted by Jim Thacker
AMD launches new Radeon Pro W5700 workstation GPU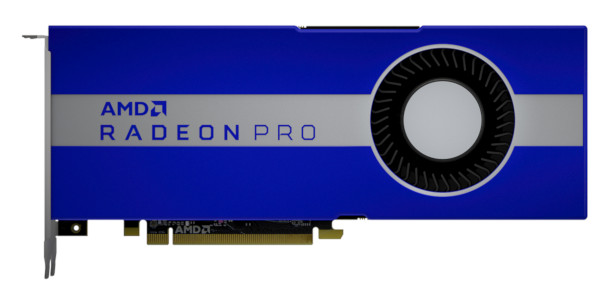 AMD has released the Radeon Pro W5700, pitched as "the world's first 7nm professional PC workstation graphics card".
The card – the first of AMD's Navi GPUs aimed at graphics work, rather than gaming – kicks off the first major overhaul of AMD's professional product line since the launch of the Radeon Pro WX Series in 2016.
A successor to the Radeon Pro WX 7100
In terms of both core specs and price, the Radeon Pro W5700 occupies the same position in the market as the previous-gen Radeon Pro WX 7100.
(The mismatch in version numbers is due to a change in product numbering on AMD's part: workstation cards will now bear the same numbers as their gaming counterparts – in this case, the Radeon RX 5700.)
Like its predecessor, the W5700 has an MSRP of $799, which buys you 8GB of graphics memory, and 2,304 of AMD's Stream processors, arranged in 36 Compute Units.
The key difference is the Navi cards' new RDNA architecture, intended to get more work done per processor unit, and to consume less power while doing so.
Accordingly, compute performance is up: the W5700 has FP32 performance of 8.89 Tflops and FP64 performance of 0.56 Tflops, compared to 5.73 Tflops and 0.36 Tflops for the WX 7100.
AMD has also moved from GDDR5 to GDDR6 memory, doubling bandwith from 224 GB/s to 448 GB/s.
You also get more connectivity – five Mini-DisplayPort ports and one USB-C port, rather than four DisplayPort ports – and support for the latest versions of the OpenGL and Vulkan graphics APIs.
The one area in which the W5700 falls behind its predecessor is power draw: increased efficiency or not, its total Thermal Design Power (TDP) is 205W, up 75W from the WX 7100.
How the Radeon Pro W5700 stacks up against its predecessor
Radeon Pro W5700
Radeon Pro WX 7100
Launch date
2019
2016
GPU architecture
Navi (RDNA)
Polaris (GCN4)
Manufacturing process
7nm
14nm
Compute Units
36
36
FP32 compute performance (Tflops)
8.89
5.73
FP64 compute performance (Tflops)
0.56
0.36
Graphics memory
8GB GDDR6
8GB GDDR5
Memory bandwith (GB/s)
448
224
Connectivity
5 x MiniDP, 1 x USB-C
4 x DisplayPort
Thermal Design Power
205W
130W
Launch price (MSRP)
$799
$799

Priced and specced similarly to Nvidia's Quadro RTX 4000 and GeForce RTX 2080
In terms of the competition, those specs put the W5700 slightly ahead of Nvidia's $899 Quadro RTX 4000 for compute performance, but slightly behind its gaming counterpart, the $799 GeForce RTX 2080.
Both Nvidia cards also have 8GB of GDDR6 memory.
Of course, performance on paper doesn't always translate into performance in the real world, and most of the test scores we've seen for the W5700 so far have been for synthetic benchmarks or for Unity, so it will be interesting to see how it performs with real DCC applications.
You can read our latest group test of Nvidia and AMD workstation cards here.
Pricing and availability
AMD's Radeon Pro W5700 is available now with an MSRP of $799.
Read full specifications for the Radeon Pro W5700 on AMD's website