Wednesday, June 9th, 2021

Posted by Jim Thacker
AMD unveils Radeon Pro W6800 and W6600 GPUs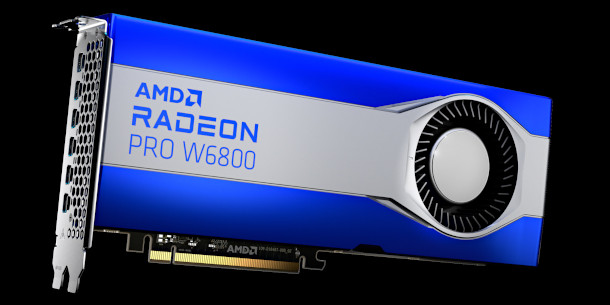 AMD has unveiled the Radeon Pro W6800 and Radeon Pro W6600, the first workstation GPUs based on its new RDNA 2 architecture, and the first cards in its Radeon Pro W6000 Series.
Like their gaming counterparts, the Radeon RX 6000 Series – the 'Big Navi' cards – both new GPUs have dedicated ray accelerators for hardware-accelerated ray tracing in compatible DCC software.
AMD describes the 32GB W6800 as "the fastest RDNA graphics card ever developed, delivering up to 79% faster performance than the previous generation [of AMD workstation GPUs]". The card is available now.
The 8GB Radeon Pro W6600 and its mobile counterpart, the Radeon Pro W6600M, ship later this year.
AMD gaming and workstation RDNA 2 GPUs

Radeon Pro
W6800
Radeon Pro
W6600
Radeon
RX 6900 XT
Radeon
RX 6800 XT
Radeon
RX 6700 XT
Type
Workstation
Workstation
Gaming
Gaming
Gaming
Process
7nm
7nm
7nm
7nm
7nm
Stream
processors
3,840
1,792
5,120
4,608
2,560
Compute units
60
28
80
72
40
Ray accelerators
60
28
80
72
40
FP32 compute
performance
(Tflops)
17.8
10.4
23.0
20.7
13.2
GPU memory
32GB
GDDR6
8GB
GDDR6
16GB
GDDR6
16GB
GDDR6
12GB
GDDR6
Memory
bandwidth (GB/s)
512
224
512
512
384
TBP
250W
130W
300W
300W
230W
Slot width
2
1
3
2
2
Display
6 x
MiniDP 1.4
4 x DP 1.4
2 x DP 1.4
1 x HDMI
1 x USB-C
2 x DP 1.4
1 x HDMI
1 x USB-C
3 x DP 1.4
1 x HDMI
Release date
June 2021
Q3 2021
December 2020
November 2020
March 2021
MSRP
$2,249
$649
$999
$649
$479
Key specifications and prices
The two new cards both slot into into the upper end of AMD's workstation card line-up, with the Radeon Pro W6800 targeted at 'heavy to extreme' workloads, and the W6600 at 'medium to heavy' work.
With 32GB of GDDR6 graphics memory and a FP32 compute performance of 17.8 TFlops, the Radeon Pro W6800 is a step up from AMD's previous top-of-the-range cards.
Both the Radeon Pro WX 9100 and its successor, the Radeon Pro VII, were 16GB cards with lower compute performance stats.
However, although the W6800's recommended launch price of $2,249 is similar to its predecessors – actually, slightly higher than either – it doesn't seem to be a direct successor to them.
AMD's Radeon Pro product page categorises it as a 'high-end' card, a bracket down from the 'ultra high-end' WX 9100, suggesting that there is a still-higher-specced RDNA 2 card to come.
In contrast, the Radeon Pro W6600 slots more comfortably into the same performance bracket as the previous-gen Radeon Pro W5700 and Radeon Pro W5500.
Like its predecessors, the W6600 an 8GB card, and its recommended launch price of $649 is midway between the two, although its FP32 compute performance is higher than either.

Benchmark results in DCC and CAD software
However, the comparison that most potential buyers will be making is not with previous-generation AMD GPUs, but with current-generation Nvidia cards.
AMD is pitching the Radeon Pro W6800 against Nvidia's similarly priced RTX A5000 workstation card – or, by proxy, the previous-gen Quadro RTX 5000, the current market shortage of Nvidia GPUs making the A5000 "too scarce" for meaningful comparisons.
In AMD's own benchmark tests, the W6800 comes out pretty well against the RTX 5000: similar performance in photogrammetry tool Metashape, and faster rendering in Lumion 11.0 and SolidWorks Visualize 2021 SP3.
However, that choice of apps is interesting: in our own tests, Metashape was one of the few applications in which previous-gen Radeon Pro cards outperformed their Nvidia counterparts.
And while one of the key features of AMD's new RDNA 2 architecture is that it features dedicated hardware cores for accelerating ray tracing, of the apps AMD benchmarked, only Visualize makes use of it.
Lumion 11.0 is a rasterisation renderer, and just requires any fast modern GPU.

So how will the new AMD cards perform with VFX and game development tools?
We suspect that for many CG Channel readers, more significant comparisons with current Nvidia GPUs would be ray traced rendering in Unreal Engine, or ray traced texture baking in the Substance tools.
Both support DXR (DirectX Ray Tracing), so they should work with both AMD and Nvidia GPUs.
In Puget Systems' Unreal Engine tests, the Radeon Pro cards' gaming counterpart, the RDNA 2-based Radeon RX 6900XT, came out behind its Nvidia rivals at ray tracing, although it was good for rasterisation.
It will be interesting to see if the workstation cards do better in similar independent tests.
For DCC work, it's also important to note that many key GPU render engines, including Arnold GPU, OctaneRender, Redshift, V-Ray GPU and Blender's upcoming Cycles X, currently rely on Nvidia's CUDA or OptiX APIs, so they simply don't make use of AMD GPUs.
However, one further AMD benchmark that will be of interest to visual effects artists is that with RDNA 2's new Infinity Cache feature enabled, the Radeon Pro W6800 outperformed Nvidia's Quadro RTX 5000 on GPU-accelerated tasks in Nuke, albeit specifically in systems that also use AMD CPUs.
Pricing and availability
The Radeon Pro W6800 is available now with a MSRP of $2,249. The Radeon Pro W6600 ships in "Q3 2021" with a MSRP of $649.

Read more about the Radeon Pro W6800 on AMD's website