The Blender Foundation has announced Cycles X, a major upcoming rewrite of the software's production renderer, designed to "future proof it for the next 10 years".
The new version, currently due to be incorporated into Blender 3.1, greatly improves render times on modern GPUs and viewport interactivity, and will add support for resumable and incremental rendering.
A major rewrite of Cycles on the renderer's tenth anniversary
Unveiled a few minutes ago by developers Brecht van Lommel and Sergey Sharybin during a Blender Today livestream, Cycles X is being announced to coincide with the renderer's tenth anniversary.
The rewrite is intended to address "longstanding issues" with the renderer, to make it easier to support new hardware, and to add more advanced features for production rendering.
Despite increasing use of Eevee, Blender's newer real-time renderer, for final-quality output, Cycles is still most Blender users' main tool for photorealistic rendering, particularly for VFX and architectural visualisation.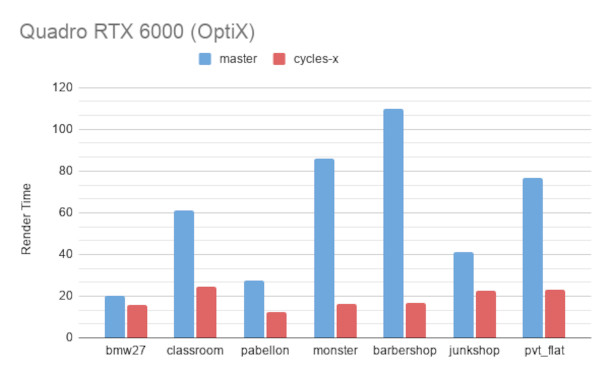 Up to 7x faster than the existing version of Cycles on currently available Nvidia GPUs
The current build – the result of around two months' work on the parts of van Lommel and Sharybin – introduces new CUDA and OptiX kernels for rendering on Nvidia GPUs.
The performance improvement over the Blender master branch varies from scene to scene – complex scenes, like interiors with a lot of bounced light, benefit most – but can be quite significant.
On a previous-gen Nvidia Quadro RTX 6000 workstation GPU, the standard Cycles benchmark scenes render up to 7x faster in Cycles X.
On a current-gen RTX A6000, the relative improvement is smaller, although actual render times are lower.

Better viewport interactivity on both GPU and CPU
Other improvements in the current build include better viewport interactivity.
The changes here are harder to quantify, but in the demo in the livestream, the Cycles X viewport updated noticeably faster, and in a more usable way, than that of the current release.
In particular, CPU rendering with Open Image Denoise (OIDN) denoising enabled – which previously made the viewport almost unresponsive – has been noticeably improved.
In addition, Cycles X now selects the initial resolution for viewport renders automatically, based on a user's hardware; and final-quality renders are always interactive, not tile-based.
Still to come: support for resumable rendering, and better volumes and caustics
Changes planned for future builds include support for resumable rendering, which should make it possible to pause a render, save the results to disk, and restart it later.
The developers also plan "more advanced algorithms" for volume rendering, caustics, and for sampling scenes with large numbers of lights.
The new architecture should also make it easier to implement light groups: supported in the old Blender Internal render engine, but not currently in Cycles.
Support for OpenCL and the NLM denoiser deprecated
The update also removes several legacy features, including the NLM denoiser – superseded by the newer AI-trained OptiX and OIDN denoisers – and support for beleagured GPU compute API OpenCL.
That means the current build of Cycles X only supports Nvidia GPUs.
According to van Lommel, the developers "plan to bring back support for [other] GPUs, but not in the current form", and are currently working with both AMD and Intel.
However, there were no details on what form restored support for AMD and Intel GPUs will take, or when it will be available.
Release dates and system requirements
The source code for Cycles X is about to be released publicly as a branch of Blender.
Brecht van Lommel estimates that there is around six months' more development work before the updated render can be rolled out publicly, which he expects to happen in Blender 3.1.
The work is independent of other Cycles dev projects, like native support for Apple's M1 processors.
The current stable release, Blender 2.92, is available for Windows 7+, macOS 10.13+ and Linux.
Read more about Cycles X on the Blender Developers Blog
Tags: AMD, animation, arch viz, architectural visualization, Blender, Blender 3.1, Blender Benchmark, Blender Foundation, Brecht van Lommel, caustics, CUDA, Cycles, Cycles X, denoising, features deprecated, features removed, free, game art, game development, GPU renderer, incremental rendering, Intel, light groups, motion graphics, new architecture, new features, NLM denoiser, NVIDIA, OIDN, Open Image Denoise, open source, OpenCL, OptiX, path guiding, Quadro RTX 6000, release date, release dates, renderer, rendering, resumable rendering, RTX A6000, Sergey Sharybin, speed boost, speed increase, system requirements, vfx, viewport rendering, visual effects, volume rendering