Blender's new Pose brush lets artists reposition the limbs of a character as it it were mounted on a physical armature: just one of the new sculpting and retopology features in Blender 2.81. Video: Pablo Dobarro.

Originally posted on 1 October. Scroll down for news of the official release.
The Blender Foundation has begun posting the online documentation for Blender 2.81, the next update to the open-source 3D software.
The release will add new retopology tools and sculpting brushes, and implement Open Image Denoise and experimental support for hardware-accelerated ray tracing on Nvidia RTX GPUs in Blender's Cycles renderer.
An update to July's milestone 2.80 release
The release follows hard on the heels of Blender 2.80, July's milestone update to the software.
Four years in the planning, the 2.80 update overhauled the open-source 3D software's core architecture and workflow to improve its usability for professional production work.
Ubisoft, which is due to adopt Blender in its in-house TV animation studio next year, described the 2.80 update as "a game-changer for the CGI industry".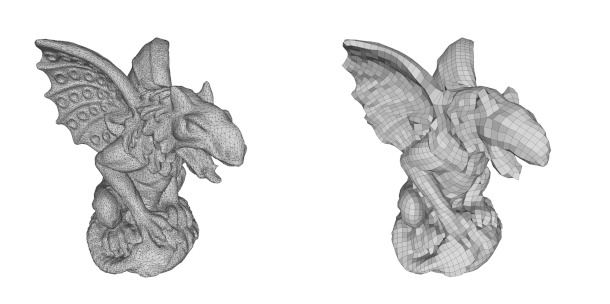 Mesh quadrangulation with QuadriFlow. One of two automated retopology systems implemented in Blender 2.81, the QuadriFlow algorithm converts a source mesh (left) into all-quad geometry (right).

New automated and manual retopology tools
Compared to that, 2.81 isn't quite as big an update, but it does introduce some significant new features, particularly to the retopology and sculpting toolsets, and to Blender's render engines.
In the former camp, Blender 2.81 introduces two new automated retopology systems for converting an entire mesh to animation-ready all-quad geometry.
The QuadriFlow Remesh operator implements the methodology set out in this 2018 research paper, creating a quad mesh whose edge loops follow the curvature of the orignal surface.
The OpenVDB-based Voxel Remesh operator is less faithful to the original surface but much faster, and is also suggested as an alternative to dynamic topology during sculpting.
In addition, the existing Poly Build tool gets new features designed to adapt it for retopology work, helping users to draw a quad mesh manually over the surface of a source sculpt.
Updates to the sculpting tools, including new Pose and Elastic Deform brushes
The release also updates Blender's sculpting toolset, adding a new Pose brush (shown in the video at the top of the story) for repositioning a character, simulating the deformation of a real-world model armature.
The system is fully automatic, and does not require a rigged model or manual pivot points.
There is also a new Elastic Deform brush for generating more cartoon-style deformations, based on Pixar research paper Regularized Kelvinlets: Sculpting Brushes based on Fundamental Solutions of Elasticity.
In addition, the sculpting brush cusor now respects normals, meaning that it follows the surface of a mesh: an important workflow improvement.
There are also a number of other improvements when working with masks and when sculpting on surfaces with active modifiers, and a new set of falloff curve presets for sculpting brushes.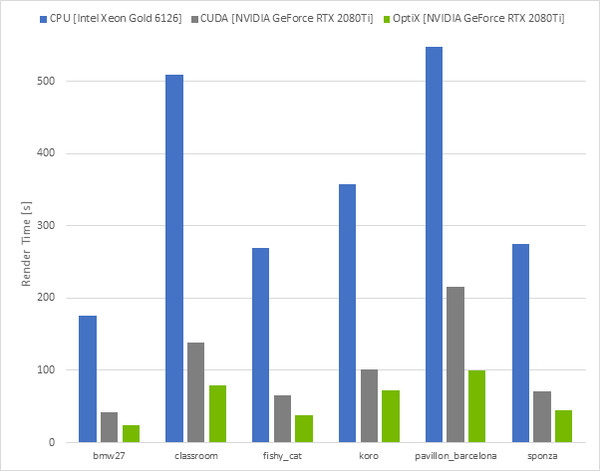 Blender's benchmark scenes render around 30-100% faster on a Nvidia GeForce RTX 2080 Ti GPU using Blender 2.81's experimental new hardware-accelerated ray tracing (green bars) than with CUDA (grey bars).

Support for Open Image Denoise and RTX ray tracing in Cycles
Cycles, Blender's production renderer, gets support for Open Image Denoise, Intel's AI-based CPU render denoising system, also now integrated into a range of other DCC applications.
It provides a fast alternative to the existing native denoiser, but it isn't temporally stable, so it isn't suitable for denoising animation.
Cycles also gets experimental support for hardware-accelerated ray tracing on Nvidia's current-gen RTX GPUs, available via the firm's OptiX API.
The test results in the online documentation suggest that on a top-of-the-range Nvidia GeForce RTX 2080 Ti GPU, Blender's standard benchmarks render roughly 30-100% faster using OptiX than the older CUDA API.
OptiX support is available on both Windows and Linux, although the implementation currently lacks some features from the CUDA backend, including texture baking and combined CPU and GPU rendering.
Other new rendering features
Eevee, the new real-time render engine introduced in Blender 2.80, has also been updated, improving the display of transparent materials, and the quality of bump mapping and soft shadows.
It can also now render holdouts, helping to composite rendered images into photographic backplates.
Blender 2.81 also introduces a new set of shader nodes, including new noise texture types and new math operations, compatible with both Cycles and Eevee.
It is also now possible to display individual render passes in the viewport when working in Cycles, including ambient occlusion, normal, diffuse indirect and glossy indirect.
In Blender 2.81, selections made in the Outliner are synched with the 3D viewport: just one of a number of workflow improvements to the Outliner and File Browser in the update. Video: Nathan Craddock.

Updates to the Outliner and File Browser
Workflow improvements in Blender 2.81 include updates to both the Outliner and File Browser.
Improvements to the Outliner include the option to navigate the scene hierarchy with the arrow keys as well as the mouse, and to box select by clicking and dragging.
Selections made in the Outliner are also now synched to the 3D viewport, and vice versa.
The File Browser now opens in a floating window with a more industry-standard layout, and uses more consistent mouse and keyboard interactions. You can see the new layout here.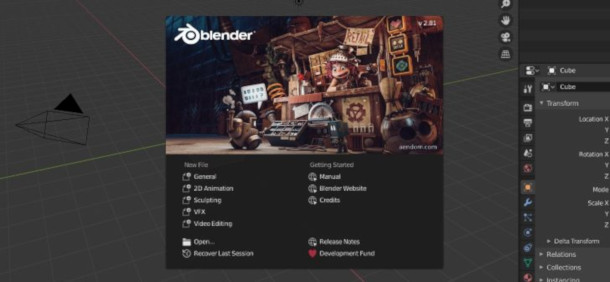 The Blender 2.81 splash screen, featuring an image by Alex Treviño.

Updated 21 November 2019: Blender 2.81 is now shipping.
Other important changes in the update include a new system of library overrides, which will eventually replace the software's current proxy system.
The change is intended to improve workflow when referencing assets that are shared across multiple scenes, and has been a common request from VFX and animation studios using Blender in production.
2D animation toolset Grease Pencil has been updated, adding new natural media brushes, a self-overlap property to overlay strokes more realistically, and isometric guides.
The release also adds new options when snapping, mirroring and transforming geometry, a built-in batch renaming system for scene items, and a lot of smaller features and fixes.
Release date and system requirements
Blender 2.81 is available for Windows 7+, macOS 10.12+ and Linux. It's a free download.

See Blender Foundation's overview of the new features in Blender 2.81
Read the Blender 2.81 release notes

Full disclosure: this story is a condensed version of series of posts I wrote for BlenderNation as part of my work outside CG Channel as a freelance technical writer. You can read the original versions here.
Tags: 2D animation, ambient occlusion, animation, Blender, Blender 2.8, Blender 2.80, Blender 2.81, Blender Foundation, bulk rename, convert curve to Grease Pencil stroke, CUDA, Cycles, diffuse indirect, download, Eevee, Elastic Deform Brush, falloff curve, file browser, file referencing, free, glossy indirect, GPL licence, GPU-accelerated, GPU-based, grease pencil, hardware-accelerated ray tracing, Intel, interface, isometric guides, library override, mask, Mesh Filter, new features, normal, NVIDIA, OIDN, Open Image Denoise, open source, OpenVDB, OptiX, outliner, PBR, Pixar, Poly Build, Pose Brush, proxy, QuadriFlow, QuadriFlow: A Scalable and Robust Method for Quadrangulation, real time, Regularized Kelvinlets: Sculpting Brushes based on Fundamental Solutions of Elasticity, render pass, rendering, retopology, RTX, sculpting, snapping, system requirements, Ubisoft, vfx, viewport, viewport preview, Voxel Remesh