Wednesday, July 31st, 2019

Posted by Jim Thacker
Blender 2.80 ships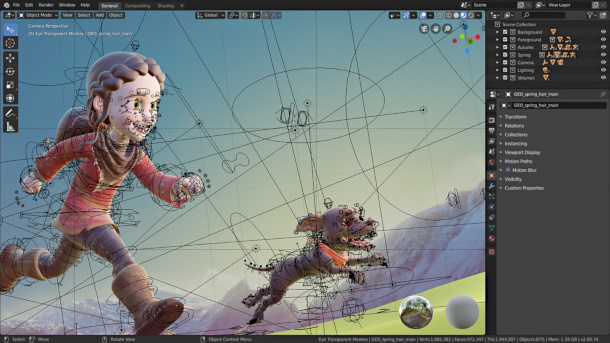 Blender 2.80's splash screen image, viewed within the software itself. The scene is taken from Spring, the animated short on which the latest update to the open-source 3D software was tested in production.

Blender 2.80, the latest version of the open-source 3D software, has officially shipped at Siggraph 2019.
The update – the result of over four years of planning and development – is arguably the biggest in Blender's history, bringing with it a new interface, a new core architecture, a new render engine, a complete new 2D animation system, and scores of new features affecting everything from modeling to simulation.
A major structural overhaul – and a streamlined new interface
First proposed in 2015 by Blender Foundation chairman Ton Roosendaal as a "workflow release", Blender 2.80 makes a number of key structural changes designed to improve Blender's usability in production.
Of those, the most visible is the redesigned interface, which has undergone a number of changes to make Blender look and act more like other DCC applications, with the software adopting industry conventions like a dark UI theme and flat icon design, and making left-click the default way to select objects.
The interface is also now more contextual, including a literal context menu, a Quick Favorites menu, and a new system of pie menus, all intended to reduce the number of clicks needed to get to reach a given tool.
In addition, the new design reduces the proportion of screen space occupied by the UI, making it easier to focus on the scene or asset being edited.

New real-time PBR renderer Eevee powers an updated viewport display
The update also overhauls Blender's viewport display – not least by introducing Eevee, Blender 2.80's much-talked-about physically based real-time render engine.
It uses the same shader nodes as the existing Cycles renderer, and supports HDRI lighting, global illumination, volumetrics, ambient occlusion, subsurface scattering, motion blur and depth of field.
It's hardware-agnostic, works with most recent GPUs; and despite some limitations, rivals or outdoes commercial apps when it comes to the quality of the viewport display.
There is also a new Workbench render engine, which powers the wireframe and flat-shaded displays and is designed to handle very large scenes, such as those from shot layout in VFX or feature animation work.
New Collections system and redesigned dependency graph improve workflow with production assets
Other structural changes include the replacement of Blender's old system of 3D layers with Collections, used to organise objects in a scene, instance groups of objects, and link groups across .blend files.
The change is designed to make it easier to work with large production scenes, enabling artists to reference assets stored in external files, rather than keeping all of the data in a single monolithic scene file.
The old system of render layers has also been expanded into a new system of View Layers, making it possible to create multiple versions of a scene during look development or shot layout.
Under the hood, the software's dependency graph, which determines how Blender evaluates modifiers and constraints, has been redesigned, which should improve interactive performance when working with large production scenes or complex animation rigs, particularly on multi-core CPUs.

New features include a complete integrated 2D animation system
Blender 2.80 also transforms the software's Grease Pencil tool from a simple utility for annotating animation to a complete 2D animation system in its own right.
Grease Pencil assets are now fully fledged Blender objects, making it possible to organize them in layers, apply materials and lighting, and even sculpt or deform them in a similar way to 3D meshes.
You can get a sense of the results possible from watching Hero, last year's Blender Cloud-funded animated short (embedded above), on which the toolset was tested in production.
Updates to the Cycles renderer, plus increased support for key industry standards
Blender's existing Cycles render engine also gets a number of significant new features, including a new Principled Hair Shader based on work done by Disney for the fur shading on Zootopia.
Cycles also gets support for Cryptomatte, Psyop's VFX-industry-standard automated ID matte-generation system; random walk subsurface scattering; and a powerful-looking new Bevel shader node.
The update also extends Blender's support for key industry standards, extending the integration of OpenSubdiv, Pixar's framework for evaluating subdivision surfaces; and introducing a native exporter for the glTF format, increasingly used to exchange 3D data between real-time applications.
In addition, the old Blender Internal render engine and Blender Game Engine have been removed, the former superseded by Eevee and the latter by Godot, which is now recommended as a replacement.
There are also scores of smaller changes and new features: you can find a full list via the links below.
System requirements and availability
Blender 2.80 is available free for Windows 7+, Linux and macOS 10.12+ under a GPL licence.
It's an API-breaking release, meaning that add-ons need to be updated before they will work with it. Many have already been updated: you can find a community-compiled lists at Blender Addons.

See Blender Foundation's overview of the new features in Blender 2.80
Read the Blender 2.80 release notes

Full disclosure: this story is a condensed version of one I wrote for BlenderNation as part of my work outside CG Channel as a freelance technical writer. You can read the extended version here.