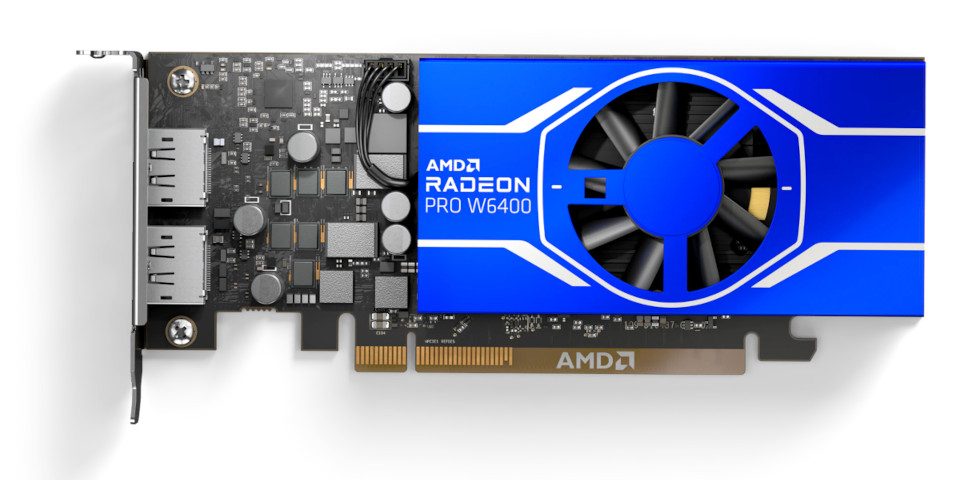 AMD has unveiled the Radeon Pro W6400, a new $229 entry-level card in its Radeon Pro W6000 Series of professional GPUs based on the firm's RDNA 2 architecture.
Targeted at CAD, 3D modelling and image editing, the 4GB card offers "performance … at an affordable price", with AMD claiming that it outperforms Nvidia's T600 GPU in Photoshpp and Rhino.
Like the other cards in the W6000 Series, the Radeon Pro W6800 and W6600, the new GPU also includes dedicated ray accelerators for hardware-accelerated ray tracing in compatible DCC apps like Unreal Engine.
AMD workstation RDNA 2 GPUs

Radeon Pro
W6400
Radeon Pro
W6600
Radeon Pro
W6800
Type
Workstation
Workstation
Workstation
Process
7nm
7nm
7nm
Stream
processors
768
1,792
3,840
Compute units
12
28
60
Ray accelerators
12
28
60
FP32 compute
performance
(Tflops)
3.5
10.4
17.8
GPU memory
4GB
GDDR6
8GB
GDDR6
32GB
GDDR6
Memory
bandwidth (GB/s)
128
224
512
TBP
50W
130W
250W
Slot width
1
1
2
Display
2 x DP 1.4
4 x DP 1.4
6 x
MiniDP 1.4
Release date
Q1 2022
July 2021
June 2021
MSRP
$229
$649
$2,249

Key specifications and prices
The Radeon Pro W6400 slots into the bottom end of AMD's Radeon Pro W6000 Series, with AMD describing it as targeted at "budget-conscious professionals" with "light to medium graphics workloads".
In all key specs, it's a significant step down from the mid-range Radeon Pro W6600: half the graphics memory and memory bandwidth, and fewer than half the Stream processors and ray accelerators.
It's also unusual in only having two DiplayPort connections: the lowest number of display outputs on an AMD desktop workstation card for some time.
However, it's also under half the price of Radeon Pro W6600, consumes under half the power, and – as a half-height board – can be used in small form factor as well as standard workstations.
And while GPU prices are currently being inflated by chip shortages, the situation is better for workstation than gaming cards.
At the time of writing, both the Radeon Pro W660 and W6800 are available on Newegg.com for within $150 of their MSRPs, so we expect the W6400 to become available at close to its recommended price of $229.



Benchmark results in CAD and DCC software
AMD is pitching the Radeon Pro W6400 at CAD, 3D modelling and image editing, which are the benchmarks it presents on its product webpage, along with day-to-day tasks like web browsing and video conferencing.
Of the CG benchmarks, two compare the W6400 to the equivalent Nvidia workstation GPU, the T600: also a small form factor 4GB card, albeit one based on Nvidia's previous-gen Turing GPU architecture.
In Rhino, the W6400 performs 1.24x better in Holomark 2, which tests viewport display of 3D models.
In Photoshop, it performs 1.06x better in PugetBench, which tests general image-processing tasks and filters.
Most of the other tests compare the W6400 to AMD's own previous-gen card, the Radeon Pro WX 3200, which, not surprisingly, it outpaces, performing over 4x better in AutoCAD when displaying a large DWG file.
No specific benchmark scores for visualization or GPU ray tracing yet
AMD doesn't provide any application-specific benchmarks for GPU rendering or visualisation, instead comparing the W6400 to the WX 3200 using the general-purpose PCMark 10 Extended benchmark.
In the DCC market, many GPU render engines, including Arnold GPU, OctaneRender, Redshift and V-Ray GPU, use Nvidia's CUDA or OptiX APIs, so benchmarking them on AMD GPUs would simply be impossible.
However, there are applications, including Chaos Vantage, D5 Render and Unreal Engine, that support hardware-accelerated ray tracing via the hardware-agnostic DXR API.
In its press release announcing the W6400, AMD identifies hardware-accelerated ray tracing as one of the "advanced features" of the new card, so – while its 4GB of GPU memory is on the low side for production rendering – it would be interesting to see how it performs with them.
Two new lower-end Radeon Pro W6000 Series GPUs for mobile workstations
In related news, AMD has also announced two new Radeon Pro W6000 Series GPUs for mobile systems.
We don't usually cover mobile GPUs on CG Channel, but the new Radeon Pro W6500M and Radeon Pro W6300M flesh out lower end of the product range, with key specs overlapping those of the W6400.
Pricing and availability
The Radeon Pro W6400 is due to ship later in Q1 2022 with a MSRP of $229. The Radeon Pro W6500M and Radeon Pro W6300M are due to ship in pre-built OEM systems "in select countries later this year".

Read more about the Radeon Pro W6400 on AMD's website
Tags: 3D modeling, 7nm, AMD, arch viz, Arnold, AutoCAD, benchmark, CAD, CAD software, Chaos Vantage, compute performance, CUDA, D5 Render, DCC software, DirectX 12, DirectX ray tracing, display connectors, DisplayPort, DXR, Featured Articles, FP32, GPU, graphics card, graphics memory, hardware-enabled ray tracing, Holomark 2, image editing, memory bandwidth, mobile GPU, NVIDIA, OctaneRender, OptiX, PCMark, Photoshop, power consumption, price, professional GPU, PugetBench, Radeon Pro W6000 Series, Radeon Pro W6300M, Radeon Pro W6400, Radeon Pro W6500M, Radeon Pro W6600, Radeon Pro W6800, ray accelerators, ray tracing, RDNA 2, Redshift, release date, rendering, Rhino, slot width, Specification, specifications, T600, TDP, Unreal Engine, V-Ray, VRAM, workstation GPU