Tuesday, February 11th, 2020

Posted by Jim Thacker
AMD unveils the Radeon Pro W5500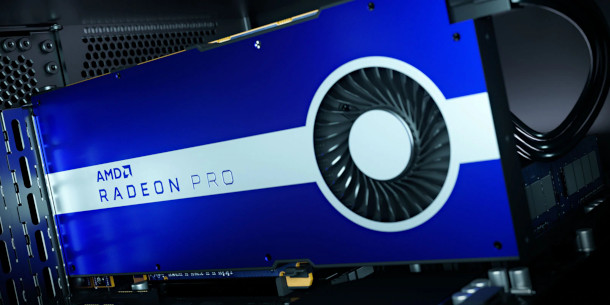 AMD has unveiled the Radeon Pro W5500, the latest addition to its new Radeon Pro W5000 series of Navi-based workstation GPUs.
The $399 graphics card, pitched by AMD as the "new design and engineering GPU of choice", is a lower-cost counterpart to last year's Radeon Pro W5700. You can see how the cards compare in the table below.

How the Radeon Pro W5500 fits into AMD's new W5000 series of workstation GPUs
Radeon Pro W5700
Radeon Pro W5500
Launch date
2019
2020
GPU architecture
Navi (RDNA)
Navi (RDNA)
Manufacturing process
7nm
7nm
Compute Units
36
22
FP32 compute performance (Tflops)
8.89
5.35
FP64 compute performance (Tflops)
0.56
0.33
Graphics memory
8GB GDDR6
8GB GDDR6
Memory bandwith (GB/s)
448
224
Connectivity
5 x MiniDP, 1 x USB-C
4 x DisplayPort
Thermal Board Power
205W
125W
Launch price (MSRP)
$799
$399
A successor to the Radeon Pro WX 5100 at the price of the WX 4100
The latest of AMD's Navi GPUs aimed at professional graphics work rather than gaming, the Radeon Pro W5500 occupies a similar position in the market to the previous-gen Radeon Pro WX 5100.
Like its predecessor, the W5500 has 8GB of graphics memory, although AMD has moved from GDDR5 to GDDR6, raising bandwidth from 160 GB/s to 224 GB/s.
The number of Stream processors on the card actually falls, but thanks to AMD's new RDNA architecture, intended to get more work done per compute unit, overall GPU compute performance rises.
The W5500 has a FP32 performance of 5.35 Tflops, up from 3.89 Tflops for the WX 5100.
However, the W5500's suggested e-tail price of $399 matches the original MSRP of the next card down in the old WX Series, the 4GB Radeon Pro WX 4100 – $100 lower than that of the WX 5100 itself.
At less than half the price of Nvidia's cheapest current-gen workstation card, the 8GB Quadro RTX 4000, that should reinforce AMD's reputation for affordability, although the Quadro has higher FP32 performance.
You can read our latest group test of Nvidia and AMD workstation cards here.
Pricing and availability
AMD's Radeon Pro W5500 is due to ship in mid February 2020, with an MSRP of $399. A counterpart for mobile workstations, the Radeon Pro W5500M, is due in "Spring 2020".
Read full specifications for the Radeon Pro W5500 on AMD's website