Wednesday, August 11th, 2021

Posted by Jim Thacker
Nvidia unveils RTX A2000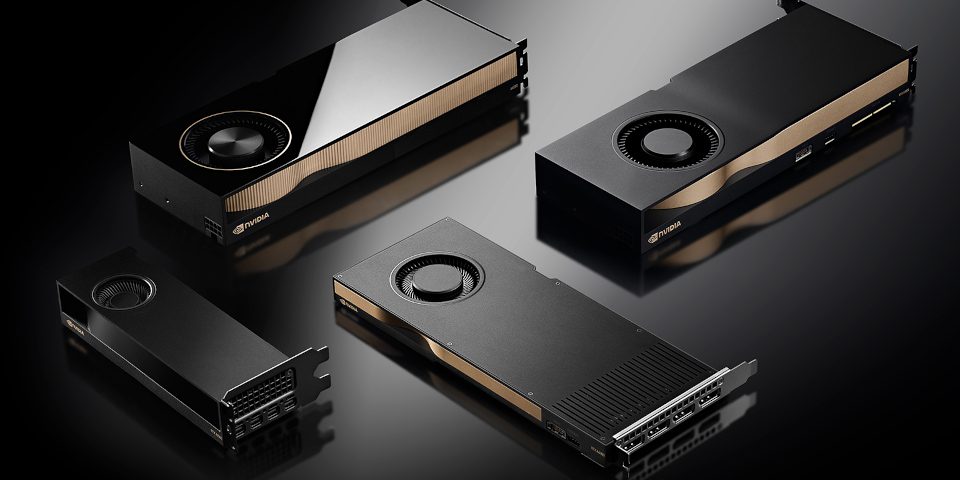 The RTX A2000 (bottom left) with the other cards in Nvidia's RTX Axxxx series. The cellphone-sized card, aimed at small form factor machines, is the smallest and cheapest of Nvidia's Ampere workstation GPUs.

Nvidia has unveiled the RTX A2000, the smallest and cheapest of its new Ampere workstation GPUs.
The 6GB card, which measures just 2.7 x 6.6" (6.9 x 16.8cm) and is intended for small form factor machines, has an estimated street price of $450 when it ships in October 2021.
Nvidia announced the card, which is targeted at industrial design and 3D modelling work, at Siggraph 2021, along with the latest set of updates to Omniverse, its real-time collaboration platform.
The RTX A2000: a new entry-level Ampere workstation GPUs
The latest card to use the Ampere architecture, the RTX A2000 slots into the bottom end of Nvidia's new generation of workstation GPUs, launched with the high-end RTX A6000 last year.
Unlike with the previous Turing architecture, and its dedicated RT ray tracing cores, Nvidia hasn't introduced any new hardware types ths time round, though the designs of the existing cores have been updated.
Nvidia describes the Ampere cards' second-gen RT cores as providing "up to 2x the throughput" of their previous-gen equivalents.
Nvidia Ampere workstation GPUs
RTX A2000
RTX A4000
RTX A5000
RTX A6000
Architecture
Ampere
Ampere
Ampere
Ampere
CUDA cores
3,328
6,144
8,192
10,752
Tensor cores
104
192
256
336
RT cores
26
48
64
84
Compute performance
FP32 (Tflops)
8.0 Tflops
19.2 Tflops
27.8 Tflops
40.0 Tflops*
GPU memory
6GB
GDDR6
16GB
GDDR6
24GB
GDDR6
48GB
GDDR6
Memory bandwidth
288 GB/s
448 GB/s
768 GB/s
768 GB/s
NVLInk
No
No
Yes
Yes
Graphics bus
PCIe 4.0 x16
PCIe 4.0 x16
PCIe 4.0 x16
PCIe 4.0 x16
TDP
70W
140W
230W
300W
Display connectors
4 x MiniDP 1.4
4 x DP 1.4
4 x DP 1.4
4 x DP 1.4
Size (H x L)
2.7 x 6.6″
Dual slot
4.4 x 9.5″
Single slot
4.4 x 10.5″
Dual slot
4.4 x 10.5″
Dual slot
Launch date
2021
2021
2021
2020
Launch price
$450
$1,000
$2,250
$4,649*
*Figure comes from third-party website

The smallest Ampere workstation GPU to date
The RTX A2000 is by some way the smallest Ampere GPU: at 2.7 x 6.6" (6.9 x 16.8cm), it's roughly the size of a cellphone, although unlike the A4000, its bigger sibling, it is a dual-slot card.
Unlike the other RTX Axxxx cards, it doesn't have a direct counterpart in the previous-gen Quadro RTX series.
As well as conventional desktop workstations, Nvidia is targeting it at small form factor machines and purpose-built devices, describing it as "small enough to go into the back of a monitor".
Nvidia VP Bob Pette described the RTX A2000 as the firm's "first foray into the largest volume segment" for GPUs: one which would "enable RTX in millions of computers".
Half the price of the next-cheapest RTX Axxxx card – but also half the performance
As you might expect, the RTX A2000's small size and estimated $450 price point means a considerable step down in specifications from the other RTX Axxxx cards.
It has less than half the FP32 compute performance and graphics memory of the RTX A4000, and trades DisplayPort for Mini DisplayPort connectors.
However, at 70W, its power draw is also correspondingly reduced.
Aimed at designers and 3D modelers who need to do some rendering or simulation on the side
Unlike with previous Ampere cards, Nvidia hasn't provided benchmark figures for CG software, although the RTX A2000 seems to be targeted primarily at CAD work and 3D modelling.
All of the beta testers quoted in Nvidia's press briefing were drawn from the worlds of architectural and product design, although the 3ds Max, Maya and Blender logos also appeared on slides.
Nvidia described the RTX A2000 as appealing to a new group of Ampere users: designers who also need to do some simulation or rendering as part of their day-to-day work.
Pricing and release dates
The RTX A2000 is due to ship in October 2021 via Nvidia distributors and in workstations from manufacturers including ASUS, BOXX Technologies, Dell Technologies, HP and Lenovo.
It has an estimated street price of $450, although at the time of writing, global demand for GPUs is pushing the sale prices of the other RTX Axxxx cards considerably above their original estimated launch prices.