Nvidia has launched the GeForce RTX 3060 Ti, a new entry-level card in its GeForce RTX 30 Series of Ampere-based gaming GPUs, joining the existing GeForce RTX 3090, 3080 and 3070.
The new $399 card outperforms the much more expensive previous-generation Quadro RTX 2080 Super.
We don't normally cover consumer GPUs on CG Channel, but since the lines between gaming and workstation cards are becoming increasingly blurred, we've summarised the key specs for CG artists below.
Nvidia GeForce RTX GPU specifications
RTX 3090
RTX 3080
RTX 3070
RTX 3060 Ti
Architecture
Ampere
Ampere
Ampere
Ampere
Process
8nm
8nm
8nm
8nm
CUDA cores
10,496
8,704
5,888
4,864
Tensor cores*
328
272
184
152

RT cores

*
82
68
48
38
Base clock (GHz)
1.40
1.44
1.50
1.41
Boost clock (GHz)
1.70
1.71
1.73
1.67
Compute performance
FP32 (Tflops)*
35.6
29.8
20.3
16.2

GPU memory

24GB
GDDR6X
10GB
GDDR6X
8GB
GDDR6
8GB
GDDR6
NVLink
Yes
No
No
No
TDP
350W
320W
220W
200W

Release date

September 2020
September 2020
October 2020
December 2020
MSRP
(Founders Edition)
$1,499
$699
$499
$399
*Figures taken from third-party website
Slots in below the GeForce RTX 3070 in the Ampere GPU product line
On paper, the GeForce RTX 3060 Ti looks like a cut-down version of the GeForce 3070.
Both are 8GB cards, but the 3060 Ti has roughly a fifth fewer CUDA compute cores and RT ray tracing cores, with an equivalent reduction in compute performance.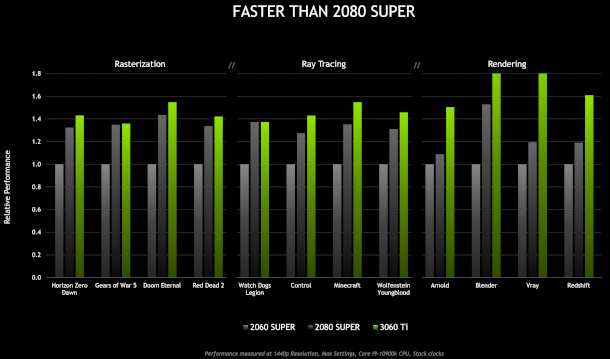 However, according to Nvidia, that's still enough to comfortably outperform the previous-generation GeForce RTX 2080 Super: a considerably more expensive card, with a launch price of $699.
Its comparison chart shows the 3060 Ti outstripping the 2080 Super in a range of 3D rendering tests, including Arnold, V-Ray, Redshift and 'Blender' – probably Cycles, given the firm's past benchmarks.
Nvidia's blog post doesn't include any details about the tests, so treat the results with caution, but they are roughly consistent with the results in Chaos Group's V-Ray 5 benchmark database.
Pricing and release dates
The GeForce RTX 3060 Ti is shipping now with an MSRP of $399.
Whether you will actually get hold of one is another question: the card is currently unavailable from Nvidia's own website, and TechPowerUp reports that online retailers are having trouble ordering stock.
Read more about the GeForce RTX 3060 Ti on Nvidia's blog
Tags: 8nm, AI, Ampere, Arnold, autodesk, benchmark, Blender, boost clock, cg, Chaos Group, clock speed, comparison table, compute performance, CUDA core, Cycles, DCC, FP32, gaming card, GDDR6, GDDR6X, GeForce RTX, GeForce RTX 2080 Super, GeForce RTX 2080 Ti, GeForce RTX 30 series, GeForce RTX 3060 Ti, GeForce RTX 3070, GeForce RTX 3080, GeForce RTX 3090, GPU, GPU computing, GPU rendering, graphics card, graphics memory, machine learning, NVIDIA, NVLink, performance, power consumption, price, processor speed, ray tracing, Redshift, release date, RT core, specifications, specs, TDP, Tensor core, V-Ray, V-Ray 5, VRAM, workstation card