Thursday, January 6th, 2022

Posted by Jim Thacker
Nvidia announces four new GeForce RTX 30 Series GPUs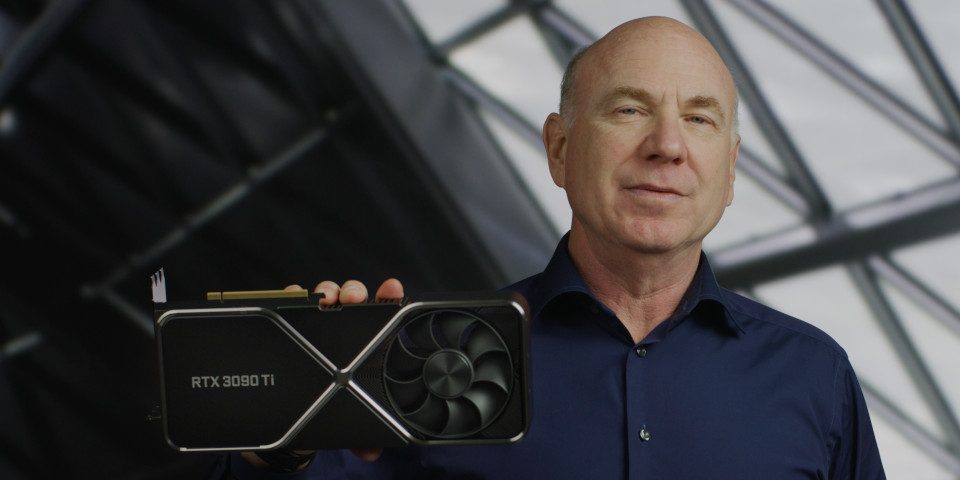 Nvidia has unveiled the GeForce RTX 3090 Ti and GeForce RTX 3050, the latest cards in its current-gen GeForce RTX 30 Series of gaming GPUs based on its new Ampere GPU architecture.
The cards fill out the high and low ends of the 30 Series, now also increasingly used for GPU rendering, with the RTX 3050 providing an 8GB card capable of hardware-accelerated ray tracing for under $250.
Nvidia describes it as "bring[ing] ray tracing and accelerated AI to mainstream desktops".
The firm has also announced new laptop versions of the existing GeForce RTX 3080 Ti and RTX 3070 Ti desktop GPUs. All of the new cards were announced at CES 2022 earlier this week.
Nvidia GeForce RTX GPU specifications
RTX 3090 Ti
RTX 3090
RTX 3080 Ti
RTX 3070 Ti
RTX 3060 Ti
RTX 3050
Architecture
Ampere
Ampere
Ampere
Ampere
Ampere
Ampere
Process
8nm
8nm
8nm
8nm
8nm
8nm
CUDA cores
10,752*
10,496
10,240
6,144
4,864
2,560
Tensor cores*
336*
328
320
192
152
TBC

RT cores

*
84*
82
80
48
38
TBC
Base clock (GHz)
1.56*
1.40
1.37
1.58
1.41
1.55
Boost clock (GHz)
1.86*
1.70
1.67
1.77
1.67
1.78
Compute performance
FP32 (Tflops)*
40
35.6
34.1
21.8
16.2
9
GPU memory
24GB
GDDR6X
24GB
GDDR6X
12GB
GDDR6X
8GB
GDDR6X
8GB
GDDR6
8GB
GDDR6
NVLink
Yes
Yes
No
No
No
No
TDP
450W*
350W
350W
290W
200W
130W
Release date
TBC 2022
Sept 2020
June 2021
June 2021
Dec 2020
Jan 2022
MSRP
(Founders Edition)
TBC
$1,499
$1,199
$599
$399
$249
*Information from third-party website. Figures quoted for the RTX 3090 Ti are from TechPowerUp.
Specifications and benchmarks
The two new desktop cards fill out the extreme ends of GeForce RTX 30 Series.
Nvidia isn't formally announcing full details of the GeForce RTX 3090 Ti – which it describes as a "monster" – until later this month, so some of the figures in the table above come from third-party websites.
However, it's expected to be a turbo-charged version of the existing GeForce RTX 3090 with all of the cores in its GA102 GPU unlocked.
While that doesn't provide a huge increase in CUDA core count, Nvidia is quoting a FP32 compute performance of 40 Tflops: over 10% higher than the RTX 3090.
Most of that performance increase seems to be due to higher memory clock speed, which rises to 21 Gbit/s, up from 19.5 Gbit/s in the RTX 3090, also resulting in a higher expected power draw.
Nvidia hasn't released any benchmarks for the RTX 3090 Ti yet, but you can get some idea of how it is likely to perform with common DCC applications by scaling up from our review of the GeForce RTX 3090.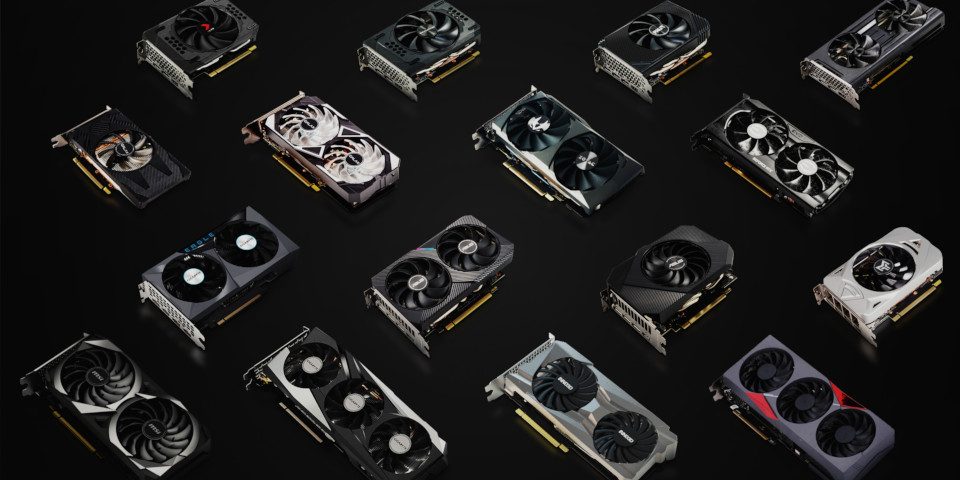 In contrast, the GeForce RTX 3050 is an entry-level card that "brings ray tracing … to mainstream desktops".
With 2,560 CUDA cores and a FP32 compute performance of 9 Tflops, it's a significant step down in general GPU computing power from the existing RTX 3060 Ti and RTX 3060.
However, it is still an 8GB card, and while – unlike previous 30 Series cards – Nvidia has only released benchmarks for games, not DCC applications, that should be plenty for less demanding 3D workflows.
The final two cards to be announced, the GeForce RTX 3080 Ti and RTX 3070 Ti, are the laptop editions of existing desktop cards, whose core specifications are listed this story.
Expected street prices
Although the GeForce RTX 3050 ships later this month with a MSRP of $249, whether you will be able to get hold of one for anywhere near that price remains to be seen.
Despite Nvidia limiting the Ethereum hash rate of new GeForce RTX 30 Series cards in an attempt to reduce their appeal to cryptocurrency miners, they remain scarce in online stores.
At the time of writing, existing GeForce RTX 30 Series GPUs sell for 2-3x more than the MSRPs in the table above on sites like Newegg, and there seems little reason to think the the RTX 3050 will fare differently.
Although the new laptop cards will be available mainly as part of complete systems, Nvidia's blog post announcing the new cards describes the GeForce RTX 3080 Ti as "starting at $2,499" and the RTX 3070 Ti as "starting at $1,499": around twice the MSRPs of their desktop counterparts.
Pricing and release dates
The GeForce RTX 3050 will be available on 27 January 2022 with a MSRP of $249. More details of the GeForceRTX 3090 Ti will be announced later this month.
The laptop editions of the GeForce RTX 3070 Ti and GeForce RTX 3080 Ti will be available in systems from Nvidia partners from 1 February 2021.