Wednesday, September 2nd, 2020

Posted by Jim Thacker
Nvidia unveils GeForce RTX 3070, 3080 and 3090 GPUs

Nvidia has unveiled the GeForce RTX 3070, GeForce RTX 3080 and GeForce RTX 3090, its next-generation GeForce RTX 30 Series of gaming GPUs, based on its new Ampere GPU architecture.
The firm pitches the Ampere cards as a significant advance on their predecessors, describing even the mid-price RTX 3070 as faster than the previous flagship model, the RTX 2080 Ti.
We don't normally cover consumer GPUs on CG Channel, but since the lines between gaming and workstation cards are becoming increasingly blurred – and since Nvidia now includes Arnold, Blender and V-Ray in its GeForce performance charts – we've summarised the key specs for CG artists below.
Nvidia GeForce RTX GPU specifications
RTX 3090
RTX 3080
RTX 3070
RTX 2080 Ti
Architecture
Ampere
Ampere
Ampere
Turing
Process
8nm
8nm
8nm
12nm
CUDA cores
10,496
8,704
5,888
4,352
Tensor cores*
328
272
184
544

RT cores

*
82
68
48
68
Base clock (GHz)
1.40
1.44
1.50
1.35
Boost clock (GHz)
1.70
1.71
1.73
1.64
Compute performance
FP32 (Tflops)*
35.6
29.8
20.3
13.5

GPU memory

24GB
GDDR6X
10GB
GDDR6X
8GB
GDDR6
11GB
GDDR6
NVLink
Yes
No
No
Yes
TDP
350W
320W
220W
260W

Release date

September 2020
September 2020
October 2020
September 2018
MSRP
(Founders Edition)
$1,499
$699
$499
$1,199
*Figures taken from third-party website
Sizeable, but iterative, improvements in GPU computing performance
From the perspective of GPU computing, Ampere doesn't look too different to Turing, its predecessor: it's an iterative improvement, not a revolution.
Unlike Turing, and its dedicated RT ray tracing cores, Nvidia hasn't introduced any new hardware types this time round, though the designs of the existing cores have been updated.
Nvidia describes the Ampere cards' second-gen RT cores as having 1.7x the throughput of their predecessors; and their third-gen Tensor machine learning cores as a 2.7x improvement.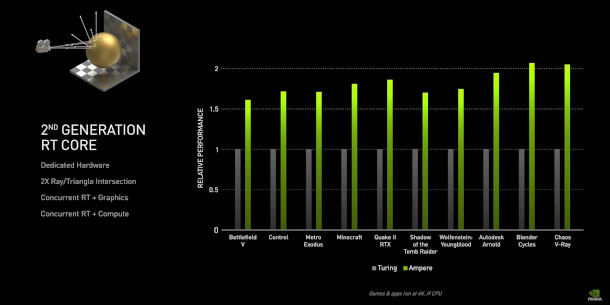 In terms of DCC apps, Nvidia shows the second-gen RT cores as roughly doubling ray tracing performance with key renderers including Autodesk's Arnold, Chaos Group's V-Ray and Blender's Cycles engine.
However, there are no details on how that figure was arrived at, or how it breaks down between individual cards, so we'd be inclined to wait to see some more conventional benchmarks.
Standard CUDA core counts have also increased, with all of the Ampere cards having higher theoretical FP32 compute performance than the previous top-of-the-range GeForce RTX 2080 Ti.
Nvidia describes all of the Ampere cards – even the $499 GeForce RTX 3070 – as faster than the RTX 2080 Ti, and the RTX 3090 as "up to 50% faster [at 4K]" than the Titan RTX, its hybrid workstation/gaming card.
Higher graphics memory capacity and NVLink support for GPU rendering
One new technology introduced in the Ampere cards is GDDR6X memory, intended to increase memory bandwidth over the GDDR6 memory of the previous generation of cards.
Graphics memory capacity has also increased, with the GeForce RTX 3090 featuring 24GB of on-board RAM.
That's on a par with Nvidia's current Quadro RTX 6000 workstation card, which Jason Lewis described as the "sweet spot" for serious GPU rendering work in his 2020 group test of professional GPUs.
The RTX 3090 also supports NVLink, making it possible to pool GPU memory between cards: a feature that seems targeted more at CG artists than gamers.
However, power consumption is creeping up, reflected in the RTX 3090's TDP of 360W – nearly 100W higher than the 2080 Ti – so electricity may be a cost to factor in for production work.
Other key display standards and APIs
In addition, the new cards support PCIe 4.0 – they should work with "all PCIe 3.0 and 4.0 CPUs [and] motherboards" – and the HDMI 2.1 and DisplayPort 1.4a display specs.
In terms of graphics APIs, all of the new cards support DirectX 12, OpenGL 4.6 and Vulkan RT.
Pricing and release dates
The GeForce RTX 3070 ships in October 2020 with a MSRP of $499. The RTX 3080 ships on 17 September 2020 with a MSRP of $699. The GeForce RTX 3090 ships on 24 October 2020 with a MSRP of $1,499.
Read more about the GeForce RTX 30 Series cards on Nvidia's blog