Thursday, May 20th, 2021

Posted by Jim Thacker
Nvidia to throttle hash rates of new GeForce RTX GPUs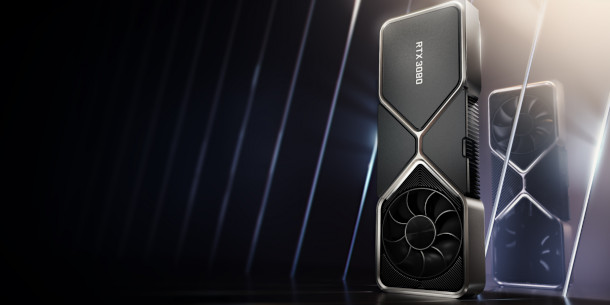 Nvidia is to throttle the Ethereum hash rate of its GeForce RTX 30 Series GPUs in an attempt to address shortages of the cards due to their popularity for mining cryptocurrency.
New LTH (Lite Hash Rate) editions of the GeForce RTX 3080, RTX 3070 and RTX 3060 Ti cards will start shipping this month.
Powerful GPUs for professional graphics – if only you can get hold of them
Despite their power – both for gaming and for running professional CG applications – take-up of the GeForce RTX 30 Series cards has been limited by the difficulty people have in getting hold of the cards.
Demand now outstrips supply to the point where tech news sites run stories on the latest stock updates at online retailers and distributors ask customers not to call their phone support lines about them.
As well as a surge in demand for PC hardware caused by people working or studying from home during COVID-19, the problem has been exacerbated by the cards' appeal to cryptocurrency miners.
Nvidia previously attempted to address the issue by introducing new CMP GPUs designed for currency mining, although early indications are that their price may be an issue.
The firm has now gone further by announcing new 'Lite Hash Rate' (LTH) editions of the GeForce RTX 3080, RTX 3070 and RTX 3060 Ti with reduced Ethereum hash rates to reduce their appeal for currency mining.
But will limiting hash rates actually improve availability of GeForce RTX 30 Series cards?
It's a tactic that Nvidia has applied to the newer GeForce RTX 3060 since launch: its drivers detect the Ethereum mining algorithm and reduce hash rates by "around 50 percent".
According to the company's blog post: "We believe this additional step will get more GeForce cards at better prices into the hands of gamers everywhere."
How well it will do so remains a moot point: when we checked Amazon.co.uk this morning, RTX 3060 cards were available, but selling for £800 to £1,000, well above the recommended UK retail price of £299.
The change also doesn't cover the top-of-the-range – and equally hard-to-get-hold-of – GeForce RTX 3090: "one of the best GPUs that money can buy" for DCC work, according to Jason Lewis's CG Channel review.
Pricing and availability
The new LHR editions of the GeForce RTX 3080, RTX 3070 and RTX 3060 Ti are due to ship in "late May" 2021. You can find recommended pricing on Nvidia's product website, for what it's worth.

Read Nvidia's blog post announcing the new LHR editions of the GeForce RTX 30 Series cards