Friday, August 17th, 2018

Posted by Jim Thacker
New PiXYZ Software tools get CAD data into Unity, UE4

Originally posted on 13 March 2018. Scroll down for news of the commercial 2018.3 release.
Unity Technologies has partnered with startup PiXYZ Software to provide new technologies for getting CAD data into its Unity game engine.
PiXYZ Software's upcoming products, which range from import plugins to desktop software, are intended to help design professionals make use of game engines as real-time visualisation tools.
Although the tools are currently being promoted by Unity Technologies, they aren't tied to Unity, with the import plugins also working with the competing Unreal Engine.
A competing solution to Unreal Studio
Perhaps not coincidentally, the partnership announcement was made last week, on the same day as the beta release of Unreal Studio, Epic Games' own solution for importing CAD data into Unreal Engine.
Unlike Unreal Studio, PiXYZ Software's products are still not publicly available, although the aim is the same: to automate common tasks when preparing CAD assemblies for use inside a game engine.
Import CAD data into Unity or Unreal Engine with PiXYZ Plugin
At the lower end of the scale, PiXYZ Plugin provides a menu option within the Unity editor for importing CAD data in a range of common formats, including those native to CATIA, SolidWorks, Rhino, Inventor and NX.
The plugin provides options to scale, orient, stitch, and tessellate a CAD model, and to map UVs, control how design hierarchy is imported, and generate LODs.
It also makes it possible to publish a Windows runtime executable from a Unity project from which a user – for example, a client – can trigger the import of new CAD data, making it possible to update assets.
As well as Unity, there is a version of PiXYZ Plugin for UE4, providing an alternative to Unreal Studio.

Prepare CAD data for using in a game engine with PiXYZ Software's desktop products
For more complex tasks, there are two desktop packages, Studio and Studio Editor.
As well as the features available in the plugin, they provide tools for model simplification, hidden geometry removal and fixing flipped normals – plus, in the case of Studio Editor, Python scripting.
Sister products Pipeline and Pipeline Editor provide similar functionality, but are designed to run on local servers or cloud instances to batch-process large volumes of data.

Review CAD data collaboratively, including support for VR and AR devices
PiXYZ's final desktop products, Review and Review Premium, don't require a game engine at all, being universal viewers for CAD data.
With them, users can import native CAD files and inspect them interactively, exploding the assemblies, using dynamic cutting planes, taking 3D measurements and viewing Product Manufacturing Information (PMI) data.
Both versions support remote collaboration, and Review Premium makes it possible to view the assets on VR and AR devices, including Oculus Rift and HTC Vive headsets, and Microsoft's HoloLens.

Updated 16 August 2018: PiXYZ Software's tools are shipping.
The company has updated the software for Unity 2018.2, improving performance and adding a new decimation algorithm for models with more organic forms, and those with no NURBS patch information.
It has also simplified its product line-up, dropping Studio Editor and Review Premium and providing their extra functionality in Studio and Review instead.
In addition, the PiXYZ plugin can now import metadata and display it as properties within Unity when the full uncompressed product hierarchy is imported, which previously required Studio.
You can read a full list of changes in this post on Unity's blog.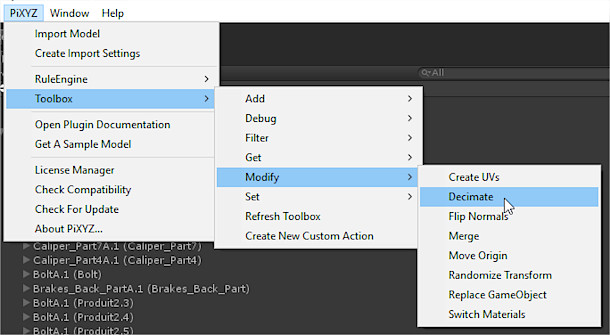 Updated 18 December 2018: PiXYZ Studio 2018.3 and PiXYZ Plugin 2018.3 are shipping.
The plugin gets a new Toolbox menu, making it possible to use PiXYZ's tools to modify models after they have been imported into Unity, rather than making the changes externally and re-importing.
A new Live Sync feature live-links the asset in Unity with the original source data in a CAD application, transferring any changes automatically.
The update also adds a new Rule Engine – effectively a macro system for automating common operations performed on imported models – and support for Unity's C# scripting capabilities.
PiXYZ Studio gets a Decimate Target command for setting a target polygon count when decimating geometry; and materials inherited from a parent node in a CAD hierarchy can now be transferred to Unity.
You can read more about the changes in this post on Unity's blog.

Pricing and availability
PiXYZ Software's products are Windows-only, running on Windows 7 and above. The plugin is compatible with Unity 2018.1+ and Unreal Engine 4.19.2+.
A node-locked licence of PiXYZ Plugin or PiXYZ Review costs €1,000/year (around $1,140). PiXYZ Studio costs €1,800/year (around $2,050). Floating and permanent licences are also available, priced on enquiry.
PiXYZ Pipeline is an on-demand service, and is also priced on enquiry.

Read more about PiXYZ Software's products on the company's website
Read the partnership announcement with Unity Technologies on Unity's blog