Wednesday, March 11th, 2020

Posted by Jim Thacker
Epic Games releases Twinmotion 2020.1

Epic Games has released Twinmotion 2020.1, a major update to its Unreal-Engine-based real-time visualisation software, adding a range of new rendering features and new stock human and plant models.
The release also introduces Twinmotion Presenter, a new presentation and design review system in keeping with Epic's vision of the software as a "PowerPoint for CAD".
Epic has also announced aggressive new pricing for Twinmotion: just $499 for new licences, discounted to $249 on launch, with the update free to users of Twinmotion 2019.
An easy-to-use tool for visualising CAD data
Created by French architectural visualisation studio KA-RA, Twinmotion was intended as a way for architects with limited 3D experience to create still or animated visualisations of their buildings.
It imports hero models in a range of standard 3D file formats, including OBJ, FBX, DWG, DAE, SKP and C4D, and there are live links to ArchiCAD, Revit and SketchUp Pro, plus the option to import BIM data.
Users can then create background environments from a library of stock assets, and assign lights.
Atmospheric properties – including clouds, rain and snow, and ambient lighting based on geographical location and time of day – can be adjusted via slider-based controls.
There are brush-based systems for editing topography or adding animatable vegetation to a scene, and a Bezier-based system for pathing animated crowds or traffic.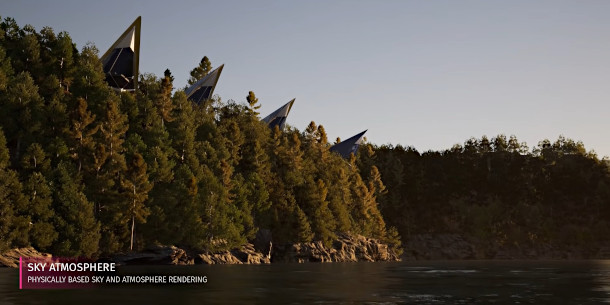 New in Twinmotion 2020: physical sky, area and volumetric lighting, better DoF
The first major update since Epic Games acquired Twinmotion last year, Twinmotion 2020.1 – there is no 2020.0 – should further improve the visual quality of the imagery the software generates.
New rendering features include a physically based atmospheric sun and sky model – something recently added to Unreal Engine itself – and "cinematic depth of field".
The release also adds new area and volumetric lighting tools, and screen-space global illumination (SSGI).
There are also a range of new materials, including an X-ray material for diagrammatic renders, frosted glass, a light-emitting Glow material, and a video material for displaying imported video footage.
New industry-standard stock 3D characters and vegetation models
The range and quality of the stock assets provided with Twinmotion has also been increased.
Following feedback from users that the previous stock figures looked like "characters from Fortnite", Epic has replaced them with scan-based assets from AXYZ design.
Twinmotion 2020 includes 62 animated 3D characters, each with five variant sets of clothing; plus 82 ready-posed characters for use in still renders.
There are also new vegetation models: tree models from Xfrog's XfrogPlants collections, described as having poly counts "an order of magnitude" higher than the previous assets, and bushes from the Megascans library, which Epic also acquired last year.
The release also updates the vegetation painting system, adding support for paint layers and making it possible to edit the density of vegetation after painting; and adds a new vegtation scattering tool.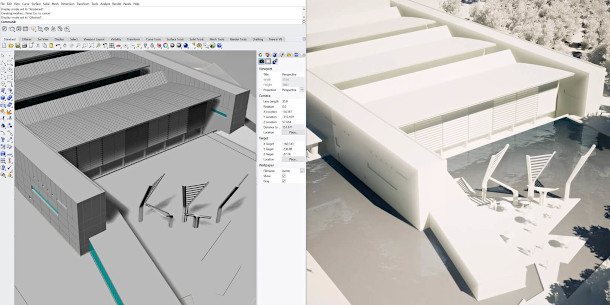 Pipeline changes: Rhino integration, new presentation system with annotation capabilities
Pipeline changes include a new Rhino integration plugin, making it possible to sync Rhino scenes with Twinmotion, converting native materials into Twinmotion PBR materials while retaining the scene hierarchy.
A new presentation system, Twinmotion Presenter – it replaces the old BIMmotion system – enables users to share projects as executables running in a standalone viewer.
It includes a Note tool, making it possible for clients to provide feedback on a scene in the form of written notes that can be exported in BCF format for use in tools like Revit.
Free to Twinmotion 2019 users, and cheap for newcomers
The release also introduces Epic's new pricing for Twinmotion, following a 10-month period after the acquisition during which the software was available to download for free.
It's a significant cut. Prior to the acquisition, the software had an MSRP of €1,650 (around $1,860); now, it's just $499, further reduced to $249 by the launch discount.
In addition, anyone who registered Twinmotion 2019 while it was available free – over 436,000 people, according to Epic – also gets Twinmotion 2020 free, including updates until December 2021.
From a tool for visualisation specialists to a 'PowerPoint for CAD'
Speaking to CG Channel before the release, Epic Games general manager Marc Petit said that the firm aimed to broaden Twinmotion's user base beyond specialist visualisation work.
Twinmotion was previously one of several products pitched at architects put off by the technical complexity of specialist rendering software like V-Ray and Corona Renderer – or Epic's own Unreal Engine.
According to CGarchitect's 2019 industry survey, carried out before Epic made Twinmotion available free, both Act-3D's Lumion and Enscape were more widely used.
Although Petit conceded that Enscape has "some unique features we don't have", he characterised both products as primarily tools for "the guy doing visualisation".
In contrast, he described Twinmotion as a "very generic" tool comparable to "PowerPoint for CAD".
Petit said that since the acquisition, Epic had seen studios deploying "hundreds of seats" of Twinmotion, and that it expected to see uptake among engineering and product design firms as well as architectural practices.
While Petit described TwinMotion as "pretty unique in terms of ease of use", the new pricing shouldn't hurt wider adoption, either: a perpetual licence of TwinMotion now costs roughly the same as an annual subscription to Enscape, and a fraction of the cost of a full licence of Lumion.
Pricing and system requirements
Twinmotion is available for Windows 7+ and macOS 10.13.6+. Integration plugins are available for ArchiCAD, SketchUp Pro, Revit, Rhino and RikCAD. New licences have an MSRP of $499.
Anyone who downloaded Twinmotion 2019 while it was available free automatically gets a perpetual licence of Twinmotion 2020 and access to all future upgades until December 2021.

Read an overview of the new features in Twinmotion 2020.1 on Epic Games' blog
Read a full list of new features in Twinmotion 2020.1 in the online changelog