Sunday, December 15th, 2019

Posted by Jim Thacker
10 key features for CG artists from Unreal Engine 4.24

Epic Games has released Unreal Engine 4.24, the latest update to the game engine and real-time renderer.
It comes with the usual lengthy changelog, with features ranging from new non-destructive landscape editing workflows and a true physical sky system to in-editor UV unwrapping and 3D text.
It's also the first release to include Datasmith, Epic's CAD data import toolkit, previously part of Unreal Studio; and for which Quixel's Megascans assets are available free to UE4 users.
The release shipped earlier this week, so rather than doing a conventional story, we thought we'd pick out 10 highlights for CG artists. Features marked 'Experimental' are not recommended for use in production yet.
1. Better non-destructive landscape editing (Experimental)
Epic began to expand Unreal Engine's landscape editing toolset in Unreal Engine 4.23 with a neat new non-destructive layer-based system for editing heightmaps.
In 4.24, they are joined by a new Landmass plugin and Landscape Blueprint Brushes. Used in conjunction, the tools enable artists to manipulate arbitrary regions of terrain defined by 2D spline shapes.
Possible use cases including drawing splines to define the outline of an island, or the course of a river or mountain range, as shown in the demo video above.
Users can specify materials, meshes and falloff within the brushes, and apply effects like noise and blur.

2. Better physical sky system (Experimental)
Epic first introduced a sun positioning system into Unreal Engine in Unreal Engine 4.21, enabling users to automatically generate sun and sky lighting matching a real-world latitude, longitude, date and time of day.
In 4.24, that system has been extended with a new Sun and Sky Actor.
It includes a Sky Atmosphere component that mimics real-world phenomena like Rayleigh and Mie scattering, multi-scattering, and ozone absorption, meaning that the sky responds more realistically to sun position.
The most obvious use for the toolset is in architectural visualisation, but Epic notes that the atmosphere component also suits more sci-fi use cases, like rendering planets or ground-to-space transitions.

3. Better hair and fur rendering (Experimental)
Unreal Engine 4.24 continues Epic's ongoing work on recreating photorealistic digital humans with updates to the hair rendering and simulation system.
Users can now import hair grooms in Alembic format from DCC applications like 3ds Max, Houdini and Maya – for which Epic recently acquired the hair plugin Shave and a Haircut, then released it for free.
It is also now possible to author hair materials inside the Unreal editor, and to use the new Niagara visual effects editor to set up hair physics.
4. Burley subsurface scattering
Skin rendering also gets an update, with the introduction of Burley subsurface scattering.
According to Epic, it generates much higher quality effects than the existing Separable SSS algorithm with a "cleaner, more accurate falloff", and simplifies the skin shading set-up process.

5. Inertial animation blending (Experimental)
Animators get inertial blending, a new high-performance alternative to traditional animation crossfading, in which the calculation is performed as a post process.
The system, which does not evaluate the source pose at all after the blend is activated, was developed by The Coalition during its work on Gears of War 4.
There is also a new system of Animation Blueprint Linking, making it possible to switch out sections of an animation graph dynamically, minimising the need to load unnecessary animation assets.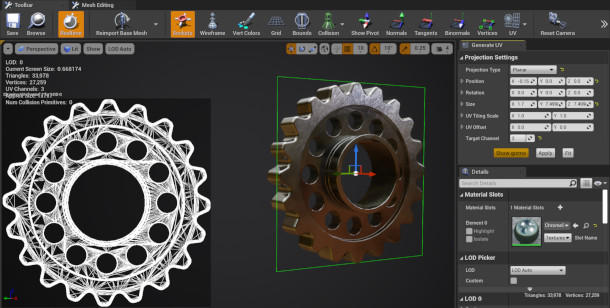 6. Create UV layouts inside the Unreal Editor
There are also some time-saving artist features buried further down the Unreal Engine 4.24 changelog, including the option to create new UV layouts for meshes directly in the Unreal Editor.
Rather than having to switch to an external app, users can use the Unrwap UV command in the contextual menu for any Static Mesh, and tweak angle threshold and area weight to control the result.
The new UV layout can then be saved to an existing channel or in a channel of its own.
7. 3D text (Experimental)
Artists using Unreal Engine for motion graphics or visual effects also get an experimental new 3D type system for generating titles and similar sequences.
There doesn't seem to be any detailed documentation yet, but Epic says that users can import any OpenType or TrueType font, and adjust typographical settings like kerning inside the Unreal Editor.
It is possible to adjust the extrusion depth and edge bevelling to control the look of the 3D text generated, and to apply custom materials to the front, back, side and bevels.
8. Live USD stage (Experimental)
With pipelines based around Pixar's Universal Scene Description (USD) format becoming increasingly ubiquitous in VFX and feature animation, Unreal Engine also gets improved USD support.
The new Live Universal Scene Description Stage Actor creates a two-way link between a USD file on disk and the representation of the scene in the Unreal Editor.
When the external file is updated, the in-editor version can be updated without re-importing; or users can edit the scene in-editor, then write the changes back out to disk.
The implementation supports static and skeletal meshes, some materials, variants and animations.

9. Datasmith is now part of Unreal Engine
Finally, two features that we reported when they were announced last month, but which are worth repeating.
One is that the tools from Unreal Studio, Epic's real-time visualisation platform – originally due to become available via a monthly subscription – are now available free inside Unreal Engine.
That includes data conversion toolkit Datasmith, designed to help import CAD and BIM data into UE4 by automating common data preparation tasks, and streamlining re-imports.
It has been updated with the 4.24 release, and now runs on macOS and Linux as well as Windows.
The Alias Studio importer has also been reworked, and there are updates to the 3ds Max, SketchUp and Revit importers, and to the import of materials in AxF format.
10. Quixel Megascans are free to Unreal Engine users
Last, but not least, 3D scan data from Quixel's Megascans online library are now free to Unreal Engine users, following Epic's acquisition of Quixel last month.
At the time of posting, there are 56 free Megascans asset packs available via the Unreal Engine Marketplace; or assets can be accessed via free tool Quixel Bridge.
And there's more…
Other changes that didn't make this list include an experimental new screen space GI system, intended to provide dynamic global illumination in desktop and console games at a "moderate" performance cost.
Unreal Engine 4.24 also introduces support for new virtual/augmented reality standard OpenXR.
There are also updates to many existing toolsets, including the new Chaos and Niagara physics systems, and to ray tracing and texture streaming. You can find a full list of changes via the link below.
Pricing and system requirements
Unreal Engine 4.24 is available for 64-bit Windows 10, macOS 10.14 or Linux. Use of the editor is free, but Epic takes 5% of gross beyond the first $3,000 per quarter for any product you release commercially.
Read an overview of the new features in Unreal Engine 4.24 in the online changelog