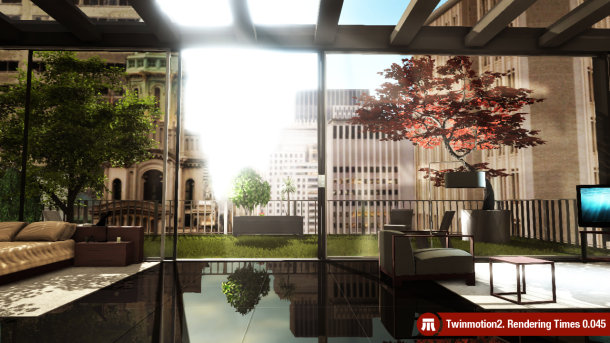 Developer Ka-Ra has unveiled full details of its Twinmotion 2 real-time rendering software.
One of the most talked-about new products of the year, the company's teaser blog – provocatively entitled 'The Rendering Killer' – attracted over 50,000 visitors in the run-up to the release.
According to the blog, the software was developed with the help of leading firms such as Ateliers Jean Nouvel and Zaha Hadid Architects. It also comes complete with a user testimonial from Aéroports de Paris.
Depth of features
As might be expected, the official feature list promises a range of powerful lighting and rendering options, including dynamic ambient occlusion, dynamic fog, God rays and simulated or physically accurate reflections.
According to the product information, these functions are automatically linked to time of day, season and geographical co-ordinates.
"All program functions are time-stamped, be it the sun, the moon, the sky, the passage of clouds, the color of the sky, the intensity of light, atmospheric pollution, fog … All of these elements are animated automatically according to the month, day, hour and year."
The software also includes basic modelling tools, including primitives and spline-based modelling; a materials editor; scene graph; timeline and location-based animation; and a range of post effects.
Further toolsets add audio or interactive elements to scenes, including mouseover hotspots or interactions triggered by button presses.
Twinmotion 2 also includes tools for creating simple animated water surfaces, and a rather more powerful-looking vegetation toolset, providing the option to paint plants onto a surface with a brush.
The software has a recommended retail price of €2,420 ($2,990): around two to three times the price of non-real-time renderers like V-Ray and Maxwell Render, but rather less than StudioGPU's MachStudio Pro.
PRESS RELEASE (Excerpts)
Designed by architects for architects, veteran visualization studio KA-RA has announced the release of Twinmotion®2, an award winning real-time studio that lets architects and designers create, edit and share interactive 3D models.
Following the experience acquired over the years, Twinmotion was developed to integrate the design and visualization process. Using revolutionary real-time technology, substantial time savings can be gained throughout the design process and savings of between 300% and 1500% can be realized in the creation of fullmotion video.
Thanks to Twinmotion®2, notable firms like Zaha Hadid, Ateliers Jean Nouvel and Aéroports de Paris have improved their design processes with a more natural, integrated and creative use of visualization.
Twinmotion®2 is designed to integrate into any design workflow. Users are able to seamlessly import models from the most popular applications such as Autodesk 3ds Max®, Auto-CAD®, Revit®, Softimage® and SketchUp™.
An exhaustive 3D library is included with over 460 objects specially designed for real-time modeling. An intuitive interface allows for realtime lighting and modeling tools and many other advanced effects including, real-time seasons, atmospheric effects, sound, interaction triggers, real-time physics and more.
Twinmotion®2 retails for $2990 for a single user license.
Visit the new TwinMotion 2 website
Tags: Featured Articles, price, real-time rendering, The Rendering Killer, Twinmotion 2