Redshift Rendering Technologies co-founder Rob Slater previews some of the new features due in Redshift in a presentation at Siggraph 2018. The firm has just released the first experimental builds of Redshift 3.0.

Originally posted on 31 May 2019. Scroll down for news of the latest experimental 3.x release.
Redshift Rendering Technologies has released the first experimental builds of Redshift 3.0: its first major update to the GPU renderer since being acquired by Maxon earlier this year.
The update introduces early support for hardware-accelerated ray tracing via Nvidia's new RTX architecture, increases the renderer's maximum trace depth, and improves support for AOVs.
The experimental builds – they aren't feature-complete or production-ready, so they're effectively alphas – are available only to existing users, and cover all of Redshift's host DCC applications.
In current builds: early support for hardware-accelerated ray tracing on Nvidia RTX GPUs
Major changes in Redshift 3.0 include preliminary support for hardware-accelerated ray tracing via Nvidia's new RTX hardware architecture, available in its Quadro, Titan and GeForce RTX GPUs.
The implementation is currently "not on 100% parity" with the existing ray tracer, but supports "the majority of features" and results in an increase in render speed in most scenes.
According to Redshift, the "typical worst-case scenario" is simply that scenes do "not render that much faster" with the new implementation than the legacy ray tracer.
Future builds of Redshift 3.0 will also support NVLink.
The technology enables users to pool GPU memory across two supported GPUs – currently just Nvidia's high-end Quadro cards – making it possible to render much larger scenes without a major performance hit.
You can read a longer discussion of the development work in this forum thread.
In current builds: increased trace depths, better handling of AOVs
Other changes include support for higher trace depths when rendering: Redshift now supports up to 64 diffuse, reflection, refraction bounces and 256 transparency levels.
As well as improving the visual quality of renders, the engine's rendering core has been sped up "by a good few percentage points" to handle the increased number of calculations required.
The update also improves handling of Arbitrary Output Variable (AOV) render passes, with lighting-related AOVs like diffuse and specular now being visible through transparency and refraction effects.
In future releases: automatic sampling, OSL support, new real-time rendering mode
Other upcoming features include a new automatic sampling system, partly implemented in the experimental builds, and described as "one of the [highest]-priority items" for future releases.
Redshift is also working on support for Open Shading Language; "full" support for OpenColorIO, including for texture maps; and better handling of Deep EXR images, including support for VDB volumetrics.
Work is also continuing on RedshiftRT, a new 'real-time' render mode.
In practice, that means renders will complete "several times faster" than normal, not literally be generated at 30fps, and advanced features like ray traced DoF and motion blur "will very likely be missing".
Redshift says that it hopes "to be able to at least tease something in the next few months".
Updates to Redshift for Cinema 4D
In the wake of the Maxon deal, Redshift's Cinema 4D plugin is also set for some significant updates, including better preview rendering and scattering workflow, and better handling of C4D's native scene scale.
Redshift also plans to support Cinema 4D's native noise nodes directly within the renderer: not just in the Cinema 4D edition, but on all of its host applications.
All of Cinema 4D's 32 procedural noise types, shown in a video recorded by Zeljko Grgic. The new Redshift 3.0.12 update enables users of the renderer's other host DCC applications to make use of Cinema 4D noises.

Updated 5 December 2019: Redshift Rendering Technologies has released Redshift 3.0.12, the latest experimental build of the renderer, adding the Maxon noise shader.
The release, which Maxon describes as "the first achievement of our collaboration since Maxon's acquisition of Redshift", enables users of any host DCC application to use Cinema 4D's procedural noises.
The build also adds "initial support" for the node-based material system introduced in Cinema 4D R20, although you need Cinema 4D R21.1 to make use of nodal materials in the Redshift plugin.
Since we originally posted this story, previous experimental builds have added experimental support for Redshift interactive preview rendering directly in the Cinema 4D viewport.
Houdini users get support for Redshift as a viewport renderer within Solaris, Houdini 18's new look dev and shot layout toolset, available as a separate preview build.
Previous experimental builds of the Houdini plugin have added a range of new features, including better handling of proxies and AOVs; while the Maya plugin has a new option to isolate selected shaders.
Recent changes common to all editions of the renderer include support for NVLink for geometry data as well as volumes, making it possible to render larger scenes by linking multiple Nvidia GPUs.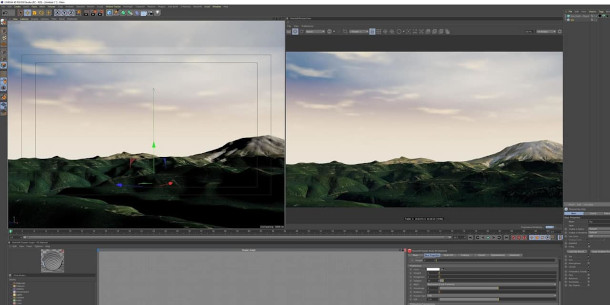 Updated 26 May 2020: Redshift Rendering Technologies has released Redshift 3.0.21, another significant new experimental build, adding intial support for Cinema 4D's Sky and Physical Sky objects.
The release also adds supoort for Ornatrix for Maya, Ephere's popular hair plugin.
Other changes since we last wrote about the software include support for tyFlow, Tyson Ibele's next-gen replacement for 3ds Max's Partcle Flow toolset, and for gaseous fluid simulation tool FumeFX.
In addition, the Altus render denoiser, previously available as a $149 add-on, is now included free with the software, following the closure of innoBright, its developer.
According to Redshift, the integrated version is CUDA-based, and is faster than the previous OpenCL version. Both single- and multi-frame denoising are supported.
Pricing and system requirements
Experimental builds of Redshift 3.0 are available to registered users of the software for Windows, Linux and macOS. Redshift hasn't yet announced a commercial release date.
The current official release, Redshift 2.6, costs $500 for a node-locked licence; $600 for a floating licence.
Integration plugins are available for 3ds Max 2013+, Cinema 4D R16+, Houdini 15.5+, Katana 2.5v4+ and Maya 2014+. There is also a plugin for Softimage, although it's no longer officially supported as a host app.

Read a full list of new features in Redshift 3.0.21 on the Redshift forum
Read an overview of the new features in Redshift 3.0
(Note: you need to be logged in to the forum to view either thread)
Track new features in Redshift throughout the 3.x releases on the software's Trello board
Tags: 3ds max, Altus, AOV, AOVs, Cinema 4D, Cinema 4D noise shader, Cinema 4D R20, CInema 4D R21, Cinema 4D R21 service release, Cinema 4D R21.1, CUDA, Deep EXR, DeNoiser, ephere, FumeFX, GeForce RTX, GPU renderer, GPU rendering, hair, hardware-accelerated ray tracing, Houdini, Houdini 18, Houdini packed proxy, Hydra, innoBright, Isolate Selected, Katana, Maxon, Maya, new features, node-based materials, noise, NVIDIA, NVLink, OCIO, Open Shading Language, OpenColorIO, OpenEXR, Ornatrix, OSL, Particle Flow, particle system, physical sky, price, procedural noise, proxies, Quadro RTX, ray tracing, Redshift, Redshift 3.0, Redshift 3.0.12, Redshift 3.0.21, Redshift Rendering Technologies, RedshiftRT, release date, render denoising, rendering, RTX, Sitni Sati, softimage, Solaris, Titan RTX, trace depth, tyFlow, VDB, Viewport IPR, viewport rendering, volumetric