Concept artist and matte painter Saul Espinosa's round-up of the new features in Redshift 3.0 announced during Maxon's 3D and Motion Design Show last week. The recording of the livestream starts at 03:30.

Maxon has shown sneak peeks of Redshift, its GPU renderer, running under Metal on current Mac hardware, and of Redshift RT, its new real-time hybrid ray tracing/rasterisation render engine.
Both are due in public preview later this year, alongside a new Redshift integration plugin for Blender.
The news was announced during Maxon's 3D and Motion Design Show, in what would normally have been Siggraph 2020 week, alongside Project: Neutron, Cinema 4D's new node-based core architecture.
Redshift on Metal: new Mac port of the renderer due with the public beta of macOS 11.0
During the livestream, Maxon previewed the new Metal port of Redshift for users of current Apple hardware.
Announced at Apple's Worldwide Developer Conference last year, the switch from Nvidia's CUDA to Apple's Metal as a GPU computing API will enable Redshift to run properly on current Mac workstations.
Apple no longer supports Nvidia cards, even as eGPUs, and in any case, CUDA no longer supports macOS.
You can see the upcoming Metal port at 04:40 in the video above, running the standard Redshift benchmark scene inside Cinema 4D on an iMac Pro.
According to Maxon, registered Redshift users will be able to test a preview build in the "next couple of weeks", although the exact timing depends on that of the public beta of macOS 11.0 Big Sur.
The other key Metal-native GPU renderer for Mac users, Otoy's Octane X, which was also announced at WWDC 2019, has just been released as a free public preview.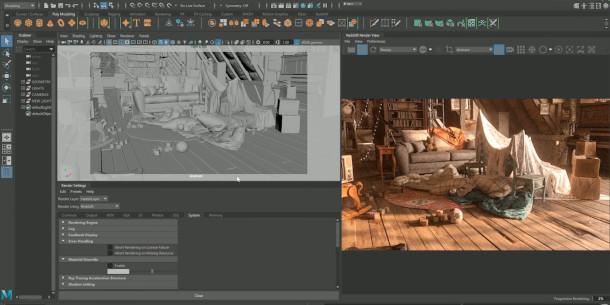 Redshift RT: new real-time hybrid render engine due later this year
In addition, Maxon previewed Redshift RT, Redshift's new real-time render engine.
A hybrid ray tracing/rasterisation engine, it provides near-real-time feedback on complex production scenes, supporting the same materials and lights as the main Redshift renderer.
The demo, which you can see at 05:20 in the video, showed Nvidia's open-source Attic USD test scene inside Redshift for Maya, running on a Razer gaming laptop with a Nvidia GeForce GTX 2080 Mobile GPU.
Interactive performance in Redshift RT is noticeably better than in Redshift's existing interactive render preview, and the resulting image is less noisy.
Maxon described RT as generating "pretty clean results almost instantly", even with full global illumination.
Redshift RT is still "in active development", with an initial alpha release due later this year.

Redshift for Blender: new Blender integration plugin due in the 'next few weeks'
Maxon also confirmed that the new Redshift integration plugin for Blender is coming up for release as part of the ongoing series of experimental public builds of Redshift 3.0, the next major version of the software.
Support for Open Shading Language (OSL) is due "in the next few weeks" with "initial Blender support … soon thereafter".
You can see an alpha build of the Blender plugin – which already supports displacement, instancing, volumes and the Blender hair object – in the video above, recorded by concept artist Saul Espinosa.
Features already available in public builds include support for GPU-accelerated ray tracing via Nvidia's OptiX 7 platform and support for NVLink. You can find more details in our original story on Redshift 3.0.
Pricing and system requirements
Experimental builds of Redshift 3.0 are available to registered users of the software for Windows, Linux and macOS. Redshift hasn't yet announced a date for the official release yet.
The current stable release, Redshift 2.6, costs $500 for a node-locked licence; $600 for a floating licence. Integrations are available for 3ds Max 2014+, Cinema 4D R16+, Houdini 16.5+, Katana 2.6v1+ and Maya 2014+.

Find more details of the new features in Redshift 3.0 on the product forums
(Requires a free user account to view the board)
See the current status of the Metal port of Redshift on the product forums
(Requires a free user account to view the board)
Read more about the Redshift for Blender plugin on the software's Trello board
Tags: 3ds max, AMD, API, Blender, Cinema 4D, CUDA, demo, GPU renderer, hardware-accelerated ray tracing, Houdini, hybrid ray tracing, integration plugin, interactive preview, IPR, Katana, macOS, macOS 11.0, macOS Big Sur, Maxon, Maya, Metal, NVIDIA, NVLink, OptiX, preview, price, ray tracing, real time, Redshift, Redshift 3.0, Redshift for Blender, Redshift Rendering Technologies, Redshift RT, release date, rendering, RTX, Siggraph 2020, sneak peek, system requirements, The 3D Motion and Design Show, video