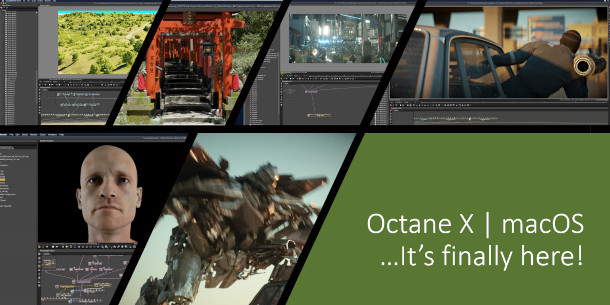 Otoy has released the first public preview of Octane X, its long-awaited new Metal-native version of OctaneRender, its GPU renderer, for users of Apple hardware.
The initial public release, Octane X PR1, is compatible with macOS 10.15.6, and is available free to OctaneRender users with paid subscriptions.
The final stable release is expected later in the year, after macOS Big Sur (macOS 11.0) ships, and will be free to new users activating the software on current Mac Pro, iMac and MacBook Pro computers.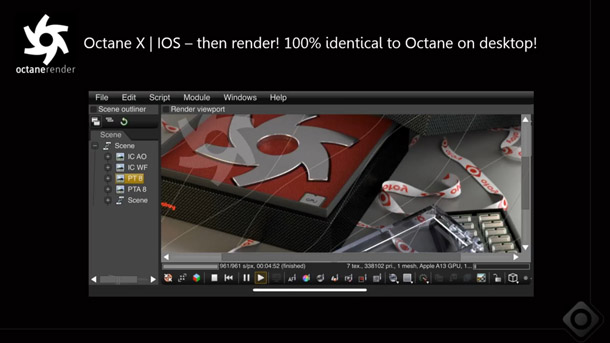 A ground-up rewrite of OctaneRender for current Apple hardware
First announced at Apple's 2019 Worldwide Developers Conference, and originally due in public preview last year, Octane X is a "ground up" rewrite of OctaneRender for Apple hardware.
The switch of GPU computing framework from Nvidia's CUDA to Apple's Metal transforms Octane from a Nvidia-specific renderer to a hardware-agnostic one.
As well as enabling the renderer to run on modern Macs – Apple no longer officially supports Nvidia cards even as eGPUs, and in any case, CUDA no longer supports macOS – it will enable it to run on iOS devices.
That means iPhones as well as iPads: in his presentation at GTC earlier this year, Otoy CEO Jules Urbach showed Octane X running on an iPhone 11.
Urbach commented that the speed was "probably as good as [on desktop GPUs] eight or nine years ago".
A further bonus for Mac users is that as well as the AMD GPUs in high-end Macs, Octane X should eventually run on the integrated Intel graphics on lower-end MacBooks.
"The path tracer, the kernel, all of Octane's features now run on Intel GPUs," said Urbach.
Octane X PR1: for macOS only, but all of the DCC plugins are supported
Both iOS and Intel support are still some way in the future: the initial public preview of Octane X is purely for desktop macOS, on machines with AMD Vega and Navi GPUs.
However, it has full "pixel parity" with OctaneRender 2020.1, the current stable release of the software.
According to the online FAQs, scenes should render identically in the CUDA and Metal editions of the software, with the exception of some OSL shaders, including third-party OSL textures and Maxon OSL noises.
Otoy plans to introduce support for the remaining shader types over the next two public releases.
Octane X PR1 is available to existing OctaneRender users with Studio and Enterprise subscriptions, and includes access to both the standalone edition of Octane X and all of the DCC integration plugins
That includes plugins that never previously had a macOS edition, like Unity and Unreal Engine.
Benchmark scores available for current Mac GPUs
Otoy has also released benchmark scores for the GPUs available in current Apple workstations and laptops, based on its OctaneBench internal benchmark scene.
AMD's Radeon Pro Vega II Duo, available in top-of-the-range Mac Pros, comes out highest, with an OctaneBench score higher than that for any publicly available Windows or Linux workstation GPU.
That includes Nvidia's current top-of-the-range workstation cards, the Quadro RTX 8000 and Quadro GV100.
However, as the Duo consists of two GPUs on a single card, a more meaningful comparison might be the standard Vega II, which has an OctaneBench score similar to Nvidia's GeForce RTX 2070 gaming card.
Commercial release will be free to users of new Mac Pros, iMacs and MacBook Pros
The commercial release will be available in the "coming months" and will be free to "all new users activating Octane X on 2019 or later models of Mac Pro, iMac and MacBook Pro running macOS Big Sur".
That increases the number of users qualifying for a free perpetual licence of Octane X significantly: when it was announced, it was scheduled to be free only to buyers of the new Mac Pro.
In addition, existing OctaneRender users will "get both CUDA and Metal licences", although Otoy hasn't revealed any more details yet. More information "will be shared in the coming weeks".
Pricing and system requirements
Octane X PR1 is available for macOS 10.15.6 only. The initial public release requires an AMD Vega or Navi GPU. Support for Intel GPUs is due in a "future update for macOS 11".
The public preview is available free to OctaneRender users with Studio and Enterprise subscriptions.
Subscriptions cost €19.99/month or €199/year ($23/month or $227/year) for use on up to two GPUs, or €29.99/month or €299/year ($34/month or $341/year) for unlimited GPUs.
Mac users without a paid OctaneRender subscription can download a demo version of Octane X PR1, which restricts render resolution to 1,000 x 600px and watermarks output.

Read Otoy's official announcement of the first public preview of Octane X
Read Otoy's FAQs about Octane X in its forum thread
Tags: AMD, AMD GPU, Apple, Apple GPU, benchmark, benchmark score, Blender, Cinema 4D, CUDA, demo, download, Enterprise Subscription, free, free subscription, GeForce RTX 2070, hardware-agnostic, iMac, Intel, iOS, Mac Pro, MacBook Pro, macOS, macOS 10.15, macOS 10.15.6, Maxon, Metal, Navi, new features, NVIDIA, Octane X, Octane X PR1, OctaneBench, OctaneRender, OctaneRender 2020.1, OSL, Otoy, performance, plugin, price, public preview, Quadro GV100, Quadro RTX 8000, Radeon Pro Vega II, Radeon Pro Vega II Duo, release date, standalone, subscription, system requirements, trial, Unity, Unreal Engine, Vega