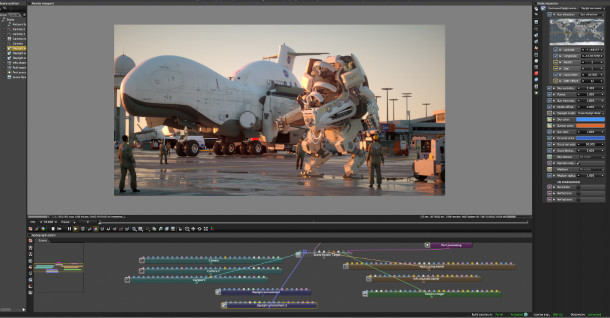 Otoy has announced that Octane X, the new Metal-native edition of OctaneRender, its GPU production renderer, is now available through the Mac App Store.
The firm has also announced two new subscription offers that make Octane X and all its integration plugins for DCC and CAD applications available free for one year to users of any Mac running macOS 11 Big Sur.
A new Mac version of OctaneRender compatible with AMD, Intel and Apple GPUs
First announced at Apple's 2019 Worldwide Developers Conference and released publicly last year, Octane X is a "ground up" rewrite of OctaneRender for Apple hardware.
The switch of GPU computing framework from Nvidia's CUDA to Apple's Metal transforms Octane from a Nvidia-specific renderer to a hardware-agnostic one.
As well as the AMD and Intel GPUs available in current Macs, that means Apple's own hardware: the current build, Octane X PR8, supports Apple's new M1 processors.
Free for one year to users of any Mac capable of running macOS 11 Big Sur
Along with the availability of Octane X through the Mac App Store, Otoy has announced two new subscription plans for Mac users, both free for the first year.
Users of Mac Pro, iMac Pro and MacBook Pro systems get the Octane X Enterprise subscription, which provides access to integration plugins for 21 DCC and CAD apps, and to RNDR, Otoy's GPU render network.
After that, the subscription is priced at €479.40/year (around $570/year).
Users of other Macs able to run macOS 11 Big Sur – the new App Store version is not available for older versions of the OS – get an extended Octane Prime subscription.
Like the Prime subscription for the CUDA edition of OctaneRender, which is available free to Windows and Linux users, it is restricted to rendering on a single GPU.
However, unlike the existing subs, it isn't confined to the Blender, DAZ Studio, Unity and Unreal Engine plugins: according to Otoy's press release, Mac users get access to all the DCC integrations.
Pricing and system requirements
Octane X PR8 is available for macOS 11.2+, and is compatible with both AMD, Apple and Intel GPUs.
Free one-year subscriptions are available to Mac users under the terms listed in the story above. Paid Octane X Enterprise subscriptions cost €479.40/year (around $570/year).
The CUDA edition of OctaneRender is available as both a perpetual licence and via subscriptions.

Read Otoy's announcement that Octane X is available in the Mac App Store
Read more about the features in Octane X PR8 on Otoy's forum
Tags: 3ds max, AMD, AMD GPU, Apple, Apple GPU, Blender, Cinema 4D, CUDA, Enterprise Subscription, free, free subscription, hardware-agnostic, Houdini, iMac, Intel, M1 processor, Mac App Store, Mac Pro, MacBook Pro, macOS, macOS 11, macOS 11.2, Maya, Metal, new features, NVIDIA, Octane X, Octane X PR8, OctaneRender, Otoy, plugin, price, Prime subscription, RNDR, standalone, subscription, system requirements, Unity, Unreal Engine