Posted on 30 November 2021. Find details of the OctaneRender 2022.1 stable release here.
Otoy has unveiled Octane 2022, the next major set of updates to the GPU production renderer, with the release of OctaneRender 2022.1 XB0, the first experimental build of the CUDA edition.
Changes include a new photon tracing kernel, making rendering caustics "about 1000x faster", a new layered ubermaterial based on Autodesk's Standard Surface specification, and better handling of volumes.
Features scheduled for later in the Octane 2022 release cycle include Brigade, Otoy's long-awaited real-time path tracing engine, and its new multi-render system.
In addition, Otoy has updated its subscription packages, with all subscribers now getting a range of other apps for free, including Architron, a renamed version of hard-surface modelling toolkit LWCAD.
A very early preview of Octane's 2022 feature set, currently only for Windows and Linux users
OctaneRender 2022.1 XB0 is the first 'experimental build' – that is, public alpha – of Octane 2022, and it's presumably an early one: it's the first time we can recall Otoy having started with XB0 rather than XB1.
It's also only of the CUDA edition for Windows and Linux users: at the time of writing, the current build of Octane X, the Metal-based edition of the software for macOS, is based on OctaneRender 2020.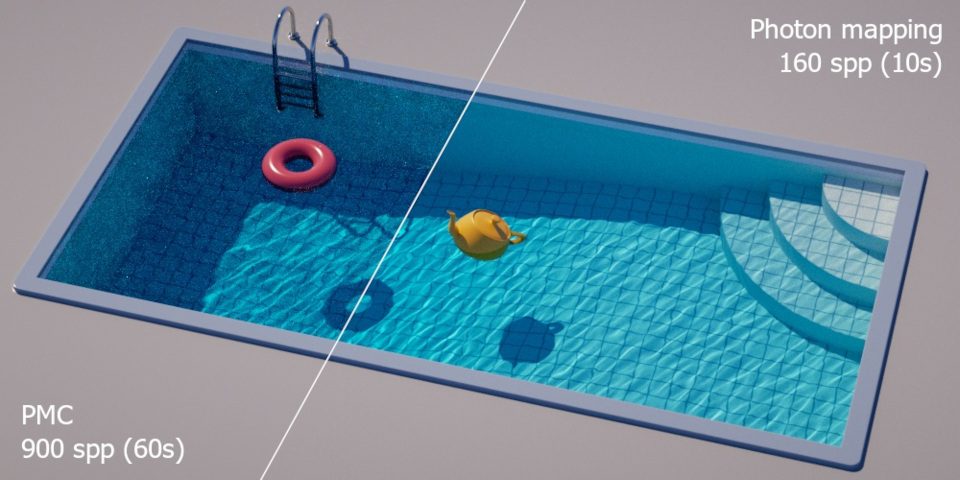 OctaneRender 2022.1's new photon tracing kernel (right) generates less noisy caustic effects than the existing PMC system (left) even at lower sample counts, speeding up calculation of caustics.

New photon tracing kernel makes rendering caustics 'nearly free'
New features in OctaneRender 2022.1 include a new photon tracing kernel, which Otoy describes as making rendering caustics "about 1000x faster" than the previous implementation.
The new kernel uses a "novel combination of GPU photon mapping and path guiding" to generate sharp, non-noisy caustics even at very low sample counts.
You can see side-by-side comparison images with OctaneRender's existing PMC and path tracing kernels in this forum thread.
New Standard Surface material based on the Autodesk Standard Surface specification
Other changes include a layered Standard Surface material based on the Autodesk Standard Surface spec.
Using the new ubermaterial for shading should ensure greater visual parity between output from OctaneRender and other renderers that support the specification, like Arnold.
Otoy has also updated the way that individual layers are implemented compared to OctaneRender's existing Universal Material, including an Oren-Nayar BRDF to represent diffuse roughness more accurately.
The anisotropic reflection channel in the specular and coating layers of the new material also accepts texture maps as inputs; and subsurface scattering is now defined by two separate layers rather than one.
New Standard Volume shader similar to that in Arnold
OctaneRender 2022.1 XB0 also introduces a new Standard Volume shader for volumetric effects like clouds.
Again, it "provides a familiar interface" for anyone used to Arnold's Standard Volume, and offers finer control than the existing OctaneRender Volume medium, including the option to use texture maps with most inputs.
Advantages over the existing Volume medium include better handling of black body emission, and better control of the colour of light scattered by the volume, and of objects seen through it.

New Brigade spectral rendering kernel due in OctaneRender 2022.1 RC1
In addition, Otoy has announced that the new Brigade spectral rendering kernel will ship with the first release candidate build, OctaneRender 2022.1 RC1.
The latest iteration of Brigade, Otoy's path tracing renderer, it "has full parity with all Octane rendering features" and "every material, volumetric, displacement, shader and material type".
You can get a taste of what it's capable of by downloading BrigadeBench, Otoy's new hardware benchmarking app based on Brigade: the link is near the top of this forum post.
Octane 2022 roadmap includes the delayed multi-render system
Further off, Otoy's new multi-render system is also now scheduled for OctaneRender 2022.
Originally announced for OctaneRender 2021, the system enables users to swap between Octane itself and any compatible third-party renderer.
Renderers due to be supported include Arnold, Blender's Cycles engine, Redshift and Unreal Engine.
Other new features currently scheduled for the OctaneRender 2022 release cycle include improved GPU particle rendering – Otoy estimates an "approximate 3x speed-up".
The 2022.x roadmap also includes full support for MaterialX and OSL closures, Arnold standard lights, and USD export; and interoperability of network renders between OctaneRender and Octane X.
However, it's worth noting that Otoy tends to be over-optimistic in its timing: since introducing annual version numbering, the firm has yet to release more than one stable build of OctaneRender in a year.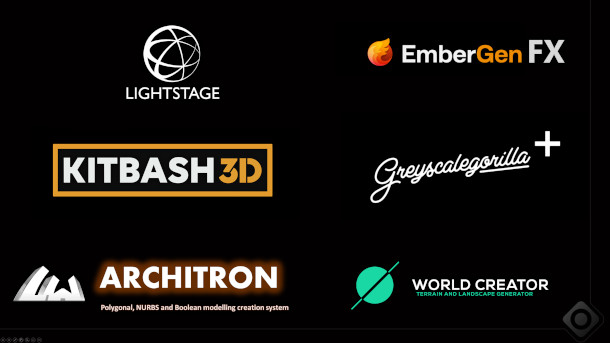 New software and assets for subscribers, including Architron
In addition, Otoy has overhauled its subscription packages, with all subscribers getting access to a wider range of bundled software, and new stock assets.
As well as the beta build of gaseous fluid simulator EmberGenFX, all subscription tiers now have access to procedural terrain generator World Creator, previously restricted to the highest subscription tier.
All subscribers also now have access to Architron, a renamed version of LWCAD, WTools3D's popular hard-surface modelling toolkit for Cinema 4D and LightWave.
Subscribers will also get a "curated kit" of assets from online kitbashing asset library KitBash3D each month, and 3D face scans captured using Otoy's LightStage technology.
Otoy is also offering new subscribers signing up before 30 December 2021 a one-year subscription to online Cinema 4D plugin and asset library Greyscalegorilla.
In addition, the top-tier package, previously known as RNDR+, has now been renamed Enterprise+, to reflect the change of name of Otoy's distributed GPU render network from RNDR to The Render Network.
It also looks as though the price has dropped: at the time of writing, Enterprise+ subscriptions cost €359.40/year, down from €479.40/year for RNDR+, although that does include a "limited-time" discount.
System requirements and pricing
OctaneRender 2022 XB0 is available now as an experimental preview. In the past, it has usually taken around five months for new versions to go from the first preview to a stable release.
The current stable release, OctaneRender 2021.1, is available for 64-bit Windows 7+ and Linux. Integration plugins are available for 21 DCC applications.
At the time of writing, the current build of Octane X, Octane X PR12 is still based on the 2020 SDK. Octane X 2022.1 XB0 will be released "shortly".
Enterprise box licences – perpetual licences for the standalone edition and one integration plugin, plus subscription access to the remaining plugins – currently start at €699.
Subscriptions give access to all of the plugins and cost €19.99/month or €199/year for use on up to two GPUs, or €29.99/month or €299/year for unlimited GPUs. A discount is available at the time of writing.
Enterprise+ subscription bundles currently cost €359.40/year for the first year, including a launch discount.
The Blender, DAZ 3D, Unity and Unreal Engine plugins are available free for use on a single GPU via OctaneRender Prime. Prime does not include OctaneRender standalone, or support network rendering.
In addition, 11 plugins, including 3ds Max, Cinema 4D and Maya, are available for use on a single GPU via the free trial of Octane X for macOS. It includes the standalone edition, but not network rendering.

Read a full list of features in OctaneRender 2022.1 XB0 in Otoy's forum thread
Read an overview of the other changes in OctaneRender 2022 on Otoy's blog
Tags: 3D scan, AMD, anisoptropic reflection, arch viz, Architron, Arnold, Autodesk Standard Surface, BiteTheBytes, black body emission, Blender, Brigade, BrigadeBench, caustics, Cinema 4D, clouds, CUDA, Cycles, DAZ Studio, deformation motion blur, distributed GPU rendering, download, EmberGen, EmberGenFX, Enterprise, facial scan, free, gaseous fluid simulation, GPU particle rendering, GPU ray tracing, GPU renderer, GPU rendering, Greyscalegorilla, hard surface modeling, hardware benchmark, Hydra, Hydra render delegate, integration plugin, JangaFX, Kitbash 3D, layered material, light sampling, LightStage, LightWave, LWCAD, macOS, MaterialX, Metal, motion graphics, multi-render, multi-rendering, new features, NVIDIA, Octane 2022, Octane X, OctaneRender 2021, OctaneRender 2022, OctaneRender 2022 roadmap, OctaneRender 2022.1, OctaneRender 2022.1 RC1, OctaneRender 2022.1 XB0, OctaneRender Prime, OctaneRender standalone, OptiX, Oren-Nayar diffuse BSDF, OSL, Otoy, path guiding, path tracing, photon mapping, photon tracing, PMC, price, public beta, public preview, Redshift, release date, renderer, rendering, RNDR, scattering, smoke, Standard Surface material, Standard Volume shader, subscription, subsurface scattering, system requirements, terrain generation, The Render Network, ubermaterial, UE4, Unity, Universal material, Universal Scene Description, Unreal Engine, USD, vfx, visual effects, visualization, volumetric rendering, World Creator, WTools3D