Otoy has released OctaneRender 2022.1, the latest version of the GPU production renderer, adding a new photon tracing kernel and a new layered ubermaterial based on Autodesk's Standard Surface specification.
The release coincides with the launch of the firm's new Studio+ subscriptions to the software, which replace perpetual licences and Otoy's old subscription plans.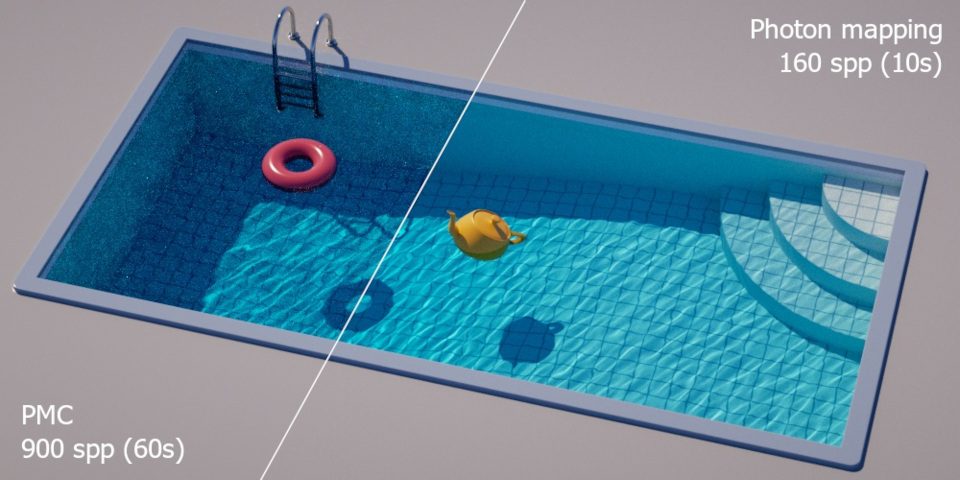 OctaneRender 2022.1's new photon tracing kernel (right) generates less noisy caustic effects than the existing PMC system (left) even at lower sample counts, speeding up calculation of caustics.

New photon tracing kernel, Standard Surface material and Standard volume medium
Key changes in OctaneRender 2022.1 include a new photon tracing kernel, which Otoy describes as making rendering caustics "about 1000x faster" than the previous implementation.
The update also adds a layered Standard Surface material based on the Autodesk Standard Surface spec.
Using the new ubermaterial for shading should ensure greater visual parity between output from OctaneRender and other renderers that support the specification, like Arnold.
Other major features include a new Standard Volume medium for volumetric effects like clouds.
It "provides a familiar interface" for anyone used to Arnold's Standard Volume, and offers finer control than the existing OctaneRender Volume medium, including the option to use texture maps with most inputs.
We covered the key features when OctaneRender 2022.1 XB0, the initial public alpha of the software, was released last year, so check out our original story for more details.


Vectron, OctaneRender's procedural geometry system, gets five new Boolean operators for combining volumes, on top of the existing Subtract and Union operators.

More procedural textures and Vectron operators
There are also 16 new procedural textures, while Vectron, OctaneRender's procedural geometry system, gets seven new 3D primitives and five new operators, including Clip, Intersect and Offset.
Other changes in the stable release include a new Cryptomatte mask output AOV, for creating masks based on matte ID selections in a Cryptomatte render AOV.
Brigade and multi-rendering now due in separate releases
However, several major planned features haven't made it to the stable release, including the integration of the new Brigade spectral rendering kernel.
It was due in the first release candidate, but on the release of OctaneRender 2022.1 RC1 last month, Otoy announced that it is now "coming as part of a special test release planned for the next couple of weeks".
The other features scheduled for the Octane 2022 release cycle – including the new multi-render system originally announced for OctaneRender 2021 – have also been pushed back to OctaneRender 2023.
Pricing and system requirements
OctaneRender 2022.1 is available for Windows, Linux and macOS. The Windows and Linux editions are compatible with 64-bit Windows 7+ and Linux, and require a CUDA 10-capable Nvidia GPU.
Octane X, the Metal-native macOS edition, is compatible with macOS 10.15.6 to macOS 12 on Macs with AMD GPUs, or macOS 13+ on Macs with Apple M1/M2 GPUs.
The software is now available rental-only, via Otoy's Studio+ subscriptions, which cost €23.95/month, and which include integration plugins for 21 DCC applications, plus a range of third-party software.
Otoy also provides free 'Prime' editions of both OctaneRender and Octane X, which are limited to rendering on a single GPU, and which come with a smaller set of DCC integration plugins.

Read a full list of features in OctaneRender 2022.1 in Otoy's forum thread
Tags: 3D primitive, AMD, AOV, arch viz, Arnold, Autodesk Standard Surface, Boolean operation, Brigade, caustics, Cryptomatte, Cryptomatte mask output AOV, CUDA, GPU ray tracing, GPU renderer, GPU rendering, integration plugin, macOS, Metal, motion graphics, multi-render, multi-rendering, new features, NVIDIA, Octane 2022, Octane 2023, Octane X, OctaneRender 2022.1, OctaneRender 2023, OctaneRender Prime, OctaneRender standalone, OptiX, Otoy, path tracing, photon mapping, photon tracing, price, procedural textures, renderer, rendering, Standard Surface material, Standard Volume shader, subscription, system requirements, ubermaterial, Vectron, vfx, visual effects, visualization