Tuesday, November 29th, 2022

Posted by Jim Thacker
Otoy launches OctaneRender Studio+ subscriptions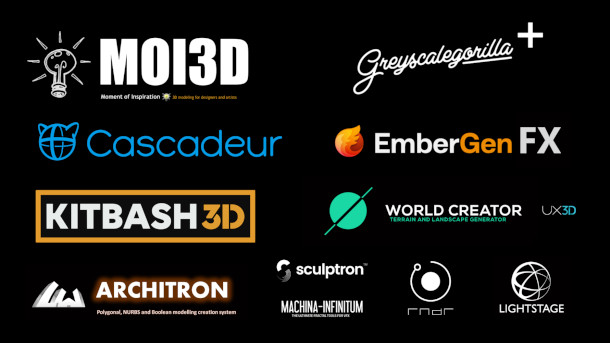 Software and assets available, or due to become available, as part of Otoy's new Studio+ subscriptions to OctaneRender, which replace its Prime, Enterprise and Enterprise+ plans and perpetual software licences.

Otoy has shaken up its licensing model for OctaneRender, its GPU production renderer, ditching perpetual licences and its old subscription tiers in favour of a single Studio+ subscription plan.
Studio+ subscriptions, which cost €23.95/month or €239.88/year, provide similar features to the previous €479.40/year Enterprise+ plan, plus licences of 3D modelling tool MoI 3D and animation software Cascadeur.
What did OctaneRender previously cost?
Otoy used to offer a range of ways to buy OctaneRender, including perpetual licences and subscriptions.
Perpetual licences cost €699 for the standalone renderer and one of the 21 available integration plugins for host DCC applications, with access to the full set available through annual maintenance plans.
Subscriptions – the Studio, Enterprise and Enterprise+ plans – cost between €199/year and €479.40/year, depending on how many GPUs you wanted to use the software on, and what extras you wanted.
The old pricing structure was quite complex, but you can find a summary in this story.
How much does OctaneRender cost now?
Instead, Otoy now offers a single option: the new Studio+ subscription.
At the time of writing, it costs €23.95/month for a monthly subscription, or the equivalent of €15.99/month for an annual subscription, the latter including a temporary Black Friday discount.
According to this forum post, the price for an annual subscription will rise to €19.99/month in January 2023, making the total cost €239.88/year.
Updated 2 December 2022: The Black Friday discount actually ended rather earlier – pricing for annual Studio+ subscriptions is now up to the standard €19.99/month or €239.88/year.
That puts the price of a Studio+ subscription midway between the old Studio and Enterprise plans.
However, the features are that of the old top-of-the-range Enterprise+ subscription, but with a couple of extra supporting software packages bundled in.
Which versions of OctaneRender do you get with a Studio+ subscription?
For their money, Studio+ subscribers get rental-only access to OctaneRender standalone and all 21 integration plugins, with no limit on the number of GPUs that can be used in a render machine.
That includes both 'classic' OctaneRender and the Metal-native macOS edition, also known as Octane X.
They also get "unlimited network rendering": by default, 10 Render Node licences, although you can request more, plus pay-as-you-go access to The Render Network, Otoy's distributed GPU rendering network.
What other software and assets do you get with a Studio+ subscription?
In addition, Studio+ subscriptions provide access to a range of bundled assets and third-party software.
That includes two new applications: lightweight NURBS and Boolean modelling software MoI 3D, and AI-assisted animation software Cascadeur.
Studio+ subscribers also get a licence of World Creator for Octane, an Octane-specific edition of terrain generation software World Creator that exports only to ORBX format.
Subcribers also get access to the beta build of gaseous fluid simulator EmberGenFX, with the "full commercial license [of version] 1.0" due to be included "through 2023 subscriptions".
Other bundled software includes Architron, a renamed version of LWCAD, WTools3D's hard-surface modelling toolkit for Cinema 4D and LightWave, and Otoy's own Sculptron, for sculpting animation caches.
Bundled assets include 3D face and body scans from LightStage, and kitbash asset kits from KitBash3D, although you now only get a new kit every quarter, rather than every month.
Vectron VFX packs – Machina-Infinitum's sets of 3D fractal presets – are due to be added to Studio+ subscriptions "in 2023".
Pricing and system requirements
OctaneRender is available for Windows, Linux and macOS. The Windows and Linux editions are compatible with 64-bit Windows 7+ and Linux, and require a CUDA 10-capable Nvidia GPU.
Octane X, the Metal-native macOS edition, is compatible with macOS 10.15.6 to macOS 12 on Macs with AMD GPUs, or macOS 13+ on Macs with Apple M1/M2 GPUs.
The software is available rental-only, with Studio+ subscriptions costing €23.95/month or €239.88/year.
Read the full list of software and assets available via Otoy's new OctaneRender Studio+ subscriptions