Otoy has partnered with World Creator developer BiteTheBytes to integrate the procedural terrain generator with OctaneRender, Otoy's GPU renderer.
The news was announced during Otoy's stream from the GTC 2020 online conference, the relevant section of which is embedded above.
As well as integrating World Creator nodes into OctaneRender and its DCC integration plugins, the two apps will be bundled into a single subscription package.
Octane subscribers will also get the beta of World Creator free later this month.

A procedural GPU-based terrain generator used by leading games and VFX studios
Originally a Unity add-on, and later a standalone app, World Creator is a GPU-based terrain generator.
The software is currently used by artists at a number of well-known game developers and VFX studios including Blizzard Entertainment, Crytek, Blur Studio and Cinesite.
It enables users to generate terrains using a set of procedural filters and edit the result via direct sculpting.
The software also features an integrated simulation toolset, including erosion and sediment deposition systems; and a built-in asset library of models, LUTs and textures, including assets from Megascans.
Once created, terrains can be exported to other DCC applications in the form of heightmaps and other 2D maps, or to game engines like Unity and Unreal Engin via World Creator's sync tool.
Terrain can be visualised using World Creator's own built-in renderer, or exported to other apps for final-quality rendering: as well as OctaneRender, the website namechecks Blender, Cinema 4D and Clarisse iFX.
The standalone edition is still officially in beta, with World Creator 3.0 – a complete rewrite of the application promising a 2.5x speed boost, built-in path tracer and VR support – due later this year.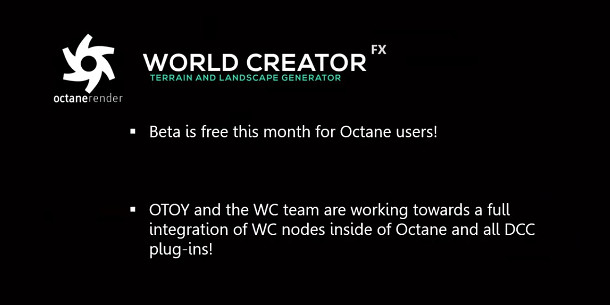 Free to OctaneRender subscribers later this month
Otoy's partnership with BiteTheBytes follows a similar pattern to its recent deal with JangaFX, developer of GPU-based gaseous fluid simulation tool EmberGen.
OctaneRender subscribers will get access to the World Creator beta later this year, and a bundle subscription deal featuring both OctaneRender and World Creator will be available "towards the end of this year".
Otoy is also working towards "full integration of [World Creator] nodes inside Octane and all DCC plugins". To judge from the slide above, the integrated toolset will be called World Creator FX when it is released.
Availability and system requirements
World Creator is available for Windows 7+ and macOS 10.13.4+. It runs on both AMD and Nvidia GPUs. World Creator 3.0 is due "by the end of 2020"; the current stable beta release is World Creator 2.4.0f1.
Users earning under $100,000 can buy a $149 Standard perpetual licence which caps output resolution at 4,096 x 4,096px and provides a restricted feature set, or a full Professional licence, which costs $249 for macOS and $289 for Windows. For larger studios, Enterprise licences are priced on enquiry.
You can find system requirements and pricing for OctaneRender itself in our story on OctaneRender 2020.1.

Read more about World Creator on the product website
Tags: 3D terrain, AMD, asset library, beta, Blender, bundle deal, ByteTheBytes, Cinema 4D, Clarisse iFX, deal, EmberGen, erosion, export, free to OctaneRender subscribers, game art, game development, Game Engine, GPU rendering, GPU-based, GTC 2020, integration, JangaFX, live link, Megascans, NVIDIA, OctaneRender, Otoy, partnership, price, procedural, real time, release date, rendering, sediment deposition, simulation, subscription, sync tool, system requirements, terrain generation, terrain sculpting, Unity, Unreal Engine, vfx, visual effects, World Creator, World Creator 2, World Creator 3, World Creator FX