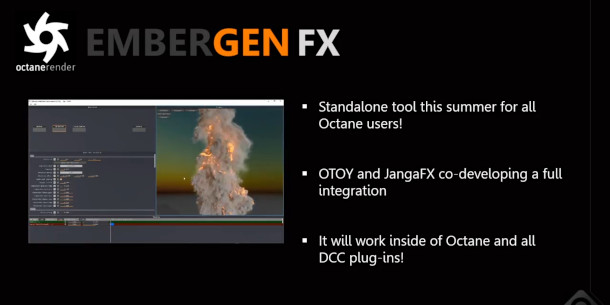 Otoy is partnering with JangaFX to develop EmberGen FX, a new integrated version of the hotly tipped EmberGen real-time gaseous fluid simulator for OctaneRender and Otoy's other software.
Development of the standalone edition of EmberGen – due in public beta this month – should be unaffected.
Otoy hasn't announced a release date for EmberGen FX, but EmberGen standalone should be available as an add-on option for OctaneRender subscriptions "later this summer".

A promising hardware-agnostic real-time gaseous fluid simulator
Although it has only been publicly available for a year, and is still officially in alpha, EmberGen has become one of the most hotly tipped products in the DCC market.
A node-based standalone real-time tool for simulating gaseous fluids like fire and smoke, it promises to enable users to create effects of a complexity approaching that of offline tools like FumeFX.
The results can be rendered directly within EmberGen, or exported to other DCC applications in VDB format.
The software is GPU-agnostic, and has fairly low minimum hardware requirements: a Nvidia GeForce GTX 980 or "AMD equivalent". You can find an overview of the workflow in the online brochure.
EmberGen FX: a new integrated version of EmberGen for Otoy tools
The new OctaneRender edition of the technology, EmberGen FX, was announced by Otoy CEO Jules Urbach in his presentation at Nvidia's GTC 2020 online conference.
Integration work will be handled by Otoy based on source code provided by JangaFX, with EmberGen FX becoming available in both OctaneRender standalone and via its DCC plugins.
Although EmberGen itself is currently Windows-only, Otoy plans to make EmberGen FX available on other platforms: Urbach namechecked both macOS and iOS – the latter due in the upcoming Octane X.
As well as OctaneRender, EmberGen FX should be compatible with the other tools built on Otoy's RNDR API, including real-time path tracer Brigade, and upcoming cache-sculpting tool Sculptron.
In the interim, the standalone edition of EmberGen will become available as a paid add-on to OctaneRender subscriptions "later this summer".
Urbach also commented that Otoy planned to "make some versions … available for free".
Updated 29 June 2020: Otoy has tweeted that the release of EmberGen FX will be accompanied by the "premiere of ParticleGen", described as "an awesome and powerful new GPU particle framework for artists".

No changes to the product roadmap for the standalone edition of EmberGen
In a separate livestream, the recording of which is embedded above, JangaFX CEO Nick Seavert said that the news would not affect the development roadmap for EmberGen itself.
"It's just a collaboration," he said. "We're still on the same track with the standalone edition."
In particular, Seavert noted that JangaFX still aims to develop direct EmberGen integrations for game engines like Unity and Unreal Engine, and to preserve its rent-to-own business model.
The firm now plans to use EmberGen standalone as the "front runner and test bed" for new simulation features before they become available in EmberGen FX.
Aiming to take on the 'bigger dogs' within the VFX and motion graphics markets
Seavert said that he hoped the deal would help JangaFX – currently a five-person team, primarily from game development backgrounds – to "expand into the film and motion graphics markets".
"We don't know a whole lot about film as a company," he said.
Seavert also said that he hoped that partnering with Otoy would enable EmberGen to take on "bigger dogs" within the simulation tools market, like FumeFX and Houdini.
Asked why JangaFX hadn't chosen to partner with the developer of a renderer used more widely for movie effects, like Arnold or V-Ray, Seavert said, simply: "They didn't come to us. Otoy came to us."
Availability and system requirements
The standalone edition of EmberGen is available as a commercial pre-release for Windows 7+ only.
Standalone subscriptions cost $24.99/month or $239.99/year for artists with revenue under $1 million/year, with users qualifying for a perpetual licence after 12 months of consecutive payments.
The standalone edition will also become available as a paid add-on for OctaneRender subscriptions "later this summer", although Otoy hasn't announced an exact date or pricing.
EmberGen FX will "work within Octane and all DCC plugins". Again, Otoy hasn't announced pricing or a release date for it yet.
Read more about EmberGen on the product website
Tags: AMD, Blender, Brigade, Cinema 4D, EmberGen, EmberGen FX, EmberGenFX, explosion, Featured Articles, fire, gaseous fluid, GPU-accelerated, GPU-based, GTC 2020, integrated, iOS, JangaFX, Jules Urbach, macOS, Nick Seavert, NVIDIA, OctaneRender, Otoy, particle framework, ParticleGen, perpetual licence, price, release date, rendering, Sculptron, simulation, smoke, standalone, system requirements, volumetric, Windows