BiteTheBytes' short film 'I Am', released to coincide with that of World Creator 3 (World Creator 2022.1), features terrain generated in the GPU-based software, and rendered in Cinema 4D using OctaneRender.

Originally posted on 4 March 2022. Scroll down for news of the World Creator 2022.2 update.
BiteTheBytes has released World Creator 3, the latest version of the GPU-based terrain generator.
The long-awaited update makes the software independent of the Unity game engine, on which it was previously based, overhauls the UI, and introduces new filters for modifying 3D terrains procedurally.
On the product website, the release is also referred to as WorldCreator 2022.1, which seems to be the version numbering scheme that BiteTheBytes is adopting in future.
A procedural GPU-based terrain generator used by leading games and VFX studios
In development for several years, and originally due to ship in 2020, World Creator 3 is a long-awaited major overhaul of the software.
A GPU-based terrain generator combining procedural and manual editing workflows, World Creator has been used by artists at games and VFX studios including Blizzard Entertainment, Crytek, Blur Studio and Cinesite.
The previous version began life as a plugin for the Unity game engine, before evolving into a standalone application in 2017, albeit one still based on the Unity engine.
At the time of writing, BiteTheBytes hasn't posted the online documentation for World Creator 3, but you can see the software's features and workflow in the official video tutorials on Tyler Puryear's Vimeo channel.

World Creator 3: new software core, overhauled UI, and new filters for modifying terrain
World Creator 3 removes that old dependency on Unity, improves terrain generation performance, overhauls the software's user interface, and introduces new tools for creating and editing terrain.
Users can rough out the form of terrain using a library of readymade base shapes, or by stamping features from existing terrains.
The result can then be edited procedurally using filters – there are 33 in the initial stable release of World Creator 3 – to mimic the effects of erosion and sediment deposition on the landscape.
Other filters generate geographical features like ridges, cliffs, canyons and plateaus, or perform more general transforms like inflate or swirl.
Native support for Substance materials
Terrains can be coloured by applying height-based colour gradients, or by applying texture maps: the software has a PBR texture system with support for albedo, normal, displacement, AO and roughness maps.
Surface colour and textures can be controlled via a rules-based masking system, with options to create masks according to terrain height, slope, curvature or even sun direction.
Users can also apply Perlin or Voronoi noise, or perform general edits on a texture like blur, contrast, denoise, invert or clamp.
In addition, World Creator 3 adds the option to import Substance materials in SBSAR format and edit properties directly inside the software.
Once generated, terrain can be exported as heightmaps and accompanying texture maps in RAW, PNG, EXR, JPG, TIF format; or as a 3D object in OBJ format or point cloud in XYZ format.
It is also possible to test render terrain directly inside the software using World Creator's built in ray tracer, which supports volumetric clouds, fog and atmospheric scattering.
Not all of the features from World Creator 2 supported yet
The intial stable release of World Creator 3 can only generate a single terrain, making the maximum resolution for an exported heightmap 4,096 x 4,096px.
BiteTheBytes says that support for generating tiled terrains, a feature previously available in some editions of World Creator 2, will follow in the next update.
Future updates will also reintroduce the option to dress terrains with 3D assets like rocks and vegetation; and will add the option to add lights, particles and cameras to a scene, with support for camera animation.
Pricing and licensing changes
BiteTheBytes has also overhauled World Creator's licensing model, dispensing with the old feature-limited Standard edition of the software, and introducing new monthly and annual subscriptions.
The cost of perepetual licences has risen since World Creator 2 (the old prices are listed in this story), but anyone who bought version 2 or extended their maintenance after May 2020 gets World Creator 3 for free.
The software is also available as part of subscriptions to OctaneRender, with the long-awaited dedicated edition of World Creator for OctaneRender due "in a few weeks".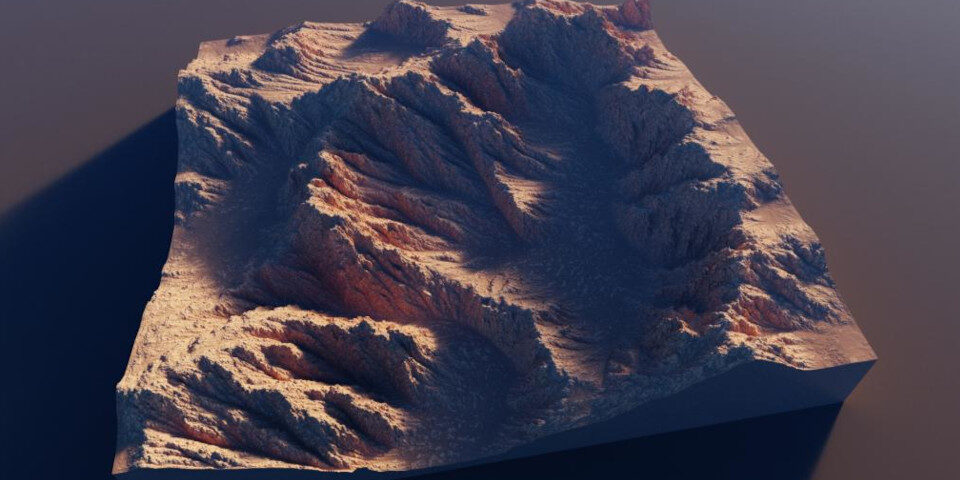 Updated 12 April 2022: BiteTheBytes has released World Creator 2022.2.
The update introduces a self-descriptive new Fast Render mode, plus new Unity and Unreal Engine bridge tools, intended to streamline the process of exporting terrain to the game engines.
The Unreal Engine bridge is currently only compatible with Unreal Engine 4, but a version for Unreal Engine 5, which was officially released last week, is in development.
Availability and system requirements
World Creator 2022.2 is available for Windows only. macOS and iPad editions are in development.
New perpetual licences now cost $349 for individual artists, $689 for companies with revenues under $1 million/year, or $2,489 for larger studios.
Subscriptions cost $16.90/month or $169/year for individual artists, $34.90/month or $349/year for studios with revenues under $1 million/year, and $128.90/month or $1,289/year for large studios.
Anyone buying a new perpetual licence or taking out an annual subscription also gets a licence of World Creator 2, which is available for Windows 7+ and macOS 10.13.4+ and runs on both AMD and Nvidia GPUs.

Read more about World Creator 3 on the product website
Tags: 3D terrain, albedo, ambient occlusion, AMD, AO, Bridge tool, ByteTheBytes, color gradient, displacement map, erosion, export, EXR, fast render mode, free to OctaneRender subscribers, game art, game development, Game Engine, GPU rendering, GPU-based, heightmap, integration, JPG, mask generation, masking, new features, normal map, NVIDIA, OBJ, OctaneRender, Otoy, partnership, PBR, perpetual licence, PNG, price, price change, price rise, procedural, procedural workflow, RAW, ray tracing, real time, rendering, roughness map, SBSAR, sediment deposition, subscription, Substance material, system requirements, terrain generation, terrain generator, terrain sculpting, TIF, UE4, UE5, Unity, Unreal Engine, Unreal Engine 4, Unreal Engine 5, vfx, visual effects, volumetric, World Creator, World Creator 2, World Creator 2022.1, World Creator 2022.2, World Creator 3, XYZ