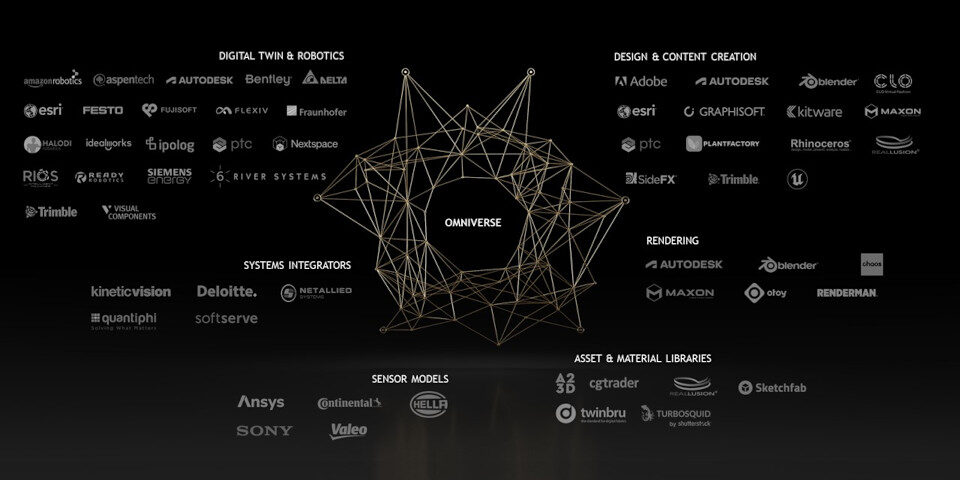 Nvidia has announced its latest updates to Omniverse, its real-time 3D design collaboration platform.
Key changes include a new connector for Unreal Engine 5, the latest version of the game engine, and an upcoming connector for Substance 3D Painter, Adobe's 3D texture painting software.
Users can also now swap Omniverse's viewport from the native RTX Renderer to a range of Hydra render delegates: initially HdStorm, with OctaneRender, Redshift, V-Ray and Blender's Cycles renderer to come.
The updates were announced at GTC 2022, alongside Omniverse Create 2022.1 and Omniverse Cloud.
A USD-based collaboration platform for VFX, game development, design and visualization
Officially launched this January after a year in beta, Omniverse enables artists and designers anywhere in the world to collaborate on projects in real time.
Data is exchanged between compatible CAD and DCC applications and Omniverse in USD format, with connector plugins available for tools including 3ds Max, Maya, Revit, Rhino, SketchUp and Unreal Engine.
As well as the Omniverse core, Nvidia has released frontend applications for specific tasks, including Omniverse Create for scene layout and editing, and Omniverse View for scene review.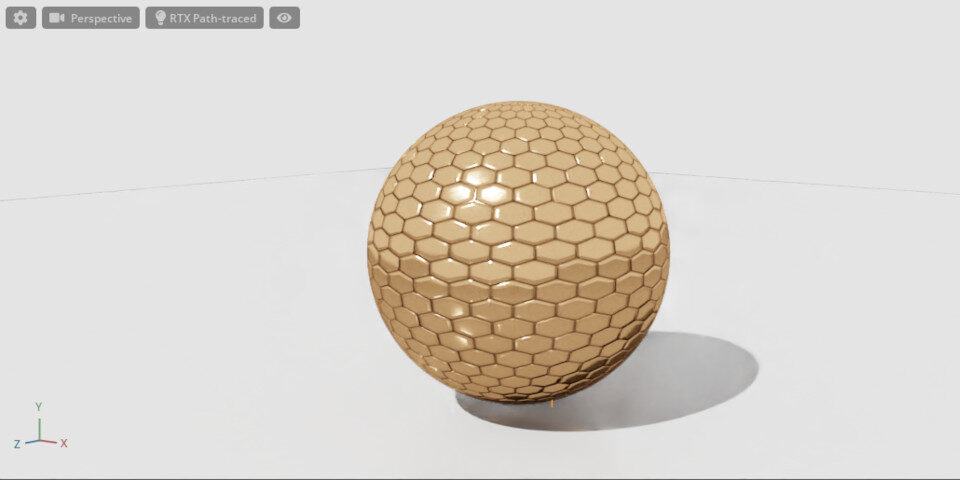 New UE5 connector and SBSAR material extension out now, Substance 3D Painter connector to come
Changes announced at GTC 2022 include a new connector for Unreal Engine 5, making it possible to live link Omniverse to the new version of the game engine, currently available in public preview.
The Substance 3D material add-on Nvidia announced at Siggraph 2021 is also now available.
The new Substance SBSAR material extension makes it possible to edit procedural materials in .sbsar format inside Omniverse apps including Omniverse Create.
In addition, Substance 3D Painter, Adobe's 3D texture painting software, is to get its own dedicated Omniverse connector.
Although it is currently possible to live link Substance 3D Painter to Omniverse, the workflow is based on exported texture maps, rather than Substance materials themselves.
Support for Hydra render delegates in the viewports of Omniverse apps
In addition, Nvidia has introduced support for Hydra render delegates, making it possible to switch the render engine used in the viewport of Omniverse apps from the built-in RTX Renderer.
The first third-party render engine supported is the native USD HdStorm renderer, with delegates for OctaneRender, Redshift and V-Ray in beta, and Arnold and Blender's Cycles renderer "coming soon".
Updates to Omniverse Create and View, plus new Omniverse apps
Updates to existing Omniverse apps include Omniverse Create 2022.1: a major update that adds a new set of character animation tools, soft-body physics, and support for AOVs and shadow catchers when rendering.
The upcoming Omniverse View 2022.1 update will add Markup, a new annotation system for scene review, turntable previews of assets under review, and waypoint-based scene navigation.
In addition, Nvidia has released Omniverse Code, a new app that serves as an IDE for coding custom Omniverse tools, in beta.
DeepSearch, an AI-based search service for searching large untagged 3D asset libraries using images or natural language, and Omniverse Avatar, for generating AI-based 3D avatars, are in closed early access.
Availability and system requirements
Omninverse Create 2022.1, the Unreal Engine 5 connector and Substance SBSAR extension are out now. No release date has been announced for Omniverse View 2022.1 or the other Hydra render delegates.
Omniverse itself is available for Windows 10 and CentOS 7/Ubuntu 18.04 Linux. You can find the detailed system requirements for Omniverse apps here. Many require a Nvidia GeForce RTX 3070 GPU or better.
Ominverse is free for individual artists. For teams, commercial Enterprise subscriptions are available through Nvidia's partner firms. You can find pricing information in this story.

See a full list of new features in Omniverse in Nvidia's blog post
Tags: 3ds max, ActorCore, AI-based, animation, annotation, AOV, Aribitrary Output Variable, Arnold, asset review, beta, Blender, Character Animation, collaboration, connector, Cycles, develop Omniverse apps, free, game art, game development, GPU ray tracing, GPU-accelerated, GTC 2022, HdStorm, Hydra render delegate, IDE, Markup, Maya, motion graphics, new features, NVIDIA, OctaneRender, Omniverse, Omniverse Avatar, Omniverse Code, Omniverse Create, Omniverse Create 2022.1, Omniverse DeepSearch, Omniverse View, Omniverse View 2022.1, physics, PhysX, previs, price, real time, Redshift, release date, rendering, Revit, Rhino, RTX, RTX Renderer, SBSAR, scene review, search asset library, shadow catcher, simulation, SketchUp, Substance 3D Designer, Substance 3D Painter, Substance material, system requirements, teleport navigation, turntable, UE4, UE5, Unreal Engine, Unreal Engine 4, Unreal Engine 5, USD, V-Ray, vfx, visual effects, waypoint