Nvidia has officially launched Omniverse, its real-time collaboration platform for 3D design and content creation, after a year in open beta. It remains free for individual artists.
New features in the stable release include access to "thousands of Omniverse-ready assets" from online marketplaces TurboSquid, CGTrader and Sketchfab from directly inside the Omniverse launcher.
Omniverse apps Audio2Face and Machinima have also been updated, with Audio2Face getting support for facial blendshape generation and compatibility with Epic Games' MetaHuman Creator.
In addition, Nvidia has launched Nucleus Cloud, a "one-click-to-collaborate" system for sharing large Omniverse 3D scenes, in early access. The announcements were made at CES 2022.

A USD-based collaboration platform for VFX, game development, design and visualization
First announced at GTC 2019, Omniverse enables artists and designers anywhere in the world to collaborate on projects in real time.
The set of cloud-enabled apps enable users to see changes made to shared 3D assets by other artists, working in other software, in a livestreamed photorealistic real-time view.
Data is exchanged between compatible CAD and DCC applications and Omniverse in USD format, with connector plugins available for tools including 3ds Max, Maya, Revit, Rhino, SketchUp and Unreal Engine 4.
Omniverse itself has a modular structure, with components including Nucleus, its server-side services, Kit, its framework for viewing and editing scenes, and Connect, which connects the software to other DCC tools.
The platform comes with its own photorealistic render engine, RTX Renderer, which taps into the hardware-accelerated ray tracing capabilities of Nvidia's current-generation RTX GPUs.
As well as the Omniverse core, Nvidia has released frontend applications for specific tasks, including Omniverse Create for scene layout and editing, and Omniverse View for scene review.
Still free for individual artists now that the open beta is over
Although Nvidia announced Enterprise pricing for Omniverse last fall, the platform remains free to individual artists on its official release.
As during the open beta, users can collaborate between apps and with one other person for free.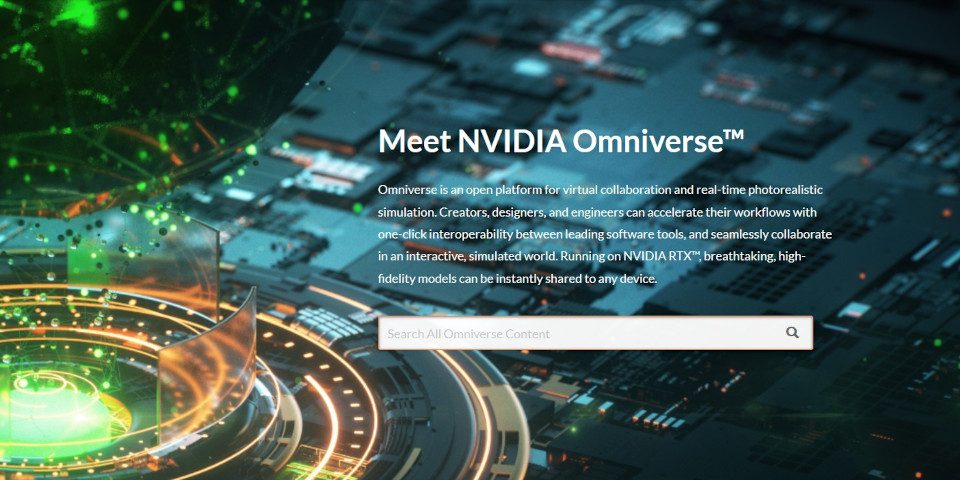 Omniverse users can now browse stock assets in USD format from the Omniverse launcher. The content is provided by online marketplaces like TurboSquid, which has a set of free USD models available here.

Access stock assets in USD format via the Omniverse launcher
New features in the stable release include access to "thousands of Omniverse-ready assets" – that is, assets in USD format – from directly within the Omniverse launcher.
The files are provided by online marketplaces including CGTrader, Sketchfab and TurboSquid.
Other asset libraries due to release Omniverse-ready content in future include ActorCore, Reallusion's set of stock characters and mocap moves; Daz 3D; and PlantCatalog, e-on software's set of 3D plants.
Omniverse Nucleus Cloud in early access; Omniverse Audio2Face and Omniverse Machinima updated
Nvidia also announced new app Omniverse Nucleus Cloud, a "one-click-to-collaborate" system for sharing large 3D scenes.
The firm describes Nucleus Cloud, which is currently available in early access for users with Nvidia Developer accounts, as "like working on a cloud-shared document – but for a 3D scene".
Several of the existing Omniverse apps have also been updated.
Omniverse Audio2Face, which generates facial animation from audio sources, gets support for facial blendscape generation, and compatiblity with Epic Games' MetaHuman Creator.
Omniverse Machinima, for creating animation using stock game assets, gets free characters, objects and environments from MechWarrior 5 and upcoming first-person shooter Shadow Warrior 3.
Nvidia's blog post also namechecks new Omniverse connector plugins for Vue and PlantFactory, e-on software's digital nature tools, which were released with Vue 2021.2 and PlantFactory 2021.2 last year.
Availability and system requirements
Omniverse is available for Windows 10 and CentOS 7/Ubuntu 18.04 Linux. It requires a current-gen Nvidia RTX GPU. You can find system requirements for the integration plugins here.
Existing Omniverse apps and some connector plugins can be installed from the same installer as Omniverse. Omniverse Nucleus Cloud is currently in early access. You can apply to join the beta program here.
Ominverse is free for individual artists. For teams, commercial Enterprise subscriptions are available through Nvidia's partner firms. You can find pricing information in this story.

Read Nvidia's blog post announcing the official release of Omniverse
Tags: 1.0 release, 3ds max, ActorCore, animation, arch viz, architectural visualization, beta program, CES 2021, CGTrader, Character Animation, connector, DAZ 3D, download, e-on software, early access, Epic Games, facial animation, facial blendshapes, free, free for individiual artists, free for individual users, free USD models, game art, game development, integration plugins, Lightmap, machinima, Maya, MechWarrior 5, MetaHuman Creator, new app, new features, new plugin, Nucleus server, NVIDIA, official release, Omniverse, Omniverse Audio2Face, Omniverse Connect, Omniverse Create, Omniverse Kit, Omniverse launcher, Omniverse Machinima, Omniverse Nucleus, Omniverse Nucleus Cloud, Omniverse Nucleus Connect, Omniverse Showroom, Omniverse View, PlantCatalog, PlantFactory, PlantFactory 2021.2, plugin, price, ray tracing, real time, Reallusion, remote collaboration, rendering, Revit, Rhino, RTX, RTX Renderer, Shadow Warrior 3, share large Omniverse scene, Sketchfab, SketchUp, stable release, stock assets, system requirements, TurboSquid, UE4, Universal Scene Description, Unreal Engine, USD, vfx, virtual reality, visual effects, Vue, Vue 2021.2