Originally posted on 19 March 2020. Scroll down for news of the 6.7 update.
Japanese developer J Cube has released Multiverse | USD 6.3, the latest version of its Maya layout, look development, lighting and rendering toolset for VFX and animation data sets.
The release builds on January's Multiverse | USD 6.0 release, which introduced a new "massively multi-threaded", USD-native architecture, a new GUI, and a native Hydra render delegate.
J Cube has also introduced a new free licence, which permits commercial use of the software, but which requires a permanent internet connection.

New "massively multithreaded" USD-native architecture
Multiverse is designed to author, play back and modify complex scenes, such as those generated during shot layout or set dressing in visual effects or feature animation.
The software received a big update earlier this year, with Multiverse | USD 6.0 introducing a new architecture based around Pixar's Universal Scene Description format: now becoming standard in VFX pipelines.
As well as reading and writing USD files, users can author USD hierarchies directly within Maya via the new 'MEOW' user interface, pitched as "pleasing, logical and extremely fast".
The new architecture provides the groundwork for a unified rendering workflow, with different third-party renderers supported as viewport delegates within USD's Hydra rendering framework.
Currently, path traced output can be streamed to the viewport from 3Delight NSI, bundled with Katana, and procedural renders streamed from 3Delight and Arnold, with other renderers to be supported "soon".
J Cube describes the architecture as "massively multithreaded", claiming "up to 100x faster performance in authoring, reading, drawing, manipulating, playback and rendering time-to-first-pixel".
The process of streaming scene updates to Multiverse | USD's native Hydra Storm viewport also is GPU-accelerated via OpenGL on Windows and Linux systems, and via Metal on macOS.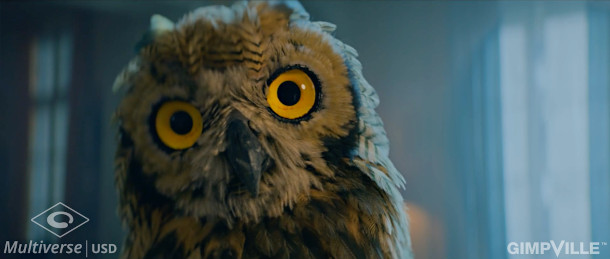 New in 6.3: better animation support when writing USD assets
Multiverse | USD 6.3 itself extends support for animation when writing USD assets, including animated cameras and skinned characters, as well as skin weights, joint hierarchies and skeletal animation.
The USD library distributed with Multiverse can also now coexist with USD libraries from third-party Maya plug-ins, avoiding potential pipeline conflicts.


Updated 11 May 2020: J Cube has released Multiverse | USD 6.4, adding RenderMan and V-Ray integration.
In both cases, the integration makes it possible to render USD files containing polygonal geometry, subdivision surfaces, points and curves; and supports all types of motion blur.
Both integrations also support "all rendering modes", including command-line rendering via RenderMan's .rib format and V-Ray's .vrscene format.

Updated 8 August 2020: J Cube has released Multiverse | USD 6.5, adding support for rendering with Redshift on Windows and Linux.
In addition, the 3Delight NSI rendering library is now shipped with Multiverse | USD, making it possible to use it for viewport rendering without the need to have 3Delight installed.
The update also makes it possible to mute layers in a Multiverse Compound; to import USD data from a compound directly from the MEOW interface; and to sync imported data back to USD.

Updated 14 October 2020: J Cube has released Multiverse | USD 6.6.
It's a sizeable update, adding support for USD variants, including the option to edit, write, select, override and render both hierarchy-based and attribute-based variations.
Custom attributes can also now be written both from Maya data and from USD data encapsulated in Multiverse Compounds via Attribute Overrides in MEOW, with full support for animation.
Other changes include a one-click workflow for consolidating all of the layers in a Compound into one, the option to remove material overrides non-destructively, and automatic recognition of subdivision creases.
Users with Pro subscriptions also get a tech preview of MUSE, J Cube's new standalone tool for opening, viewing and editing USD assets without the need for a DCC application.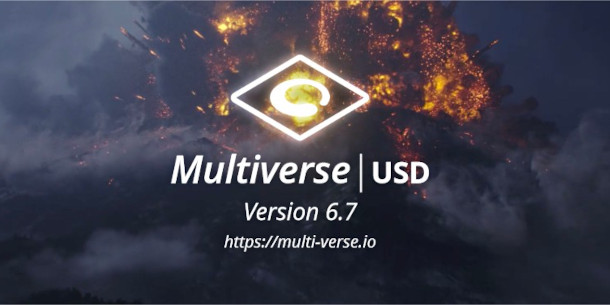 Updated 7 June 2021: J Cube has released Multiverse | USD 6.7.
The update adds support for USD blend shapes, making it possible to write assets that use the Maya Blend Shape deformer as USD blend shapes, with support for multiple targets, in-betweens and skeleton animation.
Support for USD purposes has been extended: you can read a full explanation via the links below.
It is also now possible to write Maya NURBS curves: often used as guide curves for hair grooms.
In addition, overrides are now auto-saved: all pending overrides are now written automatically when writing a composition, making it easier to consolidate large scenes.
Pricing and availability
Multiverse | USD 6.7 is available for Maya 2018+ on Windows, Linux and macOS. It is compatible with Arnold 5.2+, 3Delight 2.0+, Redshift 3.0.45+, RenderMan 23.2+ and V-Ray 4.3+.
The software provides USD interoperability natively with Blender 2.82+, 3ds Max 2022, Clarisse iFX 5.0 and Houdini 18.0+; and with Katana, Nuke, Unity and Unreal Engine via plugins.
J Cube now offers free licences for freelancers and studios wanting to evaluate the software.
They require a permanent internet connection for activation, get fewer updates than commercial licences, and only have community support via Slack, but permit use in commercial projects.
Pro licences can be used offline, and include full product support. They are now rental-only, with pricing for interactive floating licences starting at $285/year and render licences at $95/year.

Read more about Multiverse | USD on J Cube's website
Read a full list of new features in Multiverse | USD 6.7 in the online release notes
See videos of the new features in Multiverse | USD on J Cube's YouTube channel

Erratum: this story originally referred to Multiverse | USD as Multiverse Studio, the previous product name, and included other information specific to previous releases. Apologies for any confusion caused.
Tags: 3Delight, 3Delight NSI, Alembic, animated camera, Arnold, blend shapes, Blender, Blendshapes+, custom attributes, download, feature animation, Foundry, framework, free, guide curve, hair groom, hierarchy, Houdini, J Cube, joint hierarchy, Katana, LayOut, look dev, look development, Material Override, MaterialX, Maya, MEOW, Multiverse | USD, Multiverse | USD 6.0, Multiverse | USD 6.3, Multiverse | USD 6.4, Multiverse | USD 6.5, Multiverse | USD 6.6, Multiverse | USD 6.7, MUSE, new features, nuke, NURBS curve, override, plugin, Polygon Pictures, price, Redshift, RenderMan, RIB, scene layout, set dressing, shot layout, skeletal animation, skin weight, skinned character, Solaris, standalone USD editor, system requirements, Unity, Universal Scene Description, Unreal Engine, USD, USD purpose, USD variants, USDZ, V-Ray, vfx, visual effects, vrscene, write USD