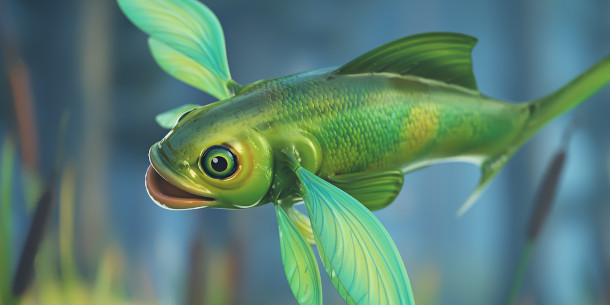 Originally posted on 18 June 2021 on the release of Update 1. Scroll down for news of Update 2.
Chaos has updated V-Ray for Houdini, the Houdini edition of the production renderer.
V-Ray 5 for Houdini Update 1 introduced V-Ray for Solaris, making V-Ray available as a Hydra render delegate within Houdini's USD-based layout toolset.
V-Ray for for Houdini Update 2 adds Chaos's new V-Ray Decal system, improves V-Ray hair material and curvature texture, and simplifies Alembic and ACEScg workflows.
A readymade look development pipeline across Maya and Nuke
First released in 2019, V-Ray for Houdini is intended as much for look development as final-quality rendering.
VFX studios with V-Ray pipelines can use it preview effects or assets before exporting them to Maya or 3ds Max for rendering, ensuring visual consistency across each stage of production.
The Houdini edition supports most of the key features of the host application, and of the other editions of V-Ray, bar a few exotic geometry and material types. You can find a full list of supported features here.
Now available as a Hydra render delegate within Houdini's Solaris toolset
Along with V-Ray for Maya, V-Ray for Houdini becomes the first edition of the renderer to support VFX workflows based around Pixar's Universal Scene Description (USD).
For the Houdini edition, that means V-Ray for Solaris: support for V-Ray within Houdini's new USD-based shot layout, lighting and look dev toolset.
The feature, which is still officially in beta, makes V-Ray available as a Hydra render delegate within Solaris, alongside Houdini's native Karma renderer, Arnold, Redshift and RenderMan.
According to Chaos, settings for geometry, materials and lights that V-Ray provides for working with Solaris LOP nodes are "basically the same settings as those in V-Ray's [own] nodes".
The initial implementation also supports instanced geometry and variants, displacement, subdivision, light linking, and V-Ray's physical camera, object properties and render settings.
V-Ray is available both for viewport previews and final-quality rendering via Houdini's USD Render node, with support for batch rendering via husk.
Current restrictions include a lack of support for V-Ray Fur and the V-Ray Clipper system, and neither V-Ray proxies or .vrscene files can be imported "due to a Solaris limitation".
Improved texture baking and support for the Phoenix foam shader for fluid sims
The release also simplifies V-Ray for Houdini's user interface, and improves texture baking, making it possible to render multiple packed primitives that share UV islands without modification.
V-Ray for Houdini also now supports the foam shader for Phoenix, Chaos' fluid simulation software.

Updated 10 December 2021: Chaos has released V-Ray for Houdini Update 2.
New features include V-Ray Decal, a new system first introduced in the 3ds Max edition of the renderer for projecting textures onto surfaces in a scene without the need to set up or modify UVs for a mesh.
The release also extends V-Ray for Solaris, adding support for AOVs and volumetric effects.
Other updated features include the V-Ray Hair material, improving rendering of light-coloured hair; and the V-Ray Curvature texture gets separate controls for convex and concave parts of a mesh.
The update also simplifies material assignment when working with Alembic files, and a simpler OpenColorIO set-up is available when working in ACEScg colour space.
In addition, when exporting V-Ray scenes to other applications, a single .vrscene file can now store multiple cameras. You can find a full list of new features via the links below.
Pricing and availability
V-Ray 5 for Houdini Update 2 is available for Houdini 18.0+ running on Windows 8.1+, CentOS 6.2/RHEL 6.2+ WS Linux, and Mac OS X 10.10.2+. The software is rental-only, and costs $80/month or $470/year.

Read an overview of the new features in V-Ray for Houdini on the product website
Read a full list of features in V-Ray 5 for Houdini Update 2 in the online documentation
Read a full list of features in V-Ray 5 for Houdini Update 1 in the online documentation
Tags: ACEScg, Alembic, AOV, Arnold, Chaos, Chaos Group, color management, color space, curvature texture, feature animation, fluid simulation, hair material, Houdini, husk, Hydra render delegate, instancing, Karma, light linking, lighting, limitations, look dev, look development, LOP, Maya, new features, OCIO, OpenColorIO, packed primitive, Phoenix, physical camera, price, proxies, Redshift, relighting, rendering, RenderMan, restrictions, shot layout, SideFX, Solaris, system requirements, texture backing, Universal Scene Description, USD, USD features supported, USD Render node, USD variant, V-Ray, V-Ray 5, V-Ray 5 for Houdini, V-Ray 5 for Houdini Update 1, V-Ray Curvature, V-Ray Decal, V-Ray environment fog, V-Ray for Houdini, V-Ray for Houdini Update 2, V-Ray for Solaris, V-Ray Fur, V-Ray Hair, vfx, visual effects, volumetric, VRayNextHairMtl, vrscene