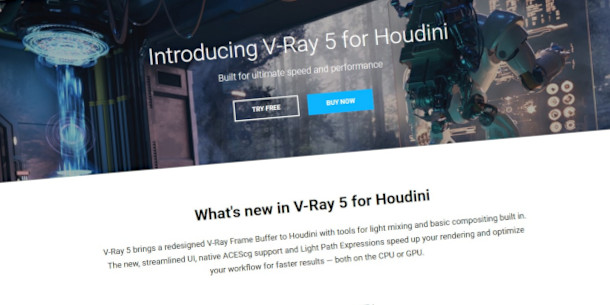 Originally posted on 21 September 2020. Scroll down for news of the final release.
Chaos Group has released V-Ray 5 for Houdini, the latest version of the renderer for SideFX's 3D animation and effects software, as a free public beta.
The update makes key features from other editions of V-Ray 5 available in Houdini, including compositing directly within the frame buffer, support for Light Path Expressions, and better ACEScg worfkflows.
A readymade look development pipeline across Maya and Nuke
First released in 2019, V-Ray for Houdini is intended as much for look development as final-quality rendering.
VFX studios with V-Ray pipelines can use it preview effects or assets before exporting them to Maya or 3ds Max for rendering, ensuring visual consistency across each stage of production.
The Houdini edition supports most of the key features of the host application, and of the other editions of V-Ray, bar a few exotic geometry and material types. You can find a full list of supported features here.
Adds key features from V-Ray 5, including the updated VFB and support for LPEs
To that, V-Ray 5 for Houdini adds several of the key features originally rolled out in V-Ray 5 for 3ds Max and V-Ray 5 for Maya earlier this year.
That includes the redesigned V-Ray Frame Buffer, which makes it possible to perform layer-based compositing and relighting operations directly inside the VFB.
In addition, the Houdini edition now supports Light Path Expressions (LPEs), making it possible to generate custom render passes.
The update also simplifes workflow when using ACEScg colour space, with V-Ray coverting textures and light temperatures automatically, without the need to create extra nodes.
Houdini users also get access to the new built-in material library, which provides over 500 common real-world materials, including metals, glass and wood.
Other changes include a new physical Sun and Sky model, better texture randomisation, updates to the VRayDirt material, blue noise sampling, and support for out-of-core rendering in V-Ray GPU.
We covered the features when the 3ds Max edition was announced, so see this story for more details.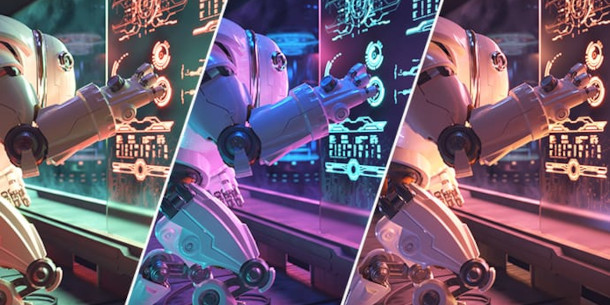 Updated 16 December 2020: V-Ray 5 for Houdini is now shipping.
As far as we can tell, the changes since the original public beta are primarily bugfixes, but Chaos Group now has longer descriptions of the new features on its website, accessible via the links below.
Pricing and availability
V-Ray 5 for Houdini is available for Houdini 17.0+ running on Windows 7+, CentOS 6.2, RHEL 6.2+ WS or Fedora 16+ Linux, and Mac OS X 10.10.2+.
The software is rental-only, and costs $80/month or $470/year.

Read an overview of the new features in V-Ray for Houdini on Chaos Group's website
Read a full list of features in V-Ray 5 for Houdini in the online documentation
Tags: 3ds max, ACES, ACEScg, blue noise sampling, color space, compositing, dirt texture, feature animation, free beta, Houdini, Light Path Expressions, lighting, look dev, look development, LPEs, material library, Maya, new features, pipeline, price, public beta, release date, relighting, rendering, sun and sky, system requirements, texture randomization, V-Ray, V-Ray 5, V-Ray 5 for Houdini, V-Ray for Houdini, V-Ray Frame Buffer, V-Ray GPU, VFB, vfx, visual effects, VRayDirt, workflow