Wednesday, May 15th, 2019

Article by Jason Lewis
Review: BOXX APEXX T3 workstation


BOXX Technologies' specialist 3D workstation is a beast of a machine. Jason Lewis puts it – and the AMD Ryzen Threadripper 2990WX CPU that powers it – through a battery of real-world DCC benchmarks.

This review marks a couple of firsts since I started writing for CG Channel back in 2008. For a start, it's the first time that I've had the opportunity to review a workstation from well-known high-performance system builder BOXX Technologies.
Founded in Phoenix, Arizona in 1996 as Digital Emulsion before relocating to Austin, Texas, BOXX quickly built a reputation for providing high-quality workstations to media, entertainment and VFX studios. While the company has since expanded to serve many new market segments, including AEC, manufacturing, deep learning and data science, the workstation on test here – the APEXX T3 – is from its original core market, being intended for 3D content creation.
However, this review is also another first: it's the first time that I've reviewed a machine with an AMD CPU, in the shape of the new Ryzen Threadripper 2990WX.
Jump to another part of this review
Technology focus: AMD's Ryzen Threadripper 2990WX CPU
System specifications and price
Testing procedure
Technology focus: Coreprio
Benchmark results
Other considerations
Verdict

Technology focus: the need for multi-core CPUs in DCC work
I've mentioned this in my last couple of reviews, but I will talk about it more here. Unlike traditional media, the speed, ease and – in my opinion – enjoyment of creating digital art, especially 3D content, is directly tied to the power of the system you are working on.
For years, the only way to increase the processing power of a system was to add more single-core processors, until the adoption of multi-core CPUs in the early 2000s, starting with dual-core, and quickly progressing to quad-core. Then it felt like innovation ground to a halt. While server core counts began to go up around 2010, in desktop machines, quad-core remained the norm for what felt like an eternity.
However, in the past few years, this has finally begun to change. In my opinion, high-core-count CPUs are one of the most significant advances in hardware for digital content creators, since DCC tools are among the applications most optimised to take advantage of them.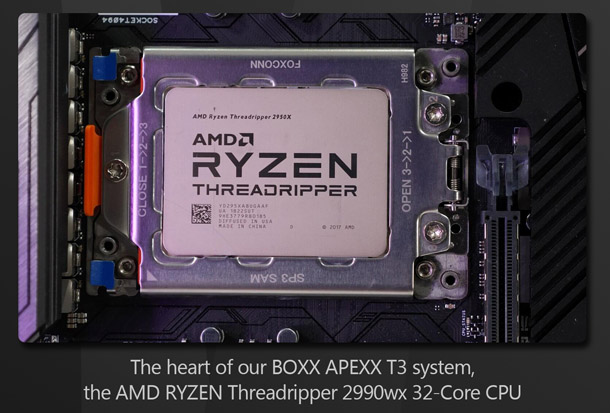 Technology focus: AMD's Ryzen Threadripper 2990WX CPU
AMD's Ryzen Threadripper product line, introduced in 2017, was the first to bring CPUs with the same kind of density as those in servers to the desktop market at a reasonable price, topping out at 16 cores for just under $1,000. Fast forward a year, and AMD had introduced the second generation of Threadripper chips, with the top-of-the-line 2990WX doubling the CPU core count to 32, at a launch price of $1,799. Let's contemplate that for a second: that's 32 cores in a single CPU for less than the price of many 10- or 12-core server CPUs.
Those 32 cores – each of which can spawn two threads, making 64 in total – are divided among four eight-core CPU dies connected via AMDs Infinity Fabric high-speed interconnects. The dies share a pair of memory controllers with most motherboards, supporting up to 128GB of DDR4 RAM in a quad-channel memory configuration. The base clock speed with all 32 cores active is rated at 3.0GHz, although with the water-cooling system in the APEXX T3, I typically saw the CPU running at 3.2-3.3GHz when stressing all 32 cores. AMD claims the 2990WX will boost itself to 4.2 GHz in lightly threaded applications, and this seems to be pretty accurate: in the APEXX T3, the CPU typically hit around 4.1GHz in lightly threaded apps, although I saw it go as high as 4.3GHz on rare occasions.
The 2990WX is a 250W CPU built on a 12nm process that sits on AMDs sTR4 socket. The maximum rated temperature is 68°C, although the CPU has an unlocked multiplier for custom overclocking.
Another unique feature of the Threadripper CPUs, including the 2990WX, is their 64 PCIe lanes. Many other desktop CPUs top out at 16 to 28. Why is this important? Because it gives you much more scope for building multi-GPU systems, particularly when running GPUs in full x16 mode, and still leaves space to connect NVMe storage and other high-bandwidth peripherals. While there are typically extra PCIe lanes within a system that connect to the mainboard chipset, these are much slower and only suitable for low-bandwidth devices like audio cards and USB ports.
As the focus of this article is content creation, not CPU design, that's as far as I'm going into the 2990WX here: if you want more detail, both Anandtech and Tom's Hardware have good technical reviews.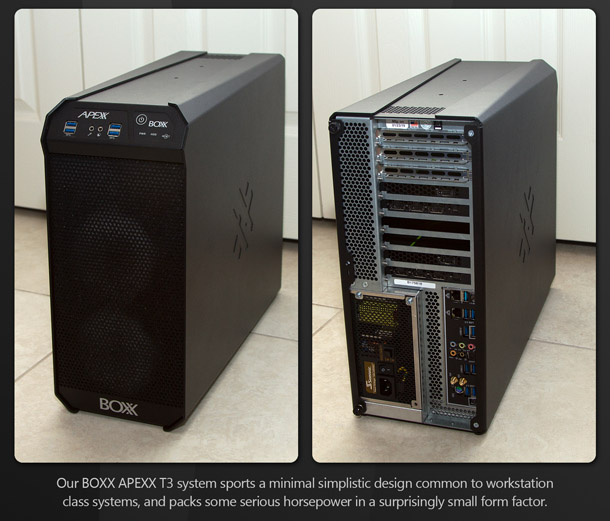 System specifications and price
In the APEXX T3 workstation on test, the 2990WX CPU sits on an ASRock X399 Taichi motherboard with a Cooler Master 240mm liquid cooler to keep it nice and chilly. Memory is maxxed out at 128GB of DDR4 RAM, and the main C drive runs off a 512GB Samsung 970 Pro M.2 NVMe SSD. In addition to the SSD, I put in a 4TB Toshiba 7200RPM HD for data storage. For graphics output, the test system sported a pair of Nvidia Quadro RTX 5000 GPUs, with a Seasonic 1000W modular power supply to power the entire system.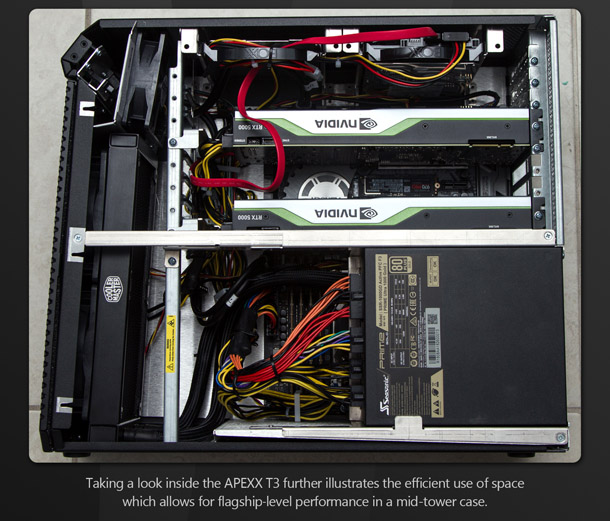 Opening up the mid-tower case case reveals that the components are packed pretty tightly inside, but still laid out quite neatly. As the system is liquid-cooled, the part of the cooler that sits on the CPU is much smaller than with air cooling, meaning that parts can be put much closer together. Case ventilation comes from two 120mm fans attached to the radiator of the liquid cooler, and an additional 90mm fan at the top of the front of the case. There are no rear case fans, but the power supply fan picks up air from inside the case and vents it out of the back, as do those of the Quadro RTX GPUs – unlike the axial fan designs in their consumer counterparts, the GeForce RTX cards, they don't simply recirculate hot air inside the case.
External connectivity the test system was quite good, thanks to the X399 motherboard, with the rear I/O panel sporting eight USB 3.0 ports, single USB 3.1 and USB-C ports, dual Gigabit Ethernet connectors, dual WiFi antenna connectors, a host of audio inputs and outputs, and the BIOS flashback port for updating the system BIOS via a USB drive. The front of the system sports four USB 3.0 ports, plus headphone line-out and microphone line-in jacks.
At the time of testing, a system with this configuration had a list price of $12,952.
Testing procedure
For comparison, I retested three systems from previous workstation reviews. The oldest is a HP Z820, sporting two 3.1GHz eight-core Intel Xeon E5-2687W CPUs, 32GB of DDR3 memory, and a consumer Nvidia GeForce GTX 1080 GPU. Internal storage consisted of a pair of 256GB SSDs along with five 2TB and 4TB 7200 RPM SATA data drives. This was a very impressive system when I first tested it in 2012, and even seven years later – having since upgraded the GPU and SSDs – it is still a very strong performer.
The next text system is a custom build based around one of AMD's first-generation Ryzen Threadripper CPUs: the 3.4GHz 16-core Threadripper 1950X. It has 64GB of DDR4 RAM, and a Nvidia Titan V GPU.
I also tested a more mainstream desktop system with a 3.4GHz quad-core Intel Core i7-6700 CPU, 64GB of DDR4 RAM, and a Nvidia GeForce GTX 1070 GPU.
I have also included results for the Dell Precision 9720 workstation that I tested last fall. I no longer have access to that system, but I feel that it is an important point of comparison, so I have included scores for those benchmarks that remained unchanged between the two rounds of testing. The 7920 sported two 3.0GHz 12-core Intel Xeon Gold 6136 CPUs, 192GB of DDR4 ECC RAM, a Nvidia Quadro P4000 GPU, a single 512GB SSD boot drive, and four 2TB 7200 RPM mechanical drive for data storage.
Since I wanted to focus on the performance of the APEXX T3 system's Threadripper 2990WX CPU here, the benchmarks I chose are primarily CPU-oriented. I hope to dive deeper into the performance of its Quadro RTX 5000 GPUs in an upcoming graphics card round-up.
The benchmarks were run on Windows 10 Pro for Workstations on the APEXX T3 and Windows 10 Pro on the other systems, and were broken into four categories:
Viewport and editing performance
3ds Max 2019, Blender 2.80 (beta), Maya 2019, Modo 12.1v2, Substance Painter 2018, Unreal Engine 4.21
Rendering
Arnold 5.0 for 3ds Max, Blender 2.80 (using Cycles), Corona Renderer 2.0 for 3ds Max, KeyShot 7, Maxwell 4.2, Cinema 4D R20 (using Radeon ProRender), RenderMan for Maya 22.4, V-Ray Next for 3ds Max
Other benchmarks
After Effects CC 2018, HandBrake 1.1, Marvelous Designer 7, Premiere Pro CC 2018, RealFlow 10, RealityCapture 1.0, Unreal Engine 4.21 (baking lightmaps and building a project), World Machine 3.0.22
Synthetic benchmarks
Cinebench R15 and R20
All the rendering benchmarks were run on the CPU alone. I ran the AMD Ryzen Master Utility, available for all AMD Ryzen and Threadripper CPUs to control overclocking, and set it to Creator mode while testing.

Technology focus: Coreprio
Before we move on to the test results, I want to go over one further issue: Window 10's performance issues with the Threadripper 2990WX. Level1Techs discovered that a bug in the Windows 10 thread scheduler – Linux is unaffected, apparently – was causing a performance regression in some applications with four-die AMD CPUs. AMD has stated that it is working with Microsoft to ensure that its CPUs reach their maximum potential performance with Windows 10, so hopefully we will see an official fix some time this year, but Bitsum has released a free utility called Coreprio that addresses the issue.
The problem supposedly only shows up when stressing most or all of the CPU cores, so rendering would be a likely scenario in which to observe the performance regression. I tested my benchmarks with the Coreprio utility running and not running, and found no issues when running in Non-Uniform Memory Access (NUMA) mode. Only three benchmarks showed minor improvements: Arnold, RenderMan and lightmap baking in Unreal Engine. However, there is no reason not to use Coreprio, providing that you set it up correctly, as incorrect settings can make your system very unstable. The screenshot below shows the settings I used.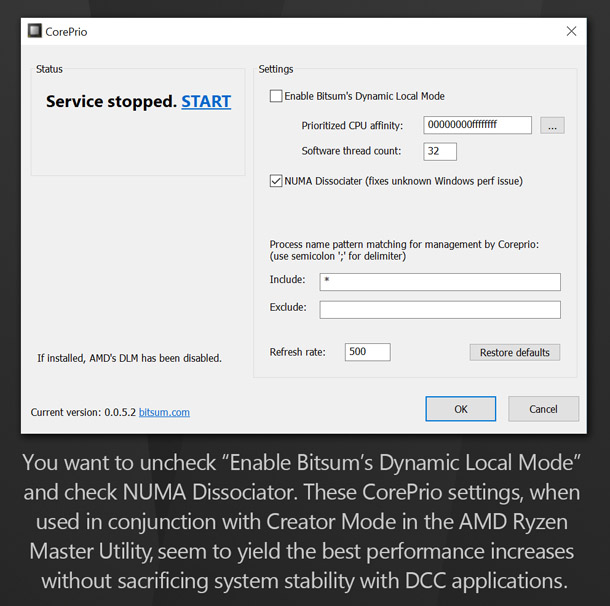 Benchmark results
Viewport and editing performance
First off, we have viewport and editing performance. I have included fewer of these benchmarks in this review as viewport performance is largely dictated by the system's GPU. Given that the focus of the article is the APEXX T3's Ryzen Threadripper CPU, the more important numbers are those for editing or manipulating 3D objects, which involves both CPU and GPU.

The APEXX T3, with its Threadripper 2990WX CPU, and the custom system with the Threadripper 1950X are the winners here, trading blows for the top spots. I imagine that the 1950X's higher base clock speed gives it an edge over the 2990WX in the editing benchmarks. The Dell Precision 7920, with its dual Xeon CPUs, comes in third place in all the tests. The older HP Z820 and the Core i7 system take turns as fourth and fifth.
Rendering
Next, we have the CPU rendering benchmarks. These tests are where high-core-count CPUs really strut their stuff as renderers are among the most multi-threaded applications in existence.

Rendering is where the APEXX T3 – and its 32-core Threadripper 2990WX – really flexes its muscles. It wins every single one of our tests, beating the Dell Precision 7920 and the 24 cores of its dual Xeon processors: by small margins in a few tests, and much larger margins in others. The 16-core Threadripper 1950X system comes in third, and the HP Z820, which also has a total of 16 cores, in fourth. The four-core Core i7 system comes in a distant fifth, demonstrating how well rendering performance scales with number of CPU cores.
Other benchmarks
Our additional benchmarks consist of CPU-intensive tasks in a range of DCC applications. Efficiency of threading varies from application to application.

Again, the Threadripper-2990WX-powered APEXX T3 does extremely well, taking top spot in all but two benchmarks, RealFlow simulation and lightmap baking in Unreal Engine, where the dual Xeon CPUs in the Dell Precision 7920 win out, despite their lower total core count. This may be due to the Xeons' higher memory bandwidth. Again, the Threadripper 1990X system comes in third, with the HP Z820 usually in fourth and the Core i7 system in fifth, although it does outperform the older HP system in a couple of benchmarks.
Synthetic benchmarks
Lastly, we have synthetic benchmarks. I don't think they reflect real-world performance particularly accurately, but they do make it possible to compare the systems on test here with those in online benchmark databases. We will only be looking at CPU performance here, through Maxon's Cinebench R20, and through the CPU benchmark in the legacy Cinebench R15.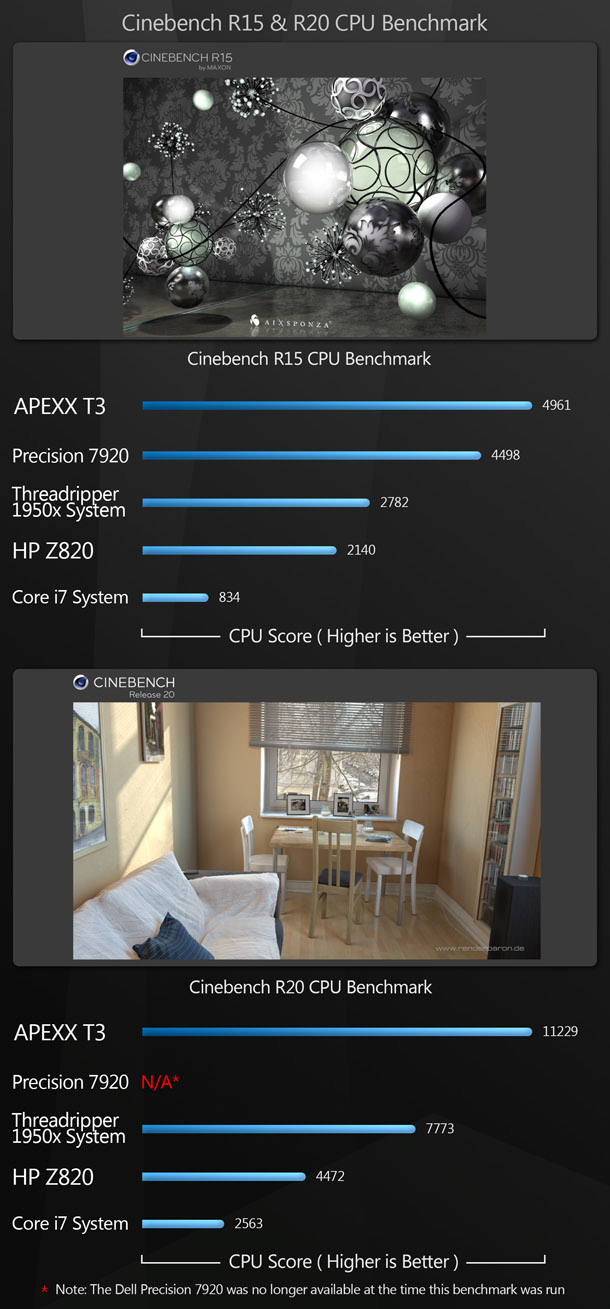 Since the Cinebench CPU benchmark is a rendering test, it follows the same pattern as our rendering benchmarks, with the APEXX T3 taking first place, followed by the Dell Precision 7920, the Threadripper 1950X system, and the HP Z820, with the Core i7 system in last.
Other considerations
Thermal performance
As I mentioned earlier, the APEXX T3 came equipped with a Cooler Master all-in-one 240mm water cooler, and it does a pretty good job of keeping the 250W Threadripper 2990WX chilly. The CPU averages 50-51°C under 100% load, with the highest recorded peak at just over 54°C – well under the 68°C official maximum operating temperature. When the CPU is running at less than 100% load, the fans on the cooler's radiator are barely audible, and while they do make some noise when the CPU is running at full load, it isn't intrusive.
Power consumption
With the ever-increasing cost of electricity, power usage has become a very real factor when looking to purchase new hardware. It was recorded here with P3's P4400 Kill A Watt meter. Although not as advanced as some of the more expensive meters out there, it gives a pretty good overall picture of a system's average power consumption in various usage scenarios.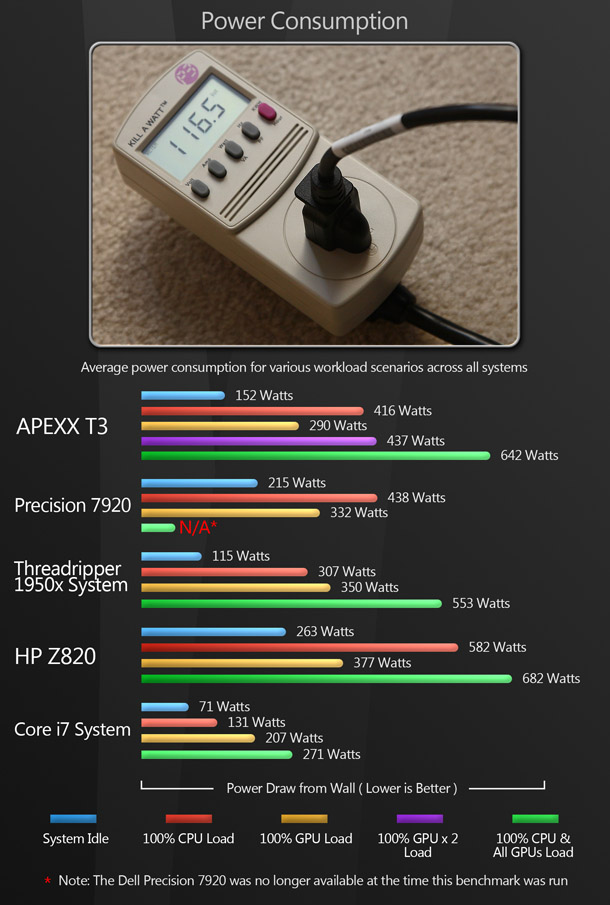 Although it has more CPU cores than the Dell Precision 7920 or the HP Z820, the APEXX T3 consumes less power than either, averaging 22W less than the Precision 7920 and over 160W less than the Z820 when the CPUs are under 100% load. While this is impressive, it's worth bearing in mind that both the Precision 7920 and the HP Z820 are dual-CPU systems, which typically require more power, and that the Xeon E5-2687W CPUs in the Z820 are seven years old, and based on a less power-efficient 32nm process. As expected, the Threadripper 1950X and Core i7 systems, which have many fewer CPU cores, both beat the APEXX T3.
When it comes to single GPU usage, the APEXX T3 beats all of the other machines on test, bar the much less powerful Core i7 system, although power consumption goes up considerably when both of its Quadro RTX 5000 GPUs are running at 100% load, or when both CPU and GPUs are running at 100% load, as would be the case when rendering with a hybrid CPU/GPU renderer.
Verdict
I have spent several months with the APEXX T3 system reviewed here, integrating it into my day-to-day work as a CG artist. Last fall, I mentioned that the Dell Precision 7920 was, to that point, the fastest system I had ever tested. Now that crown has been usurped. BOXX's APEXX T3 is the fastest workstation-class system that I have ever had the pleasure of using.
Both the APEXX T3 and the Precision 7920 have price tags of over $12,000, but in the APEXX T3, that buys you eight more CPU cores, an additional – and more powerful – GPU, NVMe storage and liquid CPU cooling. While you do get less system RAM, the APEXX T3 consistently outperformed the Precision 7920 in my benchmark tests, particularly for rendering.
I've discussed the issue of price in previous reviews, but it's worth reiterating here: if a five-figure price tag seems crazy to you, consider the part of the market for which the APEXX T3 is intended. Modern movies, broadcast series and games have budgets that range from millions to hundreds of millions of dollars, along with increasingly tight schedules, and enormous financial penalties for studios that miss deadlines. Compared to this, a workstation like the APEXX T3 is a mere speck on the balance sheet – particularly when you consider that licences of DCC software can cost more than the hardware on which they are run.
However, the question remains: do you yourself need a workstation with 128GB of RAM, dual Quadro RTX 5000 GPUs, and a 32-core Ryzen Threadripper 2990WX CPU? It depends what kind of tasks you are going to throw at it. If you are looking for a system for pure asset creation – modelling, texture painting, animation, compositing or colour correction – it's probably overkill.
Its real benefit is for computationally intensive tasks like lighting, rendering, simulation, and building real-time projects. Lighting TDs, shader artists and anyone doing scene layout will benefit from the low iteration times that a system like this can deliver. The same goes for artists working in architectural or product visualisation who need to do a lot of rendering, particularly at high resolutions; and anyone whose workflow involves intensive multi-tasking – if you're a generalist who needs to work on 3D assets while rendering, running simulations or encoding video in the background, it helps to have a lot of CPU cores to play with.
If you need a lot of horsepower, but don't have deep pockets, there is a silver lining: Ryzen Threadripper 2990WX systems can be built much cheaper. If you don't need the ISV certifications provided by a workstation-class GPU, and can make do with less memory, I was able to price out systems with 64GB of RAM, a single GeForce RTX 2080 Ti GPU, a 512GB NVMe main drive, a 4TB mechanical data drive and an 850W power supply for roughly $4,700 on several boutique PC builder websites. In my opinion, that's an insane deal. Add in a second GeForce RTX 2080 Ti and a 1000W power supply, and – for a little over $6,000 – you can create a system that should, at least on paper, offer very similar performance to the APEXX T3.
But if you have the money to buy it, BOXX's APEXX T3 workstation is a solid, well-built system with exceptional performance in demanding digital content creation workflows.
Read more about the APEXX T3 workstation on BOXX's website
Read more about the Ryzen Threadripper 2990WX CPU on AMD's website
About the reviewer
Jason Lewis is Senior Environment Artist at Obsidian Entertainment and CG Channel's regular reviewer. In his spare time, he produces amazing Star Wars fan projects. Contact him at jason [at] cgchannel [dot] com
Acknowledgements
I would like to give special thanks to the following people for their assistance in bringing you this review:
Peter Amos of AMD
Marissa Sandell of Edelman
Alex Cotton of BOXX Technologies
Stephen Schmitt of World Machine
Bruno Oliveira on Blend Swap
Reynante Martinez
Stephen G Wells
Adam Hernandez