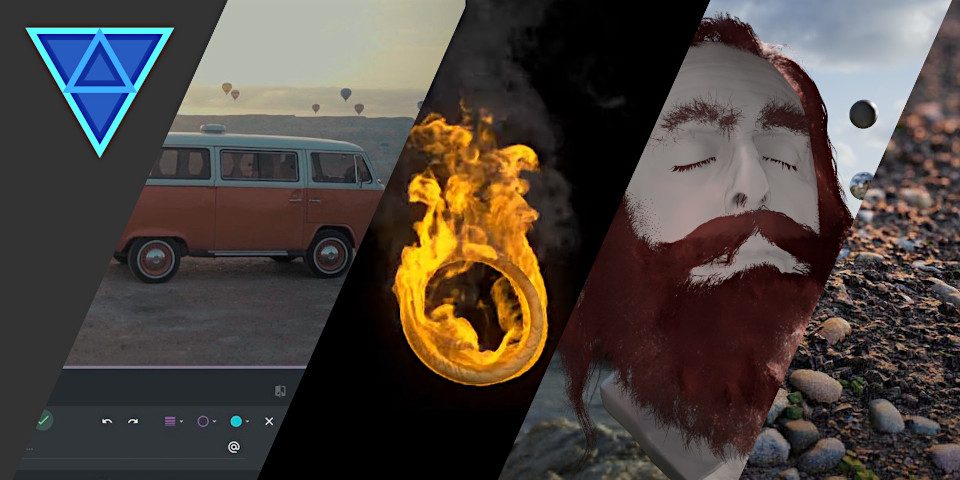 While CG Channel tries to write about all of the major new versions of CG software that get released each month, sometimes there are smaller updates or useful plugins that we don't manage to cover.
Rather then letting those releases slip past unnoticed, we've put together a round-up of five updates to visual effects, feature animation and architectural visualization tools that didn't get full stories in December 2021.
Below, you can find summaries of what's new in 3ds Max particle and volume meshing plugin AqMesher 2.5, plus ArtEngine 2021.15, HitFilm 2021.3, ftrack Studio 4.9 and Redshift 3.0.62.
AqMesher 2.5
Overview
An iterative update to MagicPictures Software's plugin for converting native 3ds Max particle systems, Krakatoa particle caches or OpenVDB volumes to meshes. The software was originally released in 2019.
New features
Support for 3ds Max 2022
Many new simulation nodes
Support for Particle Flow event selection on the Particles Obj node and Particles Listbox node
The previous 2.0 release was a major backwards-compatibility-breaking update moving the plugin's UI to a node-based editor and adding a longish list of new node types.
System requirements
Windows 10 only. Compatible with 3ds Max 2017+. Requires a Nvidia GPU.
Price
A new perpetual licence costs $245, down $30 from the original release.
Read a full list of changes in AqMesher 2.0 to 2.5 in the online release notes
ArtEngine 2021.15
Overview
Unity's AI-trained software for processing PBR materials for games gets a new system for previewing output inside the Unity game engine and new texture baking, cloning and style transfer features.
New features
Experimental new Unity window
Enables users to preview the output of any node in a HDRP Unity scene inside ArtEngine.
New Plane Generator node
Takes the raw mesh of a 3D scan and generates an axis-aligned plane projected to the midpoint of the scan. Can be used with the Baker node as the low-poly target when baking out texture maps.
Revamped UI
Introduces colour coding for executed, unexecuted and error state nodes, plus preset header and footer panels for 2D and 3D windows.
Since we last wrote about the software, ArtEngine 2021.12 added a new Style Transfer node, and ArtEngine 2021.13 added an experimental Clone Stamp node that works across all of the maps in a material.
System requirements
Windows 8.1+ only. Requires a compatible Nvidia GPU.
Price
Rental-only, with a minimum one-year subscription term. The base edition costs $228/year. The Pro edition costs $1,140/year. The Studio edition costs $4,000/year. Compare editions.
Read a full list of new features in ArtEngine 2021.15 in the online release notes
ftrack Studio 4.9 (December 2021 update)
Overview
ftrack's cloud-based production tracking and production management system, widely used at visual effects facilities, gets a range of workflow improvements, particularly to shot review sessions.
New features
A consistent review experience, whether reviewing material internally or externally
All users who log in to an ftrack Studio review session now have full user rights, even in Client Review.
The ability to manually set review sessions Open or Closed
The ability to group by custom attribute links in the Tasks Spreadsheet
Improved filtering in Overview and cross-project views
Export data without including tasks
See the name of your ftrack Studio page in your browser tab
System requirements
Browser-based. System requirements for on-premises server hosting can be found here.
Price
Starts at $30/month/user or $300/year/user.
Read an overview of the new features in ftrack Studio 4.9 on ftrack's blog
Read a full list of new features in ftrack Studio 4.9 in the online release notes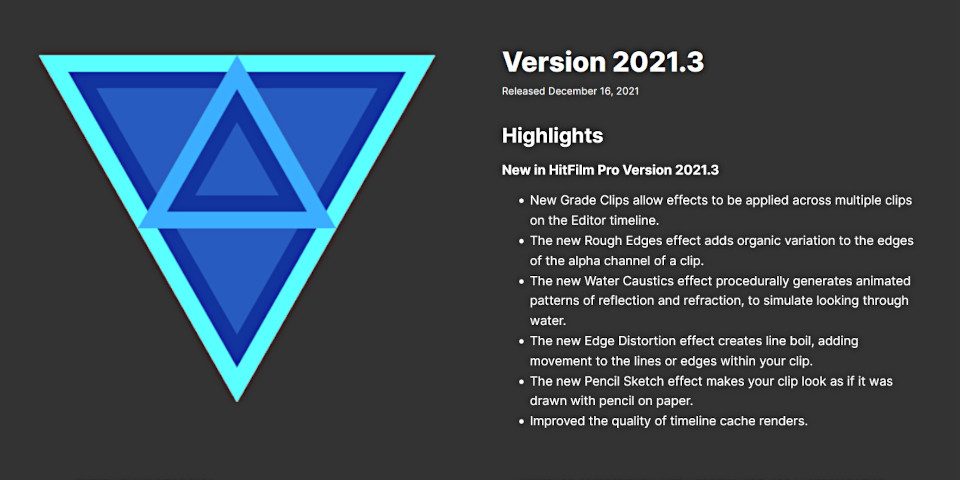 HitFilm 2021.3
Overview
The latest update to the video editing, compositing and effects software, following a shift to annual version numbering at the start of the year, and developer FXhome's acquisition by stock media firm Artlist.
New features (HitFilm 2021.3 Pro)

New Grade Clips
Allow effects to be applied across multiple clips on the Editor timeline.
New Rough Edges effect
Adds organic variation to the edges of the alpha channel of a clip.
New Water Caustics effect
Procedurally generates animated patterns of reflection and refraction, to simulate looking through water.
New Edge Distortion effect
Creates line boil, adding movement to the lines or edges within a clip.
New Pencil Sketch effect
Improvements to timeline caching and YouTube export
Since we last wrote about the software, HitFilm Pro 2021.2 added a new media proxy system, FBX camera import/export, support for the Blackmagic RAW format, new effects plugins, and new Page Turn transitions.
System requirements
Windows 10+, macOS 10.14+.
Price
New perpetual licences of the Pro edition cost $349. The Express edition is a free download, with advanced features from the Pro edition available via a range of paid add-ons.
Read a full list of new features in HitFilm Pro 2021.1 to 2021.3
Read a full list of new features in HitFilm Express 2021.1 to 2021.3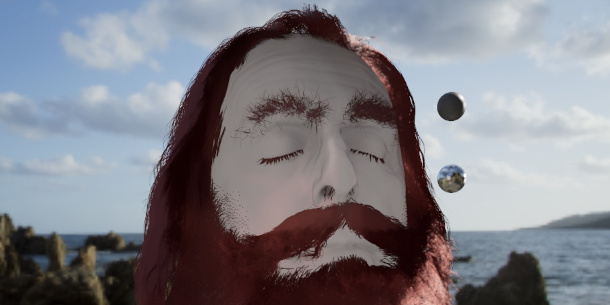 Redshift 3.0.62
Overview
Maxon's GPU production renderer for 3ds Max, Blender, Cinema 4D, Houdini and Maya continues to evolve, following the public beta of Redshift RT and the release of Redshift for Mac in 2021.
New features
Initial support for hair in near-real-time preview mode Redshift RT
Blender: support for per-light AOVs and ID matte AOVs
Houdini: support for instancing meshes, volumes and lights at the same time
Houdini: new crowds instancing technology in Solaris
Katana: support for Katana 5.0
System requirements
Windows 10, Linux and macOS 11.5+. Compatible with 3ds Max 2014+, Blender 2.83+, Cinema 4D R21+, Houdini 17.0+ (18.0+ on macOS), Katana 3.0v1+ and Maya 2016.5.
Price
Now available rental-only. Individual subscriptions cost $45/month or $264/year
Read a full list of new features in Redshift 3.0.62 on Maxon's forum (Registration required)
Tags: 3ds max, AI-based, AI-trained, AOV, Aq Mesher, Aq Mesher 2.5, AqMesher, AqMesher 2.5, arch viz, architectural visualization, ArtEngine, ArtEngine 2021.5, Blackmagic RAW, Blender, caustics, Cinema 4D, clone stamp, color grading, compositing, Cryptomatte, December 2021, edge distortion, editing, FBX, feature animation, ftrack Studio 4.9, game art, game development, Game Engine, GPU rendering, HDRP, HitFilm, HitFilm 2021.3, HitFilm Express, HitFilm Express 2021.3, HitFilm Pro, HitFilm Pro 2021.3, Houdini, ID matte, instancing, Katana, Krakatoa, material authoring, Maya, mesh particle system, mesh volume, new CG software, new features, news roundup, non-photorealistic rendering, OpenVDB, PBR, Plane Generator, plugin, price, production management, production tracking, proxy system, Redshift, Redshift 3.0.62, Redshift RT, renderer, rendering, shot review, simulation, Solaris, style transfer, system requirements, texture baking, Unity, vfx, visual effects