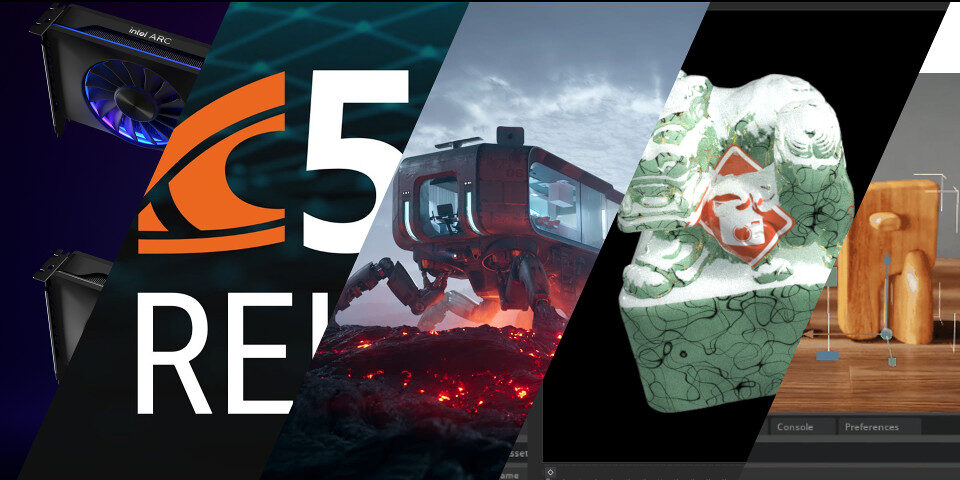 While CG Channel tries to write about all of the major new CG software and hardware released each month, sometimes there are smaller updates that don't get to, or useful products that fall outside our core coverage.
Below, we've put together a round-up of 7 new or updated products relevant to VFX, game development, motion graphics or architectural visualisation that didn't get full stories in September 2022.
They include new versions of software including Clarisse iFX, Godot, Redshift and Nvidia's Omniverse tools, updates to online services like Chaos Cloud, and Nvidia's latest Arc A-Series GPU.
AMD Software: Pro Edition 22.Q3
Overview
The latest quarterly update to AMD's driver software for its workstation GPUs brings "our most significant performance advancements to date in all OpenGL applications", including Maya and many CAD tools.
New features
AMD claims a performance increase of "up to 72%" in Maya over its previous driver, based on tests on a system with a 12-core AMD Ryzen Threadripper Pro 5945WX CPU, Radeon Pro W6800 GPU and 64GB RAM.
You can see comparisons between AMD GPUs and Nvidia's RTX A2000 and A5000 in AMD's blog post, although the tests use synthetic benchmark SPECviewperf 2020, which isn't always an ideal measure of performance in production for DCC work.
System requirements
Compatible with Windows 10+ and Ubuntu, RHEL/CentOS and SLED/SLES Linux
Price
Free
Read more about AMD Software: Pro Edition 22.Q3 on AMD's blog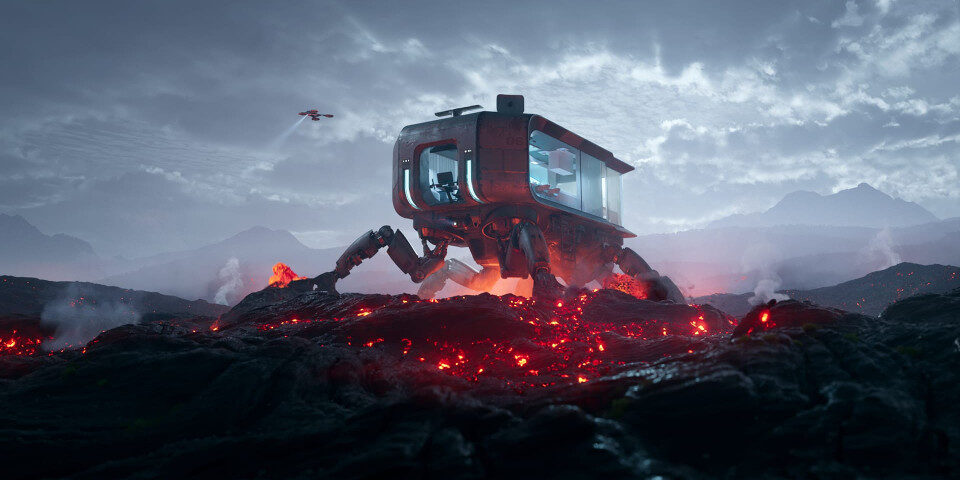 Chaos Cloud: September 2022 update
Overview
Chaos's cloud rendering service, built into its V-Ray renderer, can now render much bigger projects.
New features
Users can now upload scenes larger than 150GB in size, and can render still images larger than 400Mpx in resolution, and animations longer than 10,000 frames.
Assets from the Chaos Scans and Chaos Cosmos asset libraries are now available automatically on Chaos Cloud instances, cutting upload times for projects that use them.
Other recent changes to Chaos Cloud include support for deep output for VFX workflows.
System requirements
Available natively in many versions of V-Ray, including V-Ray for 3ds Max, Maya, Houdini and Cinema 4D
Price
Charged using a credit system. You can estimate costs using Chaos's sample scenes.
Read a full list of changes in the September 2022 update to Chaos Cloud on Chaos's blog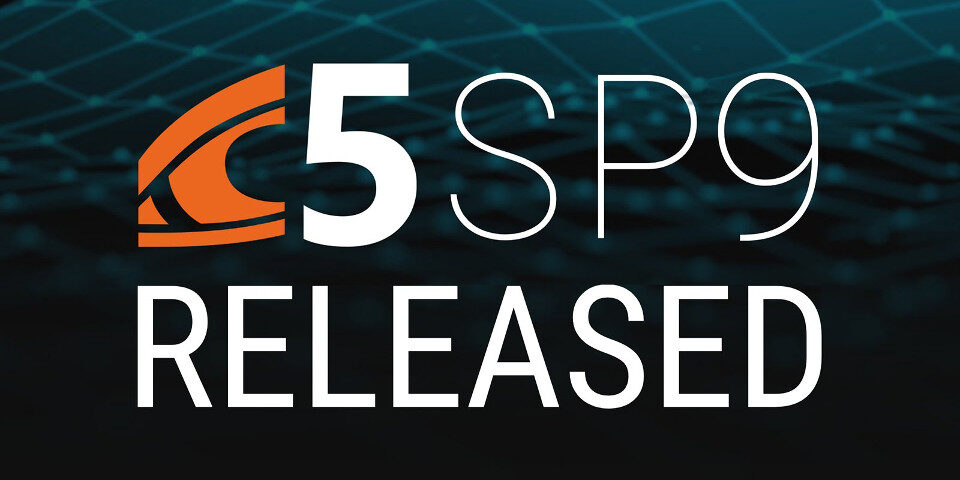 Clarisse iFX 5 SP9
Overview
The latest update to Clarisse iFX 5, the production-ready version of Isotropix's layout, lighting and rendering software. A separate 5.5 series of releases includes Angie, Isotropix's new hybrid renderer.
New features
Although Isotropix puts out updates to Clarisse iFX pretty regularly, SP9 is the first for six months, and boasts a longer list of new features and changes than usual.
New features include a Snapper brush for the Particle Paint tool, automatically snapping particles being painted into a scene during shot layout to the nearest geometry.
In addition, Clarisse now runs on current-gen Apple Silicon Macs, although only through Apple's Rosetta 2 emulation system: it hasn't yet joined the list of CG applications with native Apple Silicon support.
System requirements
Compatible with Windows 10, macOS 10.12+ and Linux Red Hat/CentOS 7+
Price
Clarisse has a fairly complex price structure. You can find details in this story.
Read a full list of new features in Clarisse iFX 5 SP9 on Isotropix's forum
Godot 4.0 Beta 1
Overview
After an unexpectedly long series of alpha builds, the milestone update to the open-source game engine reaches beta, meaning that no more major features will be added between now and the final release.
New features
Too many to list here, but the major structural change is a new rendering backend backend based on the Vulkan graphics API. Other key features for CG artists include:
• New global illumination systems for small environments and open worlds
• GPU lightmap baking
• Volumetric fog
• New dynamic sky shaders
• Support for collision and trails in GPU particles
• Godot Physics becomes the primary physics system instead of Bullet physics
• Animation libraries
System requirements
Available for Windows, Linux, macOS, Android and as a web editor
Price
Free: open-source under MIT licence
Read a full list of new features in Godot 4.0 on the product blog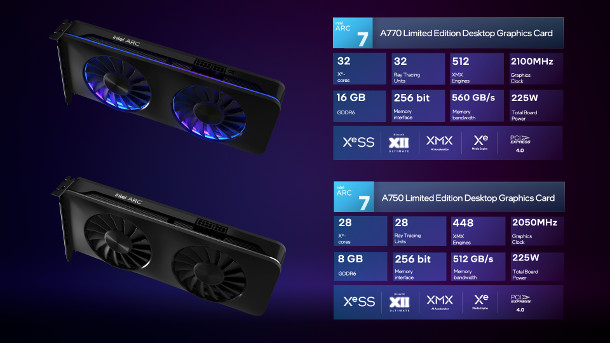 Intel Arc A750 and A770 GPUs
Overview
Intel's Arc 7 GPUs – the latest in its Arc A Series of gaming cards – are a much more serious proposition than the underpowered Arc 3 GPUs it launched earlier this year.
New features
The new cards look to be competitively priced, given their specifications: $289 for the 8GB A750, $329 for an 8GB A770 and just $349 for a 16GB A770.
Although the claims won't be independently verified until the cards ship on 12 October, Intel says that the A770 has a better ray tracing performance than Nvidia's similarly priced GeForce RTX 3060.
All of Intel's own benchmark scores are for games, but consumer cards are also widely used for DCC work, so it will be interesting to see whether that translates to GPU rendering.
Intel is also about to launch its own dedicated workstation GPUs, the Arc Pro A-Series.
Price
The Arc Pro A750 has a MSRP of $289. 8GB and 16GB Arc Pro A770s have MSRPs of $329 and $349.
Read more about the Arc A750 and Arc A770 on Intel's website
Omniverse Create 2022.2 and Omniverse View 2022.2
Overview
The latest versions of two of the key applications for Omniverse, Nvidia's real-time 3D design and collaboration platform: scene layout and editing app Omniverse Create and scene viewer Omniverse View.
New features
Omniverse Create 2022.2 reworks the software's Live mode for shared editing and asset review sessions, with Omniverse Live 2.0 providing a "one button create/join system" and better viewport performance.
The update also adds new Array, Pivot and Randomizer tools, while UI changes include a new in-viewport Camera Visor with access to key camera settings, and the option to tear off menus into floating panels.
Omniverse View 2022.2 actually removes functionality: the software's old scene editing features – including the Material Browser and Asset Browser – have been removed to refocus the app on scene review.
The Markup tool, for annotating scenes during asset reviews, gets UX improvements.
System requirements
Compatible with Windows 10+ and Ubuntu 18.04+/CentOS 7+ Linux. Both need a suitable Nvidia GPU.
Price
Free to individual artists. Find details of Enterprise pricing in this story
Read a full list of new features in Omniverse Create 2022.2 in the onnline documentation
Read a full list of new features in Omniverse View 2022.2 in the online documentation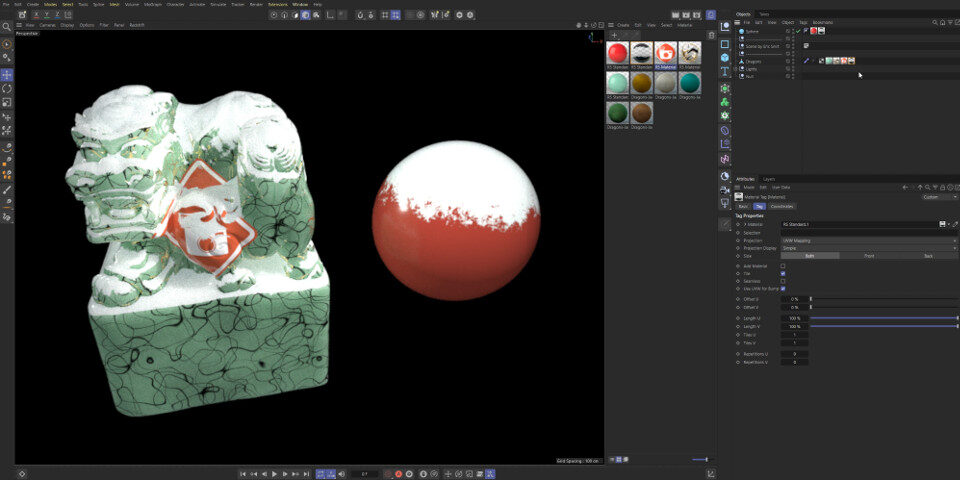 Redshift 3.5.08
Overview
Maxon's production renderer for 3ds Max, Blender, Cinema 4D, Houdini and Maya continues to evolve, following the recent introduction of support for AMD GPUs and rendering on CPU as well as GPU.
New features
Most of the key changes in Redshift 3.5.08 are for Cinema 4D users, notably support for material stacking, Redshift's decal-projection system, and for the native OCIO colour management in Cinema 4D 2023.
System requirements
Windows 10, Linux and macOS 11.5+. Compatible with 3ds Max 2015+, Blender 2.83+, Cinema 4D R21+, Houdini 17.5+ (18.0+ on macOS), Katana 3.0v1+ and Maya 2016.5.
Price
Rental-only. Individual subscriptions cost $45/month or $264/year.
Read a full list of new features in Redshift 3.5.08 in the online release notes
Tags: 22.Q3, 3ds max, 7 CG products you may have missed, A550, A770, AMD, AMD Software: Pro Edition, animation library, Apple Silicon, Arc A-Series, Arc Pro A-Series, architectural visualization, Array tool, benchmark, Blender, Bullet physics, Camera Visor, Chaos Cloud, Chaos Cosmos, Chaos Scans, Cinema 4D, Cinema 4D 2023, Clarisse iFX, Clarisse iFX 5, Clarisse iFX 5 SP9, Clarisse iFX 5.5, cloud rendering, cloud shader, consumer GPU, deep output, game art, game development, Game Engine, gaming GPU, global illumination, Godot, Godot 4.0, Godot 4.0 Beta 1, Godot Physics, GPU lightmap baking, GPU particles, GPU rendering, Houdini, Intel, Katana, Markup tool, material stacking, Maxon, Maya, motion graphics, new CG products you may have missed, new CG software, new features, news roundup, NVIDIA, OCIO, Omniverse, Omniverse Create, Omniverse Create 2022.2, Omniverse Live 2.0, Omniverse View, Omniverse View 2022.2, open source, OpenColorIO, OpenGL, particle collision, Particle Paint, particle trail, Pivot tool, price, Randomizer tool, ray tracing, Redshift, Redshift 3.5.08, renderer, rendering, Rosetta 2, September 2022, Snapper brush, specifications, system requirements, V-Ray, vfx, visual effects, volumetric fog, workstation GPU