Maxon's release trailer for Redshift 3.5, the latest version of its production renderer for 3ds Max, Blender, Cinema 4D, Houdini and Maya. The video also shows some features added in other recent updates.

Maxon has released Redshift 3.5. The update enables the formerly GPU-only renderer to run on the CPU.
Other key changes include a new Redshift Standard Material, intended to improve interoperability with other DCC applications; and better rendering of thin-film iridescence and diffuse roughness.
The firm has also announced support for AMD GPUs on Windows and Linux, due in beta in a future release.
Redshift CPU and XPU enable users to render on CPU as well as GPU
The main new features in Redshift 3.5 are Redshift CPU and Redshift XPU: new modes for rendering fully on the CPU, or on both CPU and GPU simultaneously.
It's a striking addition to a product whose tagline is "the world's first fully GPU-accelerated, biased renderer".
On the Redshift forum, Maxon notes that CPU support "opens up doors for Redshift to work on CPU render farms", including commercial rendering services, and the CPU farms maintained by many large VFX facilities.
Rendering on the CPU also avoids two disadvantages of GPU rendering: the performance hit associated with rendering scenes too large to fit into GPU memory, and the high current street prices of GPUs.
The initial release supports all of the features of Redshift GPU, with the exception of Round Corners, and CPU and GPU output should be "perceptually indistinguishable".
However, Maxon describes it as "the first steps to a full CPU version" with "a lot of room for improvement with performance": in particular, hybrid renders may currently actually be slower than rendering on GPU alone.
The firm says that it plans to iterate on performance in future updates, but that it does not expect Redshift CPU to challenge Redshift GPU for raw speed.
Maxon group product manager Rick Barrett noted: "[Rendering on the] GPU is always going to provide the best performance: that's why they're so expensive and difficult to get hold of right now."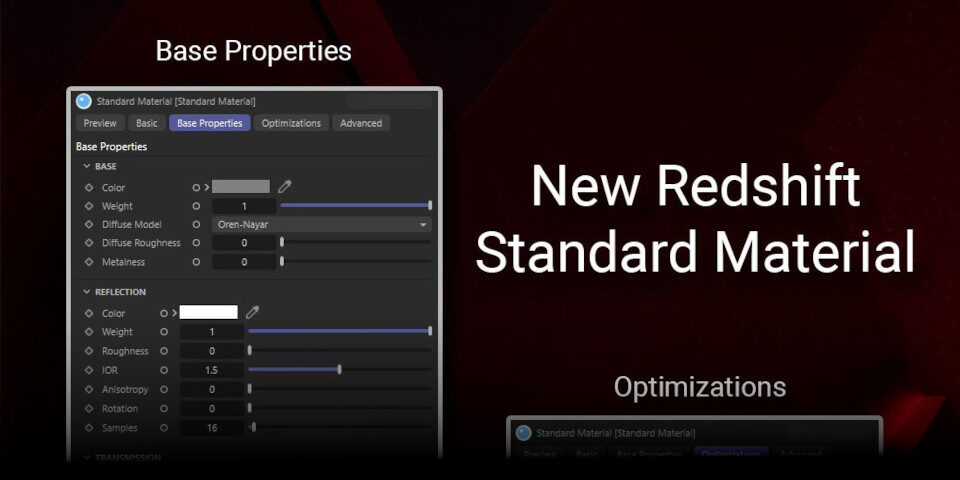 New Redshift Standard Material simplifies material authoring
The other key change in Redshift 3.5 is the new Redshift Standard material, a new uber-shader "inspired by" Autodesk Standard Surface, the standard material used in 3ds Max, Maya, Arnold and OctaneRender.
Like Autodesk Standard Surface, the Redshift Standard Material is a layered material capable of replicating a wide range of real-world materials, with controls for SSS and surface coatings, thin films and sheen.
Speaking to CG Channel, Barrett commented that the Standard Material is "where we see the Redshift material system going forward", providing a more intuitive workflow for material authoring, and improving interoperability with other tools.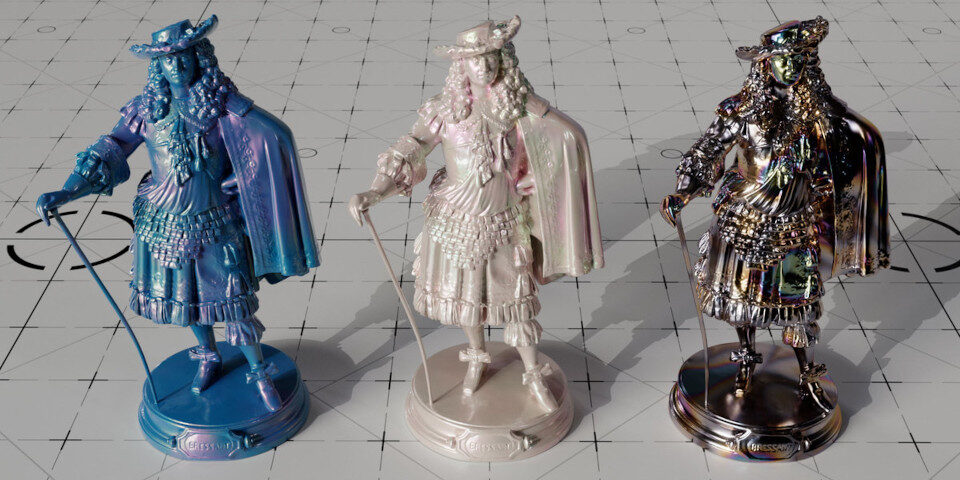 Better thin-film iridescence, new Alembic and USD primitives, updates to Redshift RT
Smaller changes include new BRDF models for thin-film iridescence, based on this 2017 research paper, and diffuse roughness, based on recent Nvidia research.
Since we last wrote about Redshift, Maxon has also introduced new Alembic and USD procedurals, intended to improve performance when rendering large production scenes.
Redshift RT, the software's new near-real-time preview rendering mode, now has initial support for depth of field, and supports particle primitives, triplanar texture projection and multi-scatter SSS.
Outside the entertainment market, Redshift has also been integrated into the latest versions of two CAD applications: Archicad 25 and Vectorworks 2022.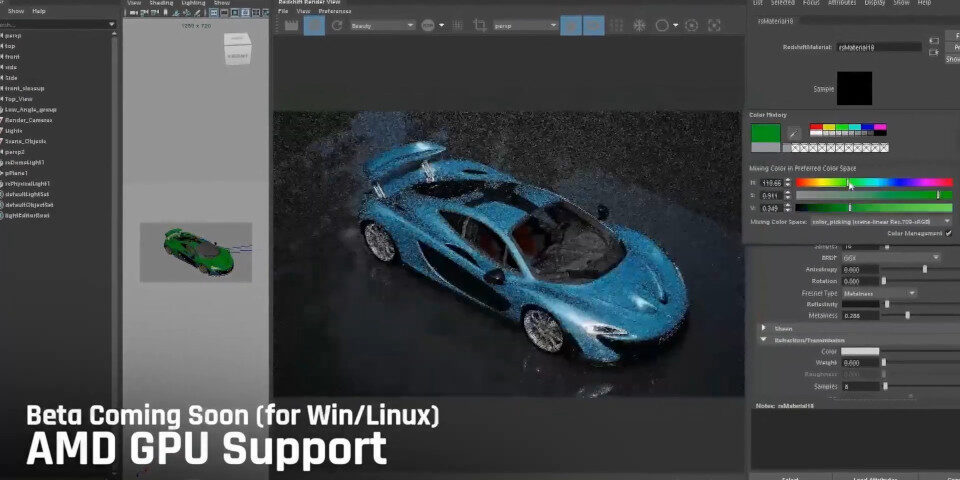 Support for AMD GPUs due soon on Windows and Linux as well as macOS
In addition, the end of Maxon's release video features on-screen captions announcing that support for AMD GPUs is "coming soon" in beta for Windows and Linux users.
The change will make Redshift compatible with all of the makes of GPU currently used in production, with the exception of Intel's upcoming Arc A-Series cards.
Maxon introduced support for AMD GPUs to macOS versions of the previously Nvidia-only renderer last year, followed soon after by native support for the Apple Silicon processors used in current Macs.
Pricing and system requirements
Redshift 3.5 is available for Windows 10, glibc 2.17+ Linux and macOS 11.5+.
The renderer's integration plugins are compatible with 3ds Max 2015+, Blender 2.83+, Cinema 4D R21+, Houdini 17.5+ (18.0+ on macOS), Katana 3.0v1+ and Maya 2016.5.
The software is rental-only, with individual subscriptions costing $45/month or $264/year.

See an overview of the new features in Redshift 3.5 on the software's Trello board
Read more about Redshift on Maxon's website
Tags: 3ds max, Alembic, Alembic procedural, animation, arch viz, ArchiCAD, Archicad 2022, Arnold, Autodesk Standard Surface, Blender, CAD, Cinema 4D, coat layer, CPU render farm, CPU rendering, D'Eon Lambert, depth of field, diffuse roughness, GPU rendering, Houdini, hybrid rendering, Katana, Maxon, Maya, motion graphics, new features, OctaneRender, particle primitives, price, Redshift, Redshift 3.5, Redshift CPU, Redshift GPU, Redshift RT, Redshift Standard Material, Redshift XPU, rendering, sheen, SSS, subsurface scattering, system requirements, thin film, thin-film iridescence, triplanar texture, USD, USD procedural, Vectorworks, Vectorworks 2022, vfx, visual effects, visualization