Wednesday, August 10th, 2022

Posted by Jim Thacker
Intel unveils Arc Pro A-Series A50, A40 and A30m GPUs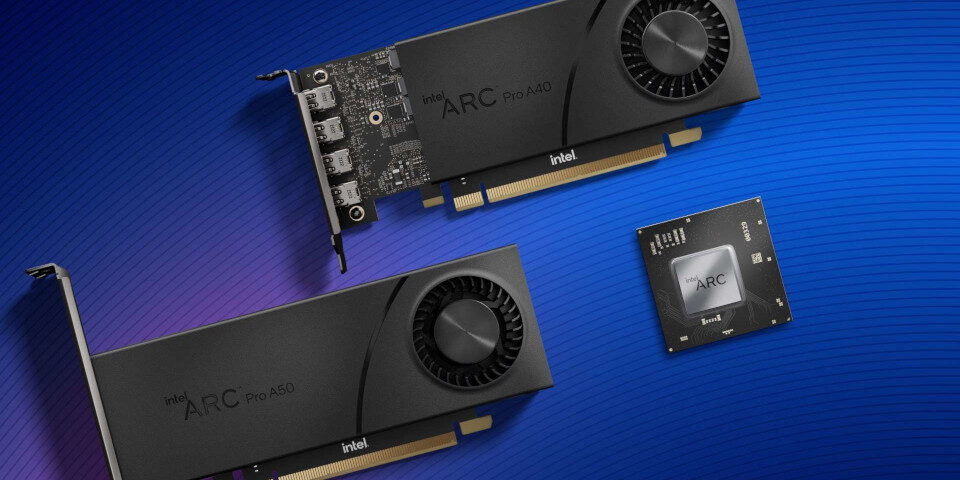 Intel has unveiled the Arc Pro A-Series, its new family of discrete GPUs aimed at professional graphics work.
The series initially consists of two small-form-factor workstation GPUs, the 6GB Arc Pro A40 and A50, and one laptop GPU, the 4GB Arc Pro A30M, all of which feature dedicated ray tracing and AI hardware.
The cards, which are due to ship later this year, are on show at Siggraph 2022.
Continuing Intel's expansion from integrated graphics to discrete GPUs
The new cards are part of Intel's latest attempt to move outside integrated graphics and into discrete GPUs, and follow the release of their consumer counterparts, the Arc A-Series, earlier this year.
They are based on Intel's Xe GPU microarchitecture, which includes both dedicated ray tracing units – accessed via DXR – and Xe Matrix Extensions (XMX) for AI inferencing.
The latter are Intel's answer to the Tensor cores in Nvidia GPUs; the former, its counterpart to Nvidia's RT cores, and to the ray accelerators in AMD GPUs.
In addition, Intel's Xe Media Engine accelerates video encoding and decoding, including "industry-first" support for the AV1 codec.
Intel Arc Pro A-Series GPUs
A50
A40
A30M
Format
Desktop
Desktop
Mobile
Execution units
128
128
128
Ray tracing units
8
8
8
XMX engines
128
128
128
Compute performance
FP32 (Tflops)
4.80
3.50
3.50
GPU memory
6GB
GDDR6
6GB
GDDR6
4GB
GDDR6
Memory bandwidth
192 GB/s
192 GB/s
112 GB/s
Graphics bus
PCIe 4.0 x16
PCIe 4.0 x 16
PCIe 4.0
capable
TDP
75W
50W
35-50W
Display connectors
4 x MiniDP 1.4
4 x MiniDP 1.4
Varies with laptop
Form factor
SFF
Dual-slot
SFF
Single-slot
Laptop
Launch date
Q3 2022
Q3 2022
Q3 2022
Launch price
TBC
TBC
N/A
(Via OEMs)

Key specifications: closer to AMD than Intel
As GPUs intended for professional graphics work, the Arc Pro A-Series will be competing with Nvidia and AMD's current generation of workstation GPUs, the RTX Axxxx Series and Radeon Pro W6000 Series.
On paper, they're all less powerful than any of the Nvidia RTX Axxxx Series cards: lower GPU compute performance, less GPU memory, and lower GPU memory bandwidth – although, equally, lower power draw.
Their core specifications are much closer to the AMD cards, with all three sitting roughly between the low-end Radeon Pro W6400 and the higher-end Radeon Pro W6600 and W6800.
It's harder to compare ray tracing or machine learning, since differences in GPU architecture mean that the respective core counts are not directly comparable between manufacturers.
No benchmark scores for real-world graphics applications yet
It's also difficult to tell how the specs will translate into real-world performance, since Intel hasn't yet released any benchmark figures for DCC applications.
The software namechecked on the product website – Premiere Pro, DaVinci Resolve Studio, and Topaz Labs' tools – suggests that Intel is mainly targeting image- and video-editing applications.
That would certainly fit with the Arc Pro A-Series' hardware-accelerated video encoding and decoding capabilites, something also found in Apple's new M1 and M2 processors.
In its press release, Intel says that it is also "targeting certifications with leading professional software applications" in the design and AEC industries, although the only app mentioned by name is Blender.
Pricing and availability
The Intel Arc Pro A50, A40 and A30m are all due to ship in Q3 2022. Intel hasn't announced prices yet.

Read more about Intel's Arc Pro A-Series professional GPUs on its product website