Friday, September 2nd, 2022

Posted by Jim Thacker
Jens Kafitz releases Mari Extension Pack 5 R9

Originally posted on 25 October 2019. Scroll down for news of the Mari Extension Pack 5 R9 update.
Former Weta Digital artist Jens Kafitz has released Mari Extension Pack 5, the latest version of his suite of bonus tools for Foundry's 3D painting software.
The update adds Substance Painter-style Smart Masks for creating procedural wear effects, a new Pattern Engine for generating procedural textures, and new Hotbox and marking menu systems.
A massive collection of add-on tools used by most leading Mari facilities
First released in 2014 as a collection of free tools, and now available as a commercial product, Mari Extension Pack has quickly become a staple of texture artists at many leading studios.
The list of users on Kafitz's website is pretty much a who's who of the world's biggest visual effects, feature animation and games facilities, including Weta Digital, ILM, Pixar, DreamWorks, EA, Ubisoft and Blizzard.
The pack provides hundreds of add-on tools covering just about every aspect of Mari workflow.
New Substance-style Smart Mask system and pattern generator
As with previous Extension Pack updates, the release adds features that will be familiar from Adobe's suite of Substance material-authoring tools.
That includes a new system of Smart Masks, for mimicking dirt and wear on materials, in the same way as those in Substance Painter.
Mari Extension Pack 5 includes 65 Smart Mask presets, plus a Mask Builder tool for creating custom masks.
The update also adds a new Pattern Engine for generating procedural textures, which looks to have similar versatility to Substance Designer's pattern-generation nodes.
Again, the release ships with hundreds of presets, including both geometric patterns and procedural noise; or there are new Pattern and Shape nodes for generating completely custom patterns.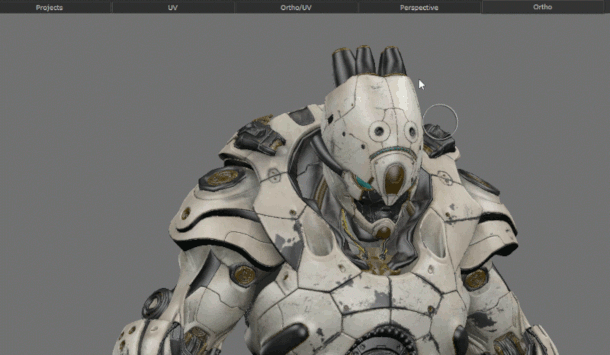 New Mask Shelf for creating and sharing presets, plus customisable Hotboxes and marking menus
Changes to Mari's interface added in the new release include a Mask Shelf, making it possible to save any layer, layer group or node selection as a preset, and share it with other artists.
The software automatically embeds a preview image when creating presets, making it possible to browse them visually; and it is possible to filter and group content in the shelf.
The release also adds a system of Hotboxes and marking menus of the type found in DCC tools like Maya and Houdini, making it possible to select commonly used tools from a circular contextual UI overlay.
The Extension Pack ships with seven built-in layouts, which can be customised via a new Hotbox Manager.
There is also a long list of other features, including new adjustment layers, blend modes and utility tools, and new mathematical and OpenGL functions in Mari's node graph.

Updated 30 April 2020: Mari Extension Pack 5 R3 is now available.
New features in the update include a new Substance Designer live link, enabling users to preview changes made to a texture in Substance Designer on a model inside Mari.
Other changes include a new system of material templates, including presets for the native materials of key render engines, including 3Delight, Arnold, RenderMan, Unreal Engine and V-Ray.
Workflow improvements include the option to automatically reload textures when the source file is updated, and to automatically recalculate normal map orientation when a material is rotated.
There are also new blur and manifold nodes, updates to the pattern engine nodes, and a new tool for soloing materials quickly from within the node graph. Find a full list of new features here.

Updated 10 August 2020: Mari Extension Pack 5 R4 is now available.
The update improves workflow for applying decals to a scene, adding new templates both for individual decals, and for scattering decals across an entire surface.
In addition, a new project templates system makes it possible to save settings from one project and reuse them in another, including node graphs, cameras, light rigs and scene preferences.
Other changes include new options when working with Mari's Bake Point nodes.

Updated 07 January 2021: Mari Extension Pack 5 R5 is now available.
The release adds support for the new functionality added in Mari 4.7 last month, with several Extension Pack tools updated to make use of the new Shelf in the Mari user interface.
Also making use of changes in Mari 4.7, users can now align nodes within the node graph by selecting and right-clicking them, and the drag-and-drop workflow for images and colour swatches has been improved.
Features compatible with earlier versions of Mari include a new Smart Height Blend system for blending height maps between nodes or materials, and a number of workflow and performance improvements.

Updated 12 May 2021: Mari Extension Pack 5 R6 is now available.
The update only adds one major feature, but it's a significant one: the Substance Baker Bridge, which makes it possible to use the high-speed texture baking toolset from Adobe's Substance tools inside Mari.
It provides 15 different bakers for generating geometry-based maps, including ambient occlusion, curvature, position, thickness and mesh or world space normals, importing the results directly into Mari.
Of those, 10 are GPU-accelerated, although all will fall back to CPU baking if no suitable GPU is available.
As in Substance Designer and Substance Painter, several of the key bakers support GPU-accelerated ray tracing, via Nvidia's OptiX API or via DXR (DirectX 12 Raytracing).
DXR is supported by Nvidia's GeForce 10 Series cards and newer and by AMD's Radeon RX 6000 Series, although the online documentation for the Extension Pack only lists Nvidia GPUs as compatible.
To use the Substance Baker Bridge, users need access to Adobe's Substance Automation Toolkit, available through subscriptions to the Substance tools, including Indie subscriptions.
Updated 2 September 2022: With the R9 update, the Substance Baker Bridge supports Substance 3D Designer as well as the Substance Automation Toolkit.

Updated 20 December 2021: Mari Extension Pack 5 R7 is now available.
The update adds Phasor noise: a versatile new 3D noise type used by Industrial Light & Magic during production on Star Wars: The Rise of Skywalker, and recently implemented in RenderMan 24.
It's capable of creating a variety of geometric or organic-looking patterns, ranging from sand dunes and fabric folds to tree rings and reptile scales, the latter shown in the video above.
Users can guide the result by using texture maps or Mari's Vector Paint sytem as inputs. The update also introduces a range of presets that can be modified to create custom Phasor noise effects.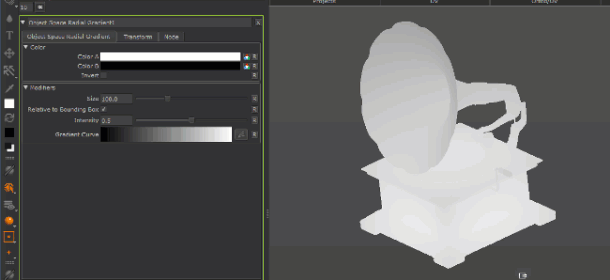 Updated 2 March 2022: Mari Extension Pack 5 R8 is now available.
The update overhauls the Object Space Radial Gradient, used to create 3D colour gradients, with changes including new options to rotate the gradient, or to use non-uniform proportions when scaling it.
Other changes include "quality of life enhancements" to decal and locator workflows, and the option to bake ID maps from Geo Channels.

Updated 2 September 2022: Mari Extension Pack 5 R9 is now available.
Although it's another free update, Kafitz describes it as the "largest release of [the] Extension Pack in years", adding support for Mari 5 and more new tools than any update since the original Extension Pack 5 itself.
Now available in separate editions for Mari 4.x and Mari 5.x
The former is significant because in Mari 5.0, Foundry rewrote the software to use Python 3 rather than Python 2, requiring a similar rewrite of the Extension Pack.
The resulting code clean-up means that some existing tools now run "up to 30% faster".
The Extension Pack is now available in two current editions: one based on Python 3 and compatible with Mari 5.x, and one with the same new features, but based on Python 2 and compatible with Mari 4.x.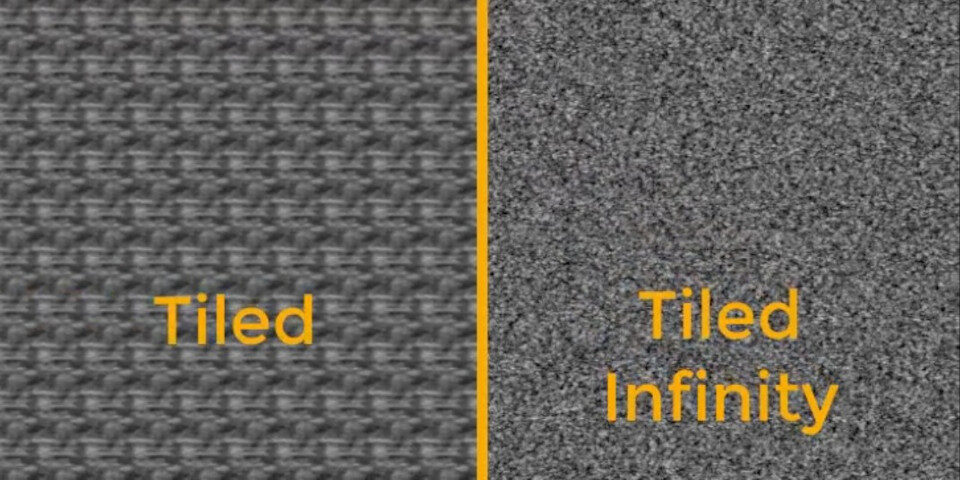 Infinity tiling mode reduces visible repeats in massively tiled textures
Those new features include a Tiled Infinity node, which tiles sample points from textures using a hex grid rather than repeating the entire texture in a rectangular grid.
It helps to avoid obvious repetitions when many repeats of the texture are visible, but works best with organic textures like mud or grass rather than geometric patterns like bricks or tiles.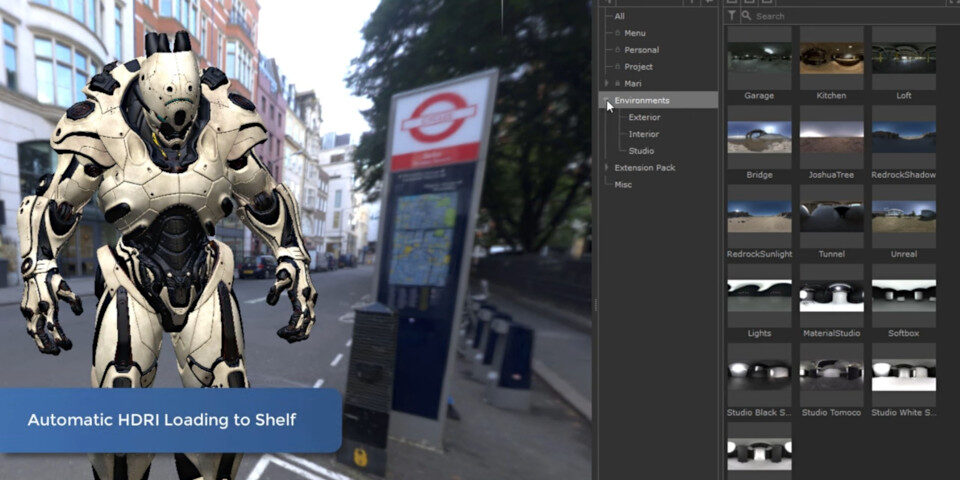 Lots of workflow improvements
Workflow improvements include a new 'Open with' sub-menu in the Image Manager, making it possible to open images in other applications as well as in the file browser.
Users can add up to 10 apps to the list, with Photoshop and Krita added automatically if installed.
It is also now possible to reload paint and image data, including Image Manager files and bake point data, via a new Reload Paint option in the node graph's right-click menu.
Handling of HDRI environments has been improved, with the Extension Pack now automatically adding HDRIs to the Mari Shelf.
There are also a lot of improvements to drag and drop workflow, including the option to place a dragged image on a single UDIM tile, based on its file name. You can find more details in the online changelog.
Pricing and availability
Mari Extension Pack 5 is available in two editions: a Mari 4.x edition compatible with Mari 4.1v2+, and a Mari 5.x edition compatible with Mari 5.0v3+. It doesn't work with Mari Non-Commercial.
An Indie licence, for individuals with revenue under €90,000/year, costs €59 (around $59); a Freelance licence, for individuals or companies with revenue up to €1 million/year, costs €99 ($99).
Site licences cost from €2,500 to €10,000.

Read a full list of new features in Mari Extension Pack 5
Watch videos of the new features on Jens Kafitz's YouTube channel