Friday, January 22nd, 2016

Posted by Jim Thacker
Jens Kafitz releases Mari Extension Pack 3 R2
Originally posted on 9 December 2015. Scroll down for news of the R2 update.
Hard on the heels of Mari 3 itself, former Weta Digital texture artist Jens Kafitz has just posted Mari Extension Pack 3.0, a major update to the collection of bonus tools for the 3D painting software.
The update adds over 200 new features and fixes, including a large set of new node types, support for material ID maps, layer bookmarking, and the option to export geometry as OBJ files.
Better optimised for Mari's node graph
One major features of the new release is improved support for Mari's underlying node graph, which The Foundry elected to partially expose in Mari 3.
All of the Extension Pack's nodes have been reworked for best use in the graph, with their key parameters automatically exposed as node connections.
New Manifold control nodes enable advanced image tiling
There are also over 25 new node types, including two new overall control nodes, Manifold 3D and Manifold UV, that can be used to change an object's 3D and UV texture co-ordinates.
The latter can be used in conjunction with the new Image node – which works in a similar way to Mari's vanilla Tiled node, but without options for texture repeats or offsets – to simplify texture tiling.
By attaching a Manifold UV node – which does provide repeat and offset options – to multiple Image nodes, artists can use different tiling images in different channels, all adjustable by a single set of controls.
New ways to generate edge wear and gradient effects
There are also new layering nodes, including Transition, which adds detail to mask edges by isolating the soft transition areas and adding the effects from another node.
Kafitz describes the update as providing artists with "powerful new ways to create [custom] edge wear".
Other new nodes include Histogram Scan: an adjustment node that mimics the behaviour of its equivalent in Substance Designer; and new environment nodes for creating object-space linear and 3D radial gradients.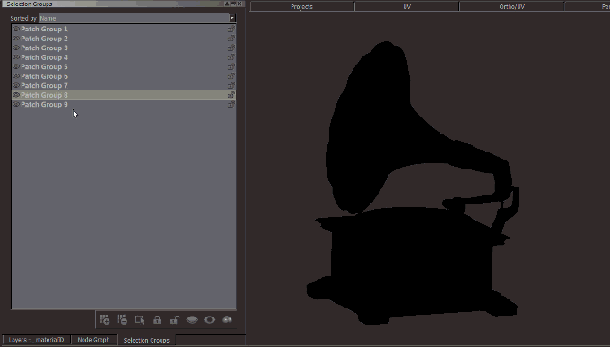 Support for Material Regions and material ID maps
In addition, the update adds a new tool to generate material ID channels from selection groups (show above). It works with all selection group types: objects, patches or faces.
The resulting ID channels can be used with the new Material Regions nodes, designed for layering materials over one another: for example, to control where dust and rust appear over a base metal material.
Material Regions themselves come with presets for different PBR shader workflows, including roughness/reflectance, metalness/roughness and specular/glossiness.
Isolate Selection, layer bookmarking and OBJ export
Other new features in Mari Extension Pack 3.0 include a new Isolate Selection menu item, which toggles the visibility of unselected parts of the model being painted.
There is also a new bookmarking system for layer selections, designed to "simplify the process of sharing a layer, group or channel into a different channel or stack".
In addition, texture export functionality has been extended, enabling artists to export at different resolutions or with mip-mapping; and there is now the option to export geometry from Mari to an OBJ file.
That's really only scratching the surface of the new functionality, but you can read a full changelog in the online documentation.
Pricing and availability
Mari Extension Pack 3 is available for Mari 3.0v1 or higher, running on Windows, Linux and Mac OS X.
Unlike previous releases, the Extension Pack is now a commercial product, although not an expensive one, with single-user licences costing $10 and site licences costing $22.
Updated 22 January 2016: Pricing is now up to $12 for a single-user licence, and $72 for a site licence.
The software is available via Gumroad, meaning that you can donate more to help support development if you want. Previous releases remain free to download.
Read a full list of new features in Mari Extension Pack 3.0
Updated 22 January 2016: Jens Kafitz has just released Mari Extension Pack 3 R2, a free update to the 3.0 release for registered users.
The update adds a set of edge wear presets, plus Dynamask (shown above): a "robust base network" for creating custom edge wear effects, designed to work in a similar way to the DynaMask system in Quixel's DDO.
There are also four presets for baking textures via Mari 3's new internal Modo Bake system, new layer and adjustment nodes, and a new Linear Light blending mode.
Read a full list of new features in Mari Extension Pack 3 R2