Friday, July 26th, 2019

Posted by Jim Thacker
Adobe releases Substance Painter 2019.2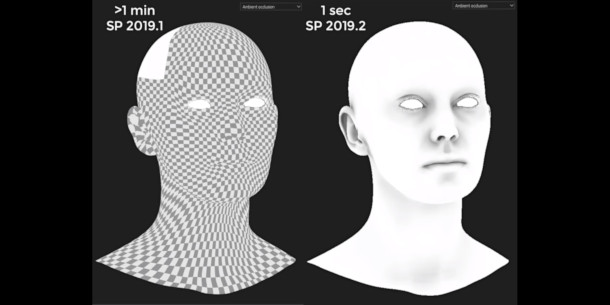 Substance Painter 2019.2 introduces support for accelerated ray tracing on Nvidia GPUs via OptiX and RTX. In this demo, ambient occlusion maps bake over 60x faster on a Nvidia GeForce GTX 2060 than in 2019.1.

Adobe has released Substance Painter 2019.2, the latest update to its 3D texture painting software, accelerating texture baking on recent Nvidia GPUs and adding 40 new smart materials.
The update, also referred to simply as the 'Summer 2019' release on the product website, is the first fully under Adobe's branding since it acquired original developer Allegorithmic in January.
Texture baking may be over 60x faster on new Nvidia GPUs
The update focuses on Substance Painter's texture baking tools, improving speed and workflow.
For those using Nvidia GPUs, the release introduces support for both OptiX, Nvidia's GPU ray tracing framework, and RTX, the hardware-accelerated ray tracing platform supported in its current graphics cards.
In its blog post, Adobe makes the unusually precise claim that the changes make GPU baking "up to 193 times faster", but since that's compared to other, unspecified baking apps, that's hard to evaluate.
Updated 30 July 2019: Adobe has now updated its blog post, rewording the speed comparison to "up to 200x the speed of our former bakers". Either way, baking is now much faster on compatible Nvidia GPUs.
A more practical measure may be the timelapse images in the blog post, which show sets of maps baking around 60x faster in Substance 2019.2 than Substance 2019.1 on a Nvidia GeForce RTX 2060 GPU.
The new GPU ray tracing capabilities only affect Ambient Occlusion and Thickness, not the other bakers.
Owners of older Nvidia GPUs should see a smaller speed increase via OptiX, and for non-Nvidia users, CPU ray tracing is now "two to three times faster than before".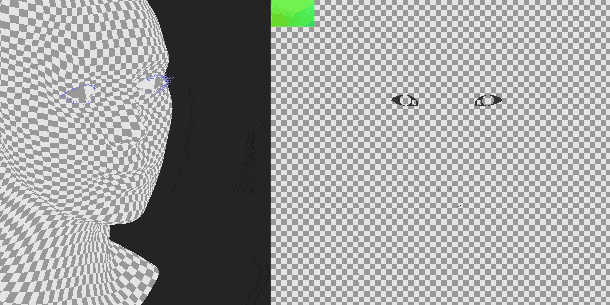 In addition, baking workflow has been improved, with the Substance Painter UI now showing a live preview of the bake in progress (shown above), and a more detailed error log.
It's also now possible to cancel a bake midway, although it may require "a few seconds" to take effect.
Further updates to the scripting API
New scripting features include options to select and change the resolution of texture sets.
There is also now a separate plugin for running commands from the scripting API, with support for auto-completion. It's available on GitHub under an MIT licence.
Other changes to the core application include performance improvements to the rotation manipulator and a new viewport downscaling setting for high-resolution displays. You can find a full list here.
New free smart materials and masks
The update also bundles 40 new smart materials and 20 new smart masks with the software, including plastic, rubber, wood, leather, fabric and metal materials.
Some were previously available as free downloads on Substance Share or as part of Allegorithmic's now-discontinued 'mood packs', and have been updated to support PBR workflows.
Pricing and availability
Substance Painter 2019.2 is available for Windows 7+, CentOS 6.6/Ubuntu 16.04 Linux and Mac OS X 10.11+.
New Indie licences, intended for artists and studios earning less than $100,000 per year, cost $149, including 12 months' maintenance. Further updates cost $75/year. A floating Pro licence costs $990.

Read an overview of the new features in Substance Painter 2019.2 on Adobe's blog
Read a full list of new features in Substance Painter 2019.2 in the release notes