Adobe has released Substance Painter 2019.3, the latest update to its 3D texture painting software, adding support for Photoshop .abr brushes and a lot of Photoshop-style improvements to painting workflow.
The update, also referred to as the 'Winter 2019' release, also introduces two new beta technologies: the automated UV unwrapping system originally codenamed Project Anorigami, and painting across UDIMs.
Import custom Photoshop brushes in ABR format
Substance Painter 2019.3 revamps the software's brush engine, bringing workflows for painting textures in 3D much closer to those for painting in 2D inside Photoshop.
One key change is that it is now possible to import brushes in ABR format, making it possible for artists to reuse their existing Photoshop brush libraries, or the numerous custom brushes available online.
Of the latter, over 100 of the Kyle T. Webster brush presets available to Photoshop subscribers are now bundled with the software.
To support the ABR format, Substance Painter gets new brush parameters, including new Minimum Size and Minimum Flow settings when pen pressure is enabled, and new Position Jitter options.
A new alpha, Brush Maker Photoshop, supports the Roundness and mirorring properties of .abr brushes.
Adobe describes .abr support as a "first iteration", with support for further brush settings due to be added gradually over subsequent releases.
More Photoshop-like behaviour when painting overlapping brush strokes
The update should also make the process of painting overlapping strokes feel more similar to that in Photoshop, particularly when working with low Flow or Opacity values.
Users can selecte a new Lighten (Maximum) blending mode for strokes from the Properties window, or activate a new gamma correction option on paint layers.
New brush previews and pen pressure options when working with graphic tablets
In addition, Substance Painter 2019.3 introduces a number of Photoshop-style quality of life improvements when working with graphics tablets and pen displays.
They include support for pen pressure curves, controlling how changes in pressure are translated into the opacity of the stroke on screen, and support for pressure interpolation when painting straight lines.
The brush preview in the viewport can also now be switched between a full preview, an outline of the brush in use, and a standard crosshair.
New natural media filters and brush presets
The presets added in the release also take inspiration from 2D painting, particularly natural media painting, with new filters for oil paint, watercolor and comic book effects.
There are two new natural media tool presets, Gouache Dense and Gouache Faded, and 18 new brush presets, including Charcoal Fine, and verious Paint Roller presets.
The latter can be used to repeat alphas smoothly along curved brush strokes, with suggested use cases including painting stitching or folds on clothing.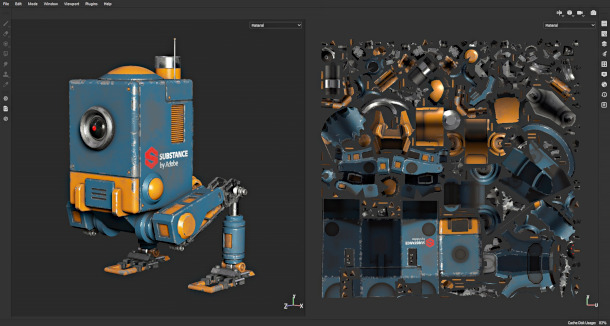 In beta: automated UV unwrapping and painting across UDIM tiles
Other major changes in Substance Painter 2019.3 include a new built-in UV unwrapping system, originally codenamed Project Anorigami when it was previewed at Siggraph this year.
The feature, which is still officially in beta, generates UV co-ordinates for imported meshes that are missing them, automatically seaming, unwrapping and packing the UV islands.
In addition, the release marks the debut of a long-awaited feature: support for painting across UV tiles when working with the UDIM UV layout format used by tools like Mari.
It's only available as a closed beta, limited to the first 500 applicants, so you will need to be quick to register.
New keyboard shortcuts and extended support for the Substance file format
Other changes in Substance Painter 2019.3 include new keyboard shortcuts for setting focus in the viewports, and for launching the texture baking window.
The update also extends Painter's support for the Substance file format, making it possible to achieve greater control over procedural materials imported from Substance Designer.
Among other changes, sliders can now be extended beyond the default minimum and maximum settings for a parameter, and will respect the parameter's step size. Find a full list of changes via the links below.
Pricing and availability
Substance Painter 2019.3 is available for Windows 7+, CentOS 6.6/Ubuntu 16.04 Linux and Mac OS X 10.11+.
Following Adobe's recent licensing changes, perpetual licences are now only available via Steam, and only for users earning under $100,000/year.
Confusingly, the new Steam edition is referred to as Substance Painter 2020 – presumably because it includes free updates until the end of 2020 – and has an MSRP of $149.99.
Subscriptions to all of Adobe's Substance tools cost $19.90/month or $219/year for artists and studios earning under $100,000/year; and $99.90/month or $990/year for other users.

Read an overview of the new features in Substance Painter 2019.3 on Adobe's blog
Read a full list of new features in Substance Painter 2019.3 in the release notes
Tags: ABR, Adobe, Allegorithmic, alpha blending, brush engine, brush preview, comic book, graphics tablet, Minimum Flow, Minimum Size, natural media, new features, oil paint, overlapping strokes, paint across UDIM tiles, pen display, pen pressure curve, perpetual licence, Photoshop, Photoshop brush, Position Jitter, pressure interpolation, pressure sensitivity, price, Project Anorigami, stroke blending, Substance Painter, Substance Painter 2019.3, Substance Painter 2020, system requirements, texture baking, texture painting, texturing, UDIM, UV packing, UV tile, UV unwrapping, watercolor