Thursday, April 23rd, 2020

Posted by Jim Thacker
Adobe releases Substance Painter 2020.1

Originally posted on 9 April 2020. Scroll down for news of the commercial release.
Adobe has previewed the next update to Substance Painter, its 3D texture painting software, during a livestream on its 3D and augmented reality products.
New features in the next release – Substance Painter 2020.1, if Adobe sticks to its usual product numbering – include a neat real-time decal system and a new Python API.
The release will also update Substance Painter's automatic UV unwrapping system, introduce a new GPU-accelerated curvature map baker, and overhaul the software's texture and mesh export workflows.
However, one feature not yet implemented is the long-awaited support for painting across UDIM tiles, although Adobe says that it is "working very hard on it".

New features: real-time decal mode
Completely new features in the release include a neat real-time decal mode, shown in the video above.
It provides a quick alternative to the existing planar projection mode, and uses local texture projection, making it possible to drag a decal around on the surface of a model in the 3D viewport.
Adobe also said that it is planning a new pack of "urban decals" on Substance Source, its online library of Substance materials.
Updated features: automated UV unrwapping and GPU baking
The update also expands several of Substance Painter's existing toolsets, including the new automated UV unwrapping system introduced in Substance Painter 2019.3, and originally codenamed Project Anorigami.
The new version will give users more granular control over the process, including the option to recompute selected UVs, to generate only the UVs missing from an asset, or only to pack existing UVs.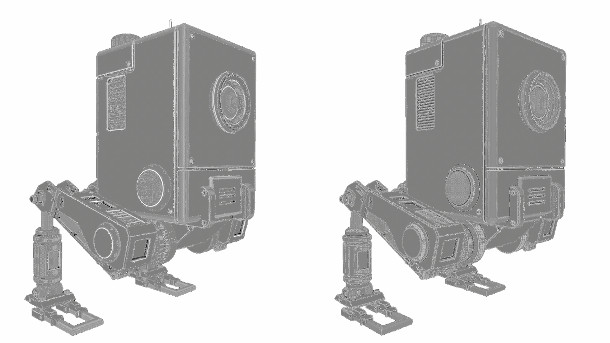 The new GPU-based Curvature baker generates more precise results (right) than the old CPU baker (left).

The GPU-accelerated texture baking system introduced in Substance Painter 2019.2 has also been extended, with a new Curvature map baker joining the GPU Ambient Occlusion and Thickness bakers.
Unlike the old Curvature baker, which used the low-poly version of an asset and its normal map, it works directly from the original high-poly asset, producing "much more precise" results and fewer seam artefacts.
The GPU Ambient Occlusion baker has also been updated, with the option to generate occlusion as if a model were standing on a ground plane, rather than floating in space.
All of the new bakers are based on Nvidia's OptiX GPU ray tracing framework, and work significantly faster than the existing CPU bakers, particularly on current-gen Nvidia RTX GPUs.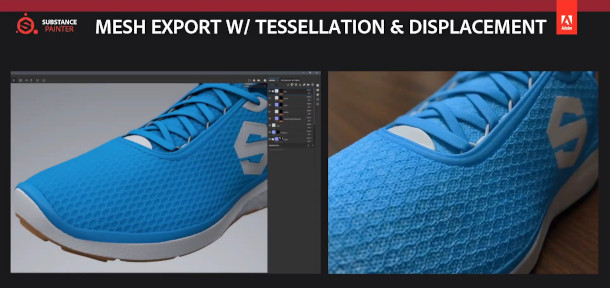 Major overhauls of texture and mesh export
Export workflows have also been revamped, with product manager Jérémie Noguer noting that "consistent feedback we've had over the years was that the export process was a little too rigid".
According to Noguer, the rebuilt texture export system provides the power to "override pretty much everything", with users now able to set export file format and bit depth on a per-map basis.
Overrides can be performed simultaneously across multiple texture sets, speeding up workflow.
In addition, users can now re-export a 3D mesh from a Substance Painter project file in FBX format, in addition to the file formats previously available.
Users can choose to preserve quads and n-gons on export, rather than triangulating the mesh, and to preserve the original model hierarchy and naming conventions.
The changes make it possible to export a model unwrapped inside Substance Painter with its new UVs.
Users can also export meshes with tessellation and displacement generated inside Substance Painter – for example, to preserve fine details of a digital asset during 3D printing, as shown in the image above.
New Python scripting system supersedes the old JavaScript API
Other changes include a new scripting API based on Python rather than JavaScript: a common request from pipeline TDs, and one already implemented in sister application Substance Designer.
The old JavaScript API will remain in the software, but no new features will be added to it.
However, one much-requested feature not included in the release is support for painting across UV tiles when using the UDIM texture format: originally teased last summer, then introduced as a closed beta.
During the livestream, Noguer commented: "I'm not going to announce the UDIM release today. I'm just going to say we're working very hard on it"

Updated 23 April 2020: Substance Painter 2020.1 is now shipping, along with the accompanying set of 130 parametric decals on Substance Source. At the time of posting, five are available free.
As well as the features listed above, the release adds two new shaders that replicate the behaviour of VRayMtl, helping to match the look of materials more closely between Substance Painter and V-Ray renders.

Pricing and availability
Substance Painter 2020.1 is available for Windows 8+, CentOS 7.0/Ubuntu 16.04 Linux and macOS 10.12+.
Subscriptions to all of Adobe's Substance tools cost $19.90/month or $219/year for artists and studios earning under $100,000/year; and $99.90/month or $990/year for other users.
Following Adobe's recent licensing changes, perpetual Indie licences are now only available via Steam, and cost $149.99.

Visit the Substance Painter product website
Read a full list of new features in Substance Painter 2020.1 in the online release notes