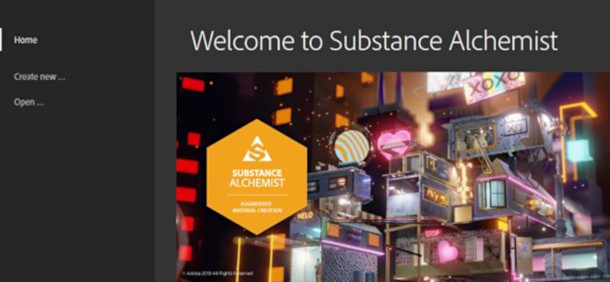 Adobe has released Substance Alchemist 2019.1, the first official release of its new material creation tool.
As well as moving the software out of beta – some of the marketing material refers to it simply as Substance Alchemist 1.0 – the release adds new project management tools and updates the delighter filter.
Following Adobe's recent changes to the licensing conditions for the Substance products, the software is available as part of Substance subscriptions, but not as a standalone perpetual licence.
A new standalone tool for 'augmented digital material creation'
Then codenamed Project Alchemist, Substance Alchemist was unveiled at GDC 2018 by original developer Allegorithmic, and first released in beta earlier this year.
A standalone product for "augmented digital material creation", it provides a range of material-generation workflows, including working from 3D scan data, hand painting and parametric design.
New in 2019.1: new asset-management features, updates to the viewport camera and layer stack
The official release builds on the asset-management features introduced in Substance Alchemist 0.8, introducing the "notion of projects".
The new projects system can be used to package up and share all of the information for a Substance Alchemist material, including both the project information and its associated image resources.
Other new features include the option to change the viewport camera between Perspective and Orthographic views, and to set its field of view manually.
The update also improves workflow in Substance Alchemist's layer stack, making it possible to access masks directly from the stack, and to change layer blending modes from its toolbar.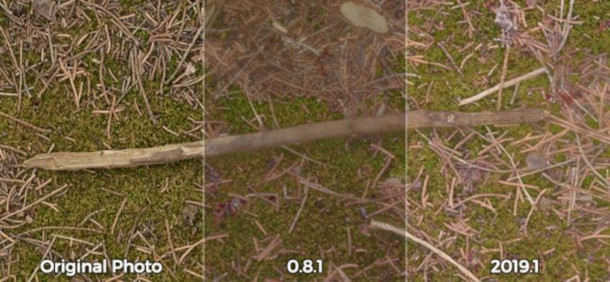 More accurate delighter filter for removing baked-in shadows from source images
In addition, 2019.1 features the new version of Alchemist's delighter filter announced at Siggraph 2019.
According to Adobe, the update to the filter, which is used to removed baked-in shadows and lighting from source photographs, preserves details and colours from the source images more accurately.
New automated system for tiling source images due in a future update
Adobe has also previewed some of the features due in future updates to Substance Alchmist, including a new automated filter for tiling images, based on the technology behind Photoshop's Content-Aware Fill.
The filter was shown off at Adobe's Substance Days event earlier this week, alongside new features in Alchemist's sister application, 3D painting tool Substance Painter.
The features, which include the option to load custom brushes in .abr format, and more Photoshop-like layer blending and stroke pressure sensitivity, are due in Substance Painter 2019.3.
Pricing and availability
Substance Alchemist 2019.1 is available for 64-bit Windows 7+, CentOS 6.6+ Linux and Mac OS X 10.11+.
The software is only available as part of Adobe's Substance subscriptions, which also provide access to Substance Painter and Substance Designer, plus downloads from online asset library Substance Source.
Indie subscriptions, intended for users with revenue under $100,000/year, cost $19.90/month. Pro subscriptions cost $99.90/month.

Read a full list of features in Substance Alchemist 2019.1 in the online changelog
Visit the Substance Alchemist product website
Tags: 3D scan, ABR, Adobe, Allegorithmic, asset browsing, asset management, camera, Content Aware Fill, Delighter, download, field of view, filter, layer blending, layer stack, material authoring, material creation, material management, new features, official release, orthographic camera, parametric material, perspective camera, Photoshop brush, pressure sensitivity, price, project management, remove baked lighting, subscription only, Substance Alchemist, Substance Alchemist 1.0, Substance Alchemist 2019.1, Substance Designer, Substance Painter, Substance Painter 2019.3, Substance Source, system requirements, texture painting, texturing