Originally posted on 13 March 2019. Scroll down for details of the open beta.
Allegorithmic has released more details of Substance Alchemist, its upcoming next-generation material creation tool, during a company livestream.
Among the things we learned were the fact that Alchemist will replace Allegorithmic's existing B2M software, that it features a lot of 'splatter' filters, and that it will come with a set of companion 'micro assets'.
A new standalone tool for 'augmented digital material creation'
Then codenamed Project Alchemist, Substance Alchemist was first unveiled at GDC 2018 with an attractive, but enigmatic, teaser video.
At Siggraph, Allegorithmic fleshed out some of the details, revealing that Alchemist would be a standalone product for "augmented digital material creation", combining a range of existing workflows.
As well as procedural design and hand painting – the specialities of its existing tools, Substance Designer and Substance Painter – that means starting from real-world photography or 3D scan data.
Allegorithmic describes the software as a "straightforward" way to create assets, intended to "give newcomers … an easier transition" into the world of material editing.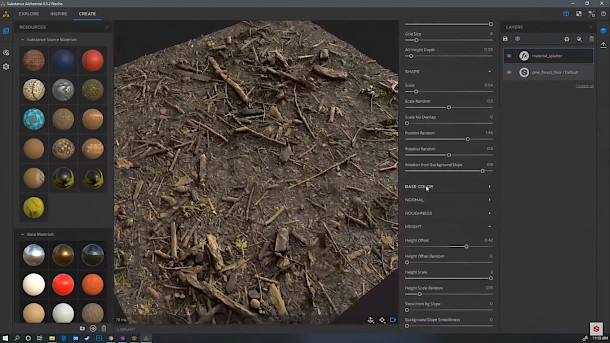 Tools for layering materials or scattering 'micro assets' across a surface
All of Alchemist's key workflows were on show during last week's livestream, which you can see above.
At 00:12:30 in the video, Allegorithmic director of strategy Jérémie Noguer runs through a photo-based workflow, converting an image found online into a detailed ground material.
The underlying tech is based on version 3 of Substance B2M, Allegorithmic's older software for converting images into texture maps, which Alchemist will replace on its release.
However, Alchemist offers much greater scope for customising the output it generates, thanks to its system of built-in material and effects layers.
As well as layering on dirt or water – a workflow that will be familiar to users of Substance Designer or Quixel's Mixer software – users can choose to scatter 'micro assets' over a material surface.
At 00:24:45, Noguer uses Alchemsit's material_splatter filter to distribute leaves and pine cones over a scan-based material of a forest floor.
"The goal is to have collections of these micro assets [in Substance Source, Allegorithmic's online material library]: twigs, flowers or rocks that you could scatter on a surface," he said.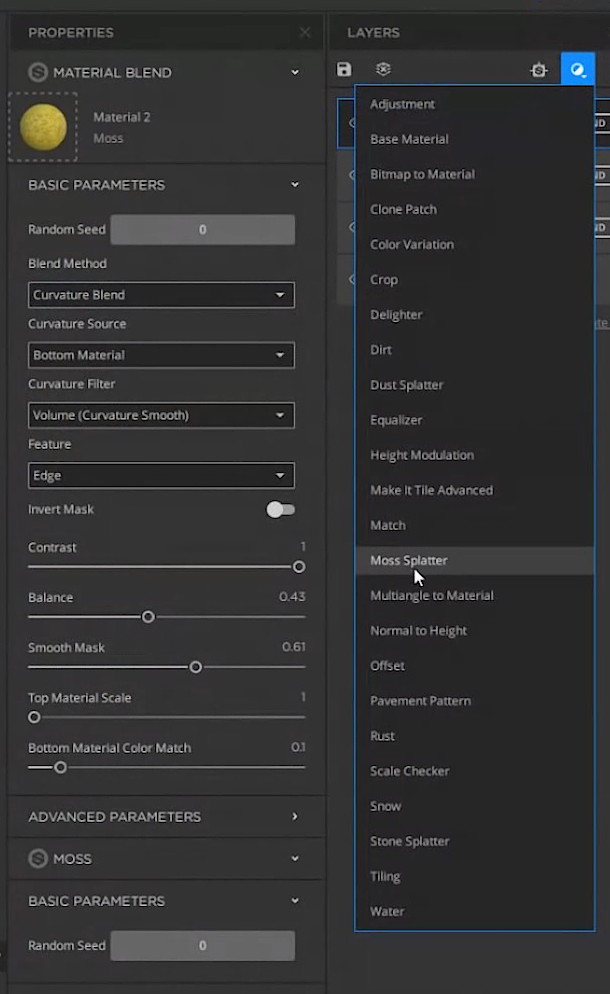 A range of procedural 'splatter' filters
The next section of the demo, which starts at 00:24:50, covers procedural techniques, with texture artist Casimir Perez creating two new materials – a limestone pavement and tree bark – from scratch.
It gives an idea of the range of material-blending options available: as well as blending by heightmaps, surface colour or curvature, artists can use ambient occlusion to add one material to the crevices of another.
It also gives an idea of the range of preset customisation options within Substance Alchemist: many of the filters on show have 20 or more parameters exposed via sliders.
And it confirms that Allegorithmic really likes its splatter filters: at one stage, Perez applies a dedicated Moss Splatter filter to the tree bark.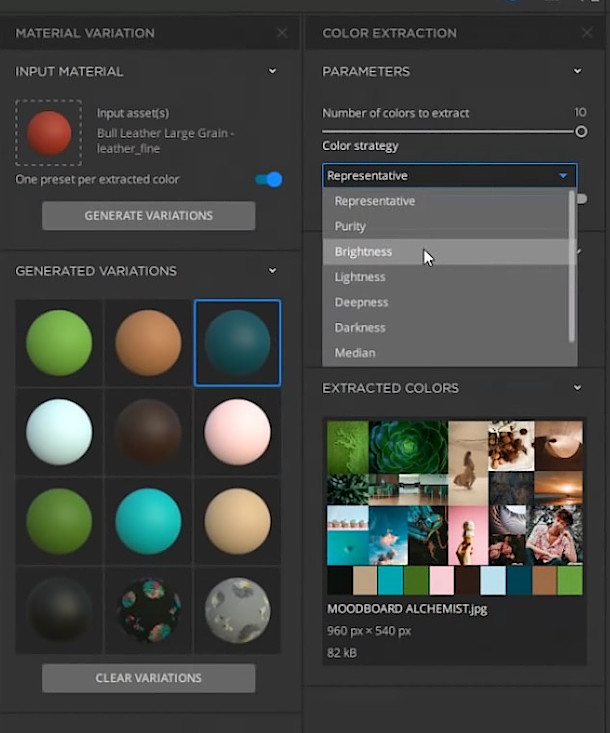 Automatically generate colour variants based on mood board images
In the final section of the demo, Allegorithmic content creation director Nicolas Paulhac offers an alternative take on scan-based materials, using Alchemist to create a custom fabric material.
The workflow, which you can see at 00:40:40, uses the software's Multiangle to material setting, which enables users to import multiple source images.
This time, the filter of choice is textile_wear, which mimics the natural ageing of textiles, with controls to mimic threads pulled out of the weave and holes in the fabric.
The demo also showcases another interesting feature of Alchemist: its Inspire tab.
The toolset automatically generates colour variations of a material based on an imported mood board image, with the users able to control the number of colours extracted, and how they are applied.
Pricing and availability
Substance Alchemist is currently in private beta. Allegorithmic hasn't confirmed a date for the open beta or a commercial release, but hinted that more details would be released at GDC 2019 next week.

Updated 20 March 2019: Substance Alchemist is now in open beta for 64-bit Windows 7+, CentOS 6.6+ Linux and Mac OS X 10.11+.
It is available as part of a Substance subscription, which cost $19.90/month for Indie users and $99.90/month for Pro users. Non-subscribers who registered for the beta a year ago also get three months' access.
Students and teachers can request a licence for free.
We asked Allegorithmic if its recent statement that it would continue to offer perpetual licences of its products to indie users extended to Alchemist, and were told:
"At the moment, Project Substance Alchemist is in beta, so it isn't really an existing product. When the 1.0 version is released, we will see what makes the most sense for all our users."
Allegorithmic has also posted a new series of Substance Alchemist tutorial videos on its YouTube channel.

Visit the Substance Alchemist product page on Allegorithmic's website
Read a full list of features in Substance Alchemist in the online changelog
Tags: 3D scan data, Allegorithmic, B2M, bitmap to material, color variant, demo, download, effects layer, Featured Articles, GDC 2019, material blending, material creation, material editing, material generation, material layer, micro asset, open beta, Photogrammetry, price, procedural material, Project Alchemist, Quixel Mixer, release date, splatter filter, Substance Alchemist, Substance Designer, Substance Painter, system requirements, texturing, video