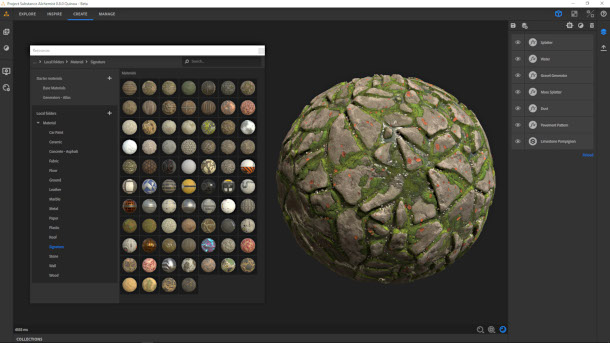 Adobe has released Substance Alchemist 0.8.0, the latest beta of its upcoming material creation tool, adding a set of new material-management features.
The release, which was announced at Siggraph 2019, also adds new Blur and Pattern Generator filters.
A new standalone tool for 'augmented digital material creation'
Then codenamed Project Alchemist, Substance Alchemist was unveiled at GDC 2018 by original developer Allegorithmic, and first released in beta earlier this year.
A standalone product for "augmented digital material creation", it provides a range of material-generation workflows, including working from 3D scan data, hand painting and parametric design.
New in beta 0.8: new features for browsing and organising materials
To that, Substance Alchemist 0.8 introduces a new set of asset-management features.
The software's Resources panel now supports a standard hierarchy of folders and sub-folders, with breadcrumb navigation, and can be detached to view fullscreen in a separate window.
In addition, materials can now be tagged or rated to make it possible to filter the selection displayed.
Users can also connect Alchemist to folders on local disks, with options to control when files are synced.
New filters, plus UI changes to standardise Alchemist with other Adobe tools
Other new features include new Pattern Generator and Blur filters, and support for panorama output, although the release notes don't go into more detail than that.
The update also modifies the software's interface to bring it more into line with Adobe's other products: among other things, switching the UI text to the Adobe Clean font family.
Pricing and availability
Substance Alchemist is currently in beta for 64-bit Windows 7+, CentOS 6.6+ Linux and Mac OS X 10.11+. Adobe has just announced a new 30-day trial edition of the software.
Unlimited access to the beta is available as part of a Substance subscription, which cost $19.90/month for Indie users and $99.90/month for Pro users.

Read Adobe's blog post announcing the release of Substance Alchemist 0.8
(Note: little actual information about the new features)
Read a full list of features in Substance Alchemist 0.8.0 in the online changelog
Tags: 3D scan, Adobe, Allegorithmic, asset browsing, asset management, beta, Blur, download, filter, free trial, material authoring, material creation, material management, parametric material, Pattern Generator, price, release date, Resources panel, Substance Alchemist, Substance Alchemist 0.8, system requirements, texture painting, texturing