Adobe has released a new 30-day trial of Substance Alchemist, its upcoming material creation tool, making it possible for people without a Substance subscription to test the software.
The free trial version was announced at the firm's Substance Day event at Siggraph 2019, alongside the next beta update to the software, Substance Alchemist 0.8, which is due to ship next week.
A new standalone tool for 'augmented digital material creation'
Then codenamed Project Alchemist, Substance Alchemist was unveiled at GDC 2018 by original developer Allegorithmic, and first released in beta earlier this year.
A standalone product for "augmented digital material creation", it provides a range of material-generation workflows, including working from 3D scan data, hand painting and parametric design.
You can read an overview of the feature set here, and find our stories on subsequent beta updates here.
Whereas previous beta releases required you to have a subscription for the other Substance Products, including Substance Designer and Substance Painter, the new trial version is free to anyone.
It includes all of the features from the regular beta, but times out after 30 days.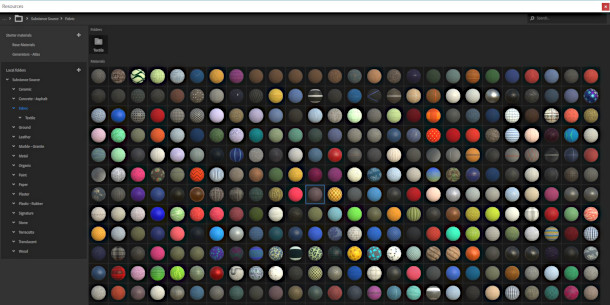 Due in beta 0.8: new material management features
In addition, Adobe has unveiled the new features coming up in Substance Alchemist 0.8.
The include new material management options, including the ability to connect with your local folders, material tagging and rating, and real-time material monitoring in two dedicated views.
Adobe is also working on a new version of Alchemist's delighter filter, which removes baked-in light information when generating materials from photographic source images.
It has also announced a "more forgiving" workflow for 'photometry', used here to refer to the process of generating material scans from source images, as opposed to the measurement of visible light.
The updated delighter is described as "close to a public release", but it isn't clear from Allegorithmic's blog whether either feature will make it into Substance 0.8 when it ships next week.
Pricing and availability
Substance Alchemist is currently in beta for 64-bit Windows 7+, CentOS 6.6+ Linux and Mac OS X 10.11+. You can download the free 30-day trial via the link below.
The beta is also available as part of a Substance subscription, which start at $19.90/month for Indie users and $99.90/month for Pro users. Adobe hasn't announced a commercial release date yet.

Download the free 30-day trial of Substance Alchemist from the product website
Tags: 3D scan, Adobe, Allegorithmic, beta, Delighter, delighting, download, free trial, material authoring, material creation, material management, parametric material, photometry, price, release date, source photograph, Substance Alchemist, Substance Alchemist 0.8, Substance Designer, Substance Painter, system requirements, texture painting, texturing