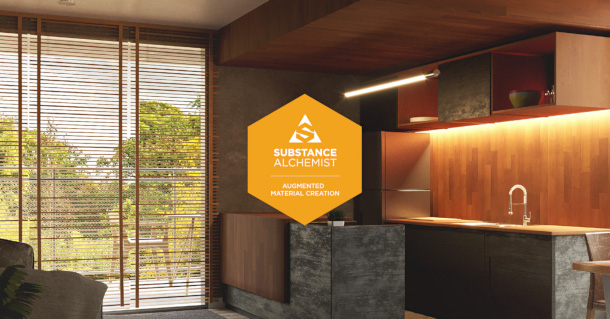 Adobe has released Substance Alchemist 0.7.0, the latest beta of its upcoming material creation tool, adding 12 new filters and the option to animate material settings within the UI.
The release is the first fully under Adobe's branding, after its acquisition of original developer Allegorithmic this January: the website has now been redirected from Allegorithmic's old URL to www.substance3d.com.
A new standalone tool for 'augmented digital material creation'
Then codenamed Project Alchemist, Substance Alchemist was first unveiled at GDC 2018 with an attractive, but enigmatic, teaser video.
At Siggraph, Allegorithmic fleshed out some of the details, revealing that Alchemist would be a standalone product for "augmented digital material creation", combining a range of existing workflows.
As well as procedural design and hand painting – the specialities of sister products Substance Designer and Substance Painter – that means starting from real-world photography or 3D scan data.
Allegorithmic described the software as a "straightforward" way to create assets, intended to "give newcomers … an easier transition" into the world of material editing.
New in beta 0.7: 12 new filters, plus the option to animate material sliders
Substance Alchemist 0.7 – codenamed 'Pepper' in the release notes – adds 12 new filters for manipulating the look of materials, taking the total to 40.
They include filters designed to create snow and moss, plus brick and stone walls; and to add dust, corrosion, oxidation and wood or metal patina effects.
Users can also now import source bitmap textures directly into the Base Material filter.
Other changes include the option to animate parameter values for materials by animating the control sliders within the software's user interface.
The release notes don't make any mention of the animation affecting the material file exported, so presumably it's intended more as a look development tool.
Other changes include a new internal cloth mesh intended for 3D previews of cloth materials, and the option to view the metadata or file location of a material by right-clicking on it.
Pricing and availability
Substance Alchemist is currently in beta for 64-bit Windows 7+, CentOS 6.6+ Linux and Mac OS X 10.11+.
It is available as part of a Substance subscription, which cost $19.90/month for Indie users and $99.90/month for Pro users. Non-subscribers who registered for the beta a year ago also get three months' access.
Adobe hasn't announced a commercial release date yet.

Read an overview of the new features in Substance Alchemist 0.7.0 on Allegorithmic's blog
Read a full list of features in Substance Alchemist 0.7.0 in the online changelog
Tags: Adobe, Allegorithmic, animate parameters, animate settings, Base Material, beta, Brick Wall, corrosion, Equalizer, filter, gravel, material authoring, material creation, Metal Finish, Pepper, price, Randomizer, release date, Substance Alchemist, Substance Alchemist 0.7, system requirements, texturing, water