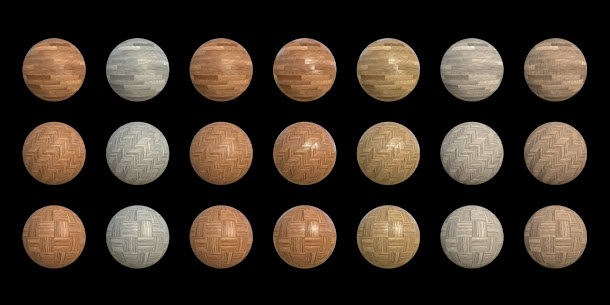 Allegorithmic has released Substance Alchemist 0.6.0, the latest beta of its upcoming next-generation material creation tool, adding the option to create display boards of material variations.
The update also adds a new interface tab for editing metadata, extends the Undo and Redo functionality, and adds new base stone, metal and rust materials.
A new standalone tool for 'augmented digital material creation'
Then codenamed Project Alchemist, Substance Alchemist was first unveiled at GDC 2018 with an attractive, but enigmatic, teaser video.
At Siggraph, Allegorithmic fleshed out some of the details, revealing that Alchemist would be a standalone product for "augmented digital material creation", combining a range of existing workflows.
As well as procedural design and hand painting – the specialities of its existing tools, Substance Designer and Substance Painter – that means starting from real-world photography or 3D scan data.
Allegorithmic describes the software as a "straightforward" way to create assets, intended to "give newcomers … an easier transition" into the world of material editing.
Create material collections and export them as display boards
New features in Substance Alchemist 0.6 – codenamed 'Orange' on Allegorithmic's website – include the option to create collections of materials from search results inside the software.
Users can then share collections with clients or art directors by generating a display board of rendered test samples, as shown in the image at the top of the story.
Other new features include a dedicated tab for editing metadata for a material, including name, author and creation date.
Workflow improvements include the option to use the Undo and Redo keyboard shortcuts to revert changes to parameter values, and greater stability when switching between tabs.
There are also new base Stone, Metal and Rust materials, plus updates to the Embroidery, Embossing, Paint and Delighter filters, the latter used to remove lighting from photographic source images.
Pricing and availability
Substance Alchemist is currently in beta for 64-bit Windows 7+, CentOS 6.6+ Linux and Mac OS X 10.11+.
It is available as part of a Substance subscription, which cost $19.90/month for Indie users and $99.90/month for Pro users. Non-subscribers who registered for the beta a year ago also get three months' access.
Allegorithmic hasn't announced a commercial release date yet.

Read an overview of the new features in Substance Alchemist 0.6.0 on Allegorithmic's blog
Read a full list of features in Substance Alchemist 0.6.0 in the online changelog
Tags: Allegorithmic, beta, collection, Delighter, delighting, Embossing, Embroidery, material authoring, material creation, material variation, metadata, Metal, new features, Orange, paint, price, procedural material, release date, rust, stone, Substance, Substance Alchemist, Substance Alchemist 0.6, Substance Designer, Substance Painter, system requirements, texturing